Spiced Lentils with Toasted Coconut + A Baby Shower!
Good morning! A lot of exciting things going on today. Like these Spiced Lentils with Toasted Coconut.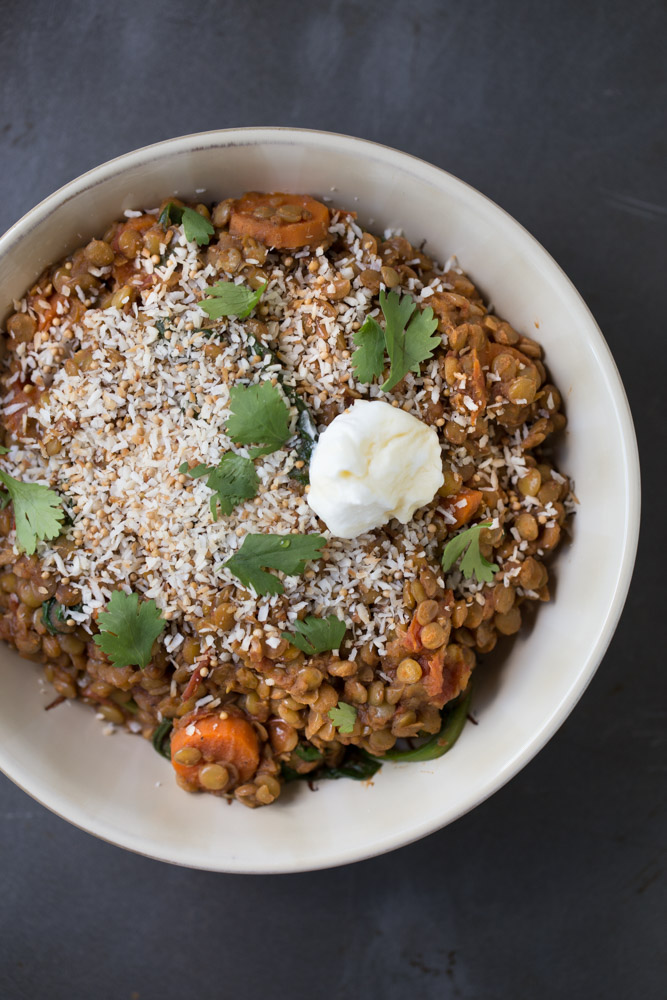 And my pal Zainab from Blahnik Baker's virtual baby shower!
Do you know Zainab? If not, you totally should get to know her. She's one of the sweetest bloggers I've ever met. She bakes great desserts. And she's having a baby boy! In honor of her little bundle of joy who will soon make his presence, some of Zainab's blog pals and I got together to throw her this surprise virtual baby shower. She loves coconut so coconut was a must in the recipes. I decided to bring a delicious, full of flavor main dish to the party. Gotta have some savory with all of the delicious sweets, am I right?!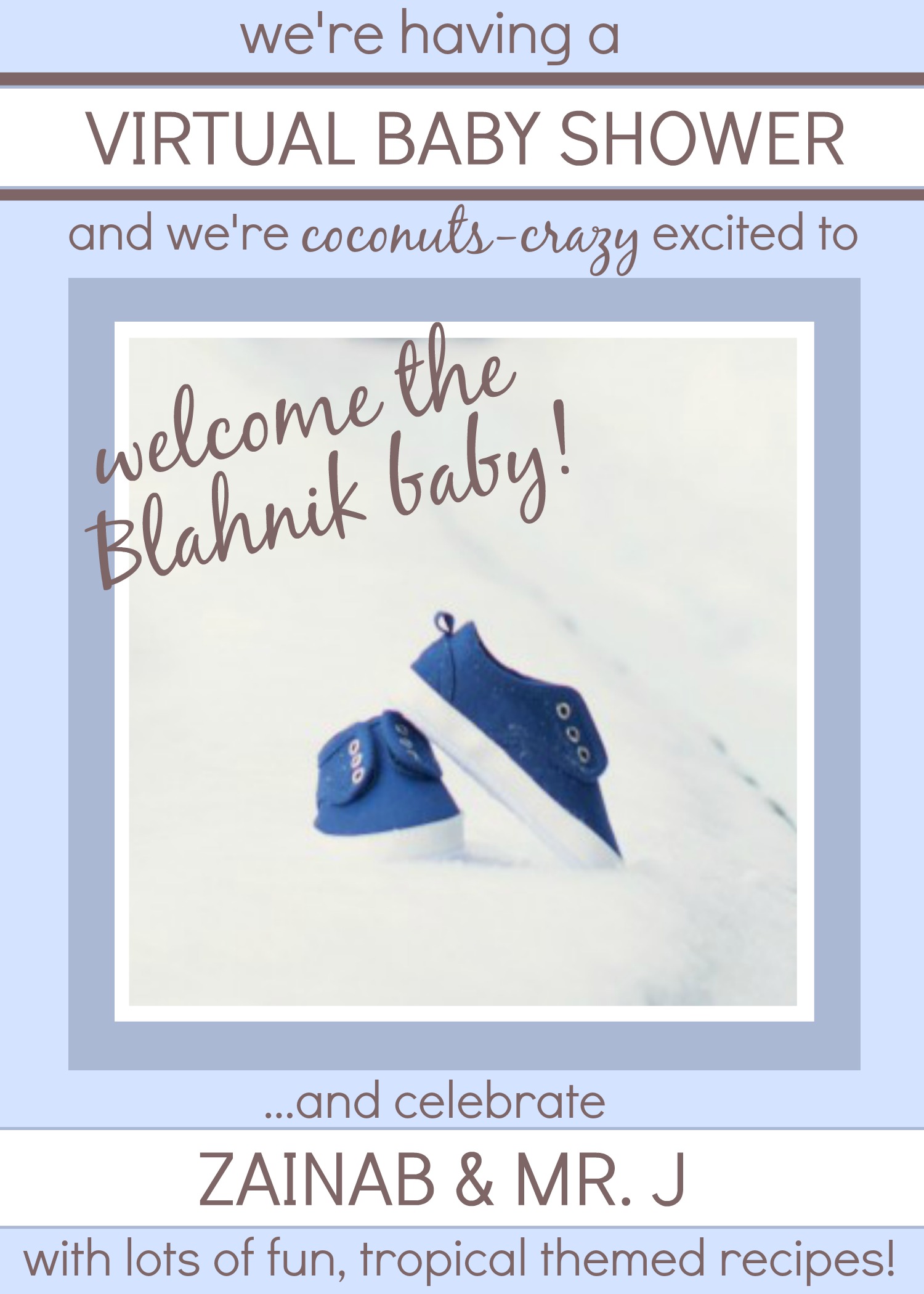 I adapted this Spiced Lentils with Toasted Coconut recipe from the Food 52 Genius Recipes cookbook. The main changes I made were to use garam masala in place of curry and I added fresh spinach, carrots and heirloom tomatoes to the lentils as they were cooking. The resulting meal is hearty and full of wonderful flavor. The lentils can be served with brown rice or sweet potato noodles. It's a filling meal that's perfect for a family, a couple, singles and serving to guests. It's also a great option to bring to new moms because it can be easily reheated!
After the recipe below, you will find links to all of the other coconut filled recipes that were brought to the virtual baby shower for Zainab. You can easily click through to visit each recipe. Enjoy!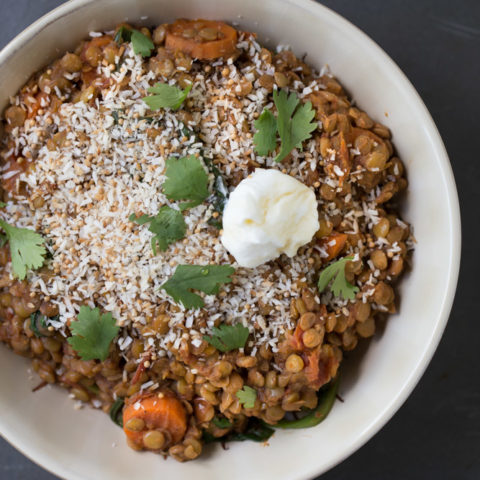 Spiced Lentils with Toasted Coconut + A Baby Shower!
Yield: 4 servings

Prep Time: 10 minutes

Cook Time: 45 minutes

Total Time: 55 minutes
Ingredients
3 tbsp unsalted butter
1 shallot, finely chopped
2 cloves of garlic, peeled, smashed and chopped
1 tbsp garam masala
1 tbsp tomato paste
2 C uncooked green lentils
2 medium carrots, sliced
12 oz heirloom tomatoes
1 3/4 tsp kosher salt
water
1 C unsweetened shredded coconut
1 tbsp whole mustard seeds
Plain greek yogurt and fresh chopped cilantro for garnish
Instructions
Melt the butter in a large saucepan. Add the shallot, garlic and garam masala and cook over medium high heat until the shallot is tender, 3-4 minutes. Add the lentils, carrots and tomato paste to the saucepan and cook for 2 minutes. Add the heirloom tomatoes to the saucepan and then fill with enough water to covers the mixture by 1/2 inch. Bring to a boil and then reduce the heat to medium low and simmer 30-40 minutes or until the lentils are tender. Stir in the spinach and cook 3-5 more minutes or until the spinach is wilted.
Prepare the toasted coconut. Place the coconut in a skillet with the mustard seed and a pinch of salt. Toast over medium heat for 3-5 minutes, stirring often, until the coconut is slightly toasted.
Spoon the cooked lentil mixture into serving bowls and top with the toasted coconut. Garnish with plain Greek yogurt and cilantro, if desired.
Notes
The lentils are great served over brown basmati rice or sweet potato noodles.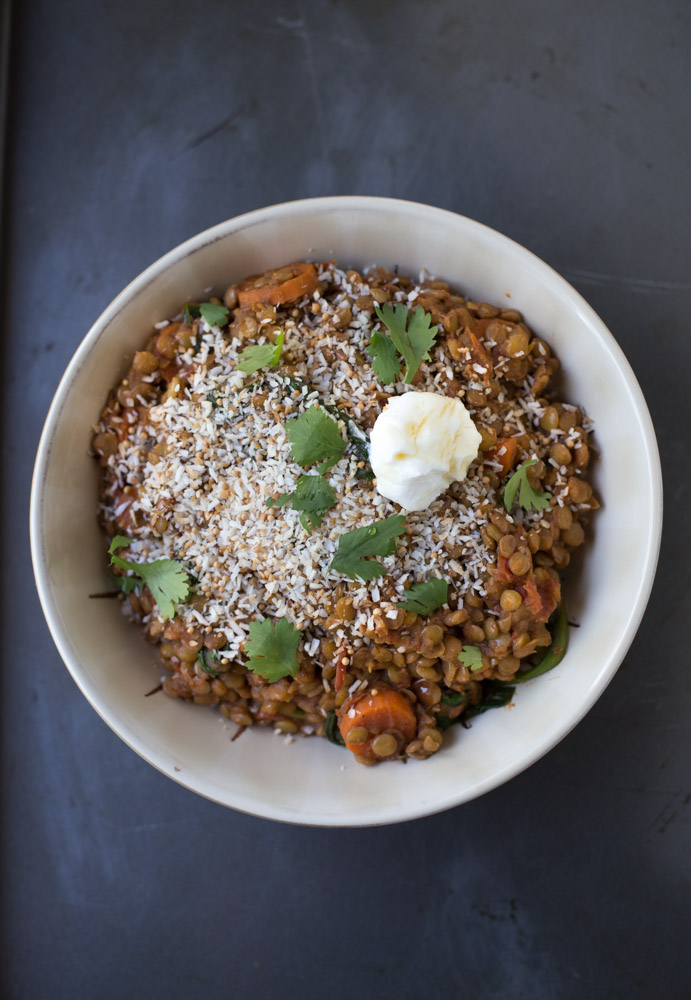 Check out all of the other delicious coconut recipes by visiting the blogs below!
Blackberry Coconut Cupcakes, by Baking a Moment
Blueberry Coconut Meusli Bars, by The Spiffy Cookie
Blueberry-Ginger Coconut Cheesecake Popsicles, by Floating Kitchen
Caramel Coconut Cluster Bars, by Eats Well with Others
Chocolate Coconut Cake, by Brunch with Joy
Coconut Breakfast Pudding with Sauteed Nectarines, by Cooking and Beer
Coconut Cake, by I am Baker
Coconut Cream Pie Ice Cream, by The Recipe Rebel
Coconut Energy Bites, by The Kitchenarium
Coconut Key Lime Angel Food Cake Roll, by Flavor the Moments
Coconut Key Lime Pie Cookie Bars, by Two in the Kitchen
Coconut Key Lime Macarons, by Life Made Sweeter
Coconut, Lime, and White Chocolate Milkshake, by A Clean Bake
Coconut Pineapple Banana Smoothie, by The Bitter Side of Sweet
Coconut Pineapple Fried Rice with Shrimp, by Healthy Nibbles and Bits
Coconut Sweet Potato Muffins, by Luci's Morsels
Double Chocolate Chip Cookies with Toasted Coconut, by The Cooking Actress
Key Lime Coconut Button Sandwich Cookies, by Culinary Concoctions by Peabody
Key Lime Coconut Pound Cake, by Grandbaby Cakes
Lavender Coconut Macarons, by Broma Bakery
Macaroon Tarts with Ginger Coconut Whipped Cream and Pineapple, by A Cookie Named Desire
Mango Coconut Donuts, by Chez Catey Lou
Mango Coconut Smoothie, by Jessica in the Kitchen
Mango Summer Cake, by Keep it Sweet Desserts
Mini Coconut Cream Pies, by Hip Foodie Mom
Pina Colada Pie, by Life, Love, and Sugar
Skinny Blueberry Lime Scones, by Club Narwhal
Spiced Lentils with Toasted Coconut, by This Gal Cooks
Toasted Coconut Banana Meringue Pie, by The Sweet {Tooth} Life
Triple Coconut Rum Layer Cake, by bethcakes
Tropical Pineapple Coconut Sangria, by Shared Appetite
White Chocolate Coconut Key Lime Cookies, by Culinary Couture