Cucumber Noodle Bowls with Sesame Shrimp
We're talking about some good stuff today.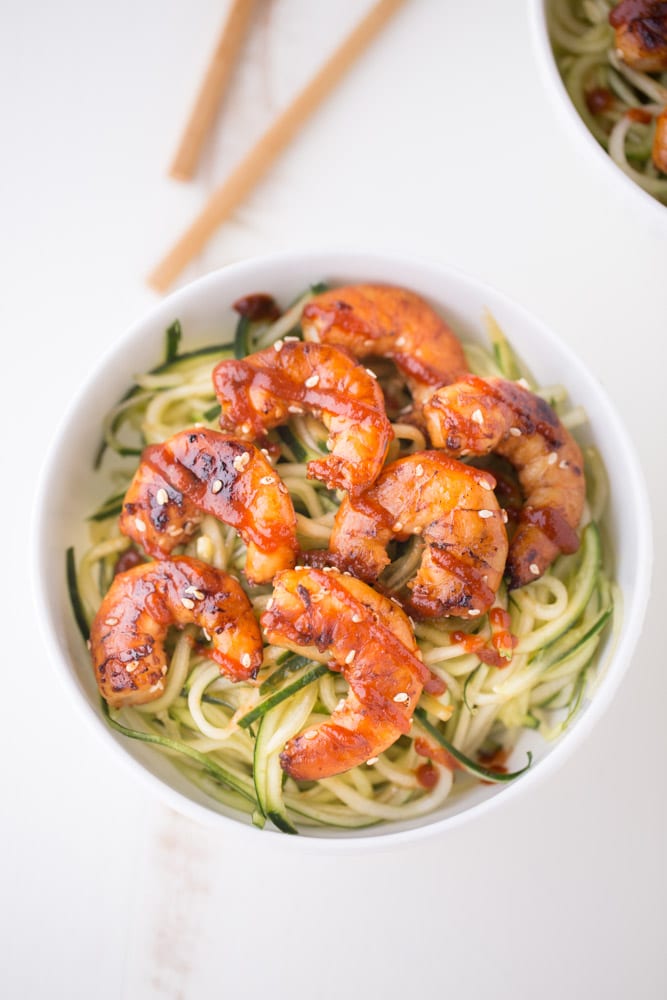 When there's food involved, there are most always good things to be said and good times to be had. Much of my life centers around food and good times. I like to eat good food, I like to have a good time and I love to enjoy good beer.
To me, good food is any food that tastes good. DUH! My loves range from juicy cheeseburgers to succulent scallops to overnight oatmeal parfaits. I try to incorporate many healthy dishes that don't lack in the flavor department. These cucumber noodle bowls with sesame shrimp do not disappoint my taste buds!
Cucumber Noodle Bowls with Sesame Shrimp
Cucumber noodle bowls are a simple, grain free option that can be served in place of pasta or rice. Tossing the cucumber noodles with ponzu sauce and topping with sesame shrimp creates a delicious, healthy meal that can be served during lunch or dinner.
If you can get your hands on wild caught shrimp, I recommend it. The quality and flavor of wild caught shrimp cannot be replaced by farm raised shrimp.
Cucumbers are a staple in my house. I use them in smoothies, salads, appetizers and for snacking. I love that they are low in carbohydrates and rich in Vitamin A and Potassium. Making cucumber noodles and using them in place of rice and pasta will eliminate consumption of grains and gluten and save you a few calories, too. I do eat rice and pasta but lately, I've been replacing some grains with veggies in order to incorporate more veggies into my diet.
Don't worry. If you're craving a delicious bowl of pasta, I'll be sharing a veggie packed pasta dish soon.
For now, I suggest enjoying these cucumber noodle bowls.

Cucumber Noodle Bowls with Sesame Shrimp
Author: This Gal Cooks
Recipe type: Main Dish
Serves: 2 servings
Ingredients
Shrimp Marinade
1 tbsp reduced sodium tamari or coconut aminos
1 tbsp sesame oil
1 tsp rice vinegar
½ tbsp honey
1 tsp sriracha
½ pound shrimp, peeled (use wild caught, if available)
Cucumbers
1½ large cucumbers
Pinch salt
2 tbsp ponzu sauce
Sesame seeds for garnish
Sriracha sauce for garnish
Instructions
Shrimp Marinade
In a mixing bowl, Whisk together the Tamari, sesame oil, rice vinegar, honey and sriracha. Place the shrimp in the bowl with the marinade and toss to coat. Cover and refrigerate up to 1 hour.
Spiralize the cucumber noodles. Place in a large mixing bowl, add pinch of salt and toss to coat.
Heat a skillet over medium-high heat. Lightly spray with cooking spray or add a small amount of olive oil to the pan. Add the shrimp and cook 1-2 minutes per side. Remove from the heat and sprinkle with sesame seeds, no more than 1 tbsp. Set aside.
Toss the cucumber noodles with the ponzu sauce. Divide and place into serving bowls. Top with the shrimp and then drizzle with sririacha sauce, if desired.
Nutrition Information
Serving size: 1 bowl Calories: 255 Fat: 12g Saturated fat: 2g Unsaturated fat: 9g Trans fat: 0 Carbohydrates: 19g Sugar: 11g Sodium: 1556mg Fiber: 2g Protein: 20g Cholesterol: 143mg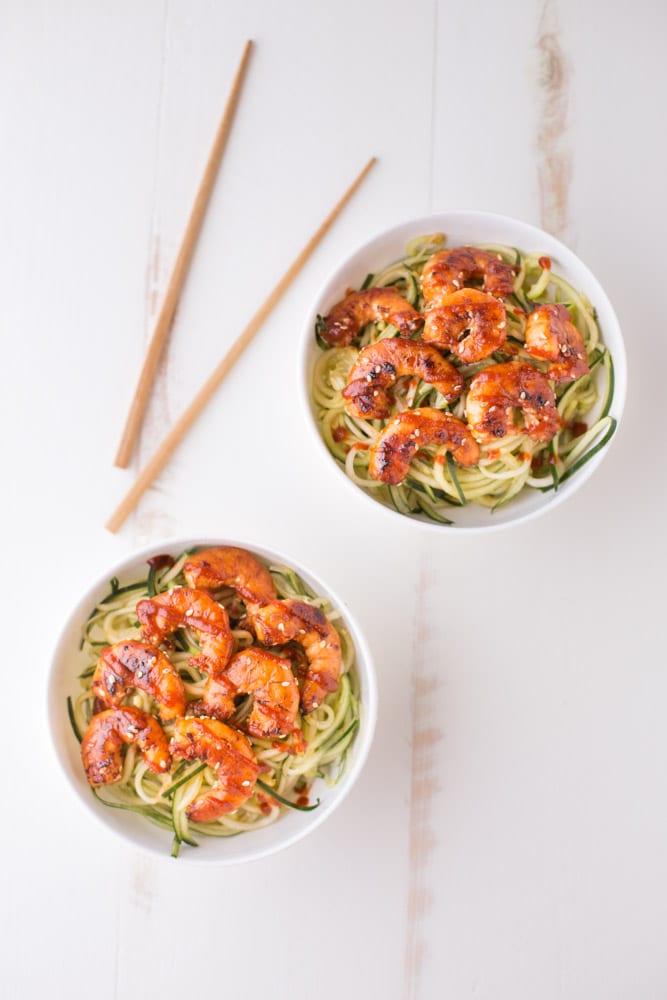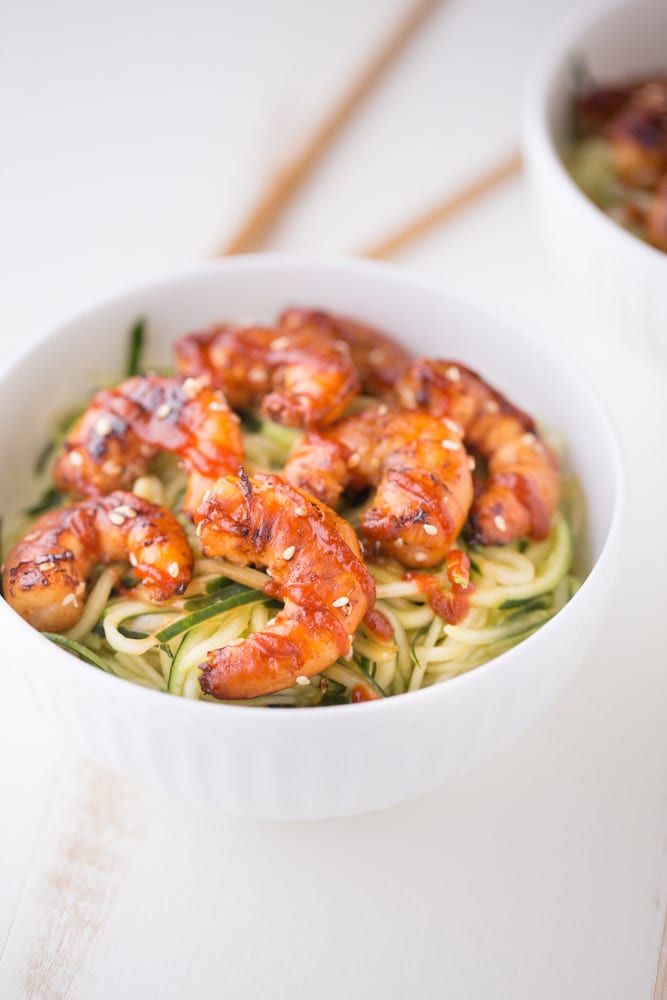 Let's be friends on INSTAGRAM, FACEBOOK, TWITTER and PINTEREST!