Slow Cooker Potato Ham and Leek Soup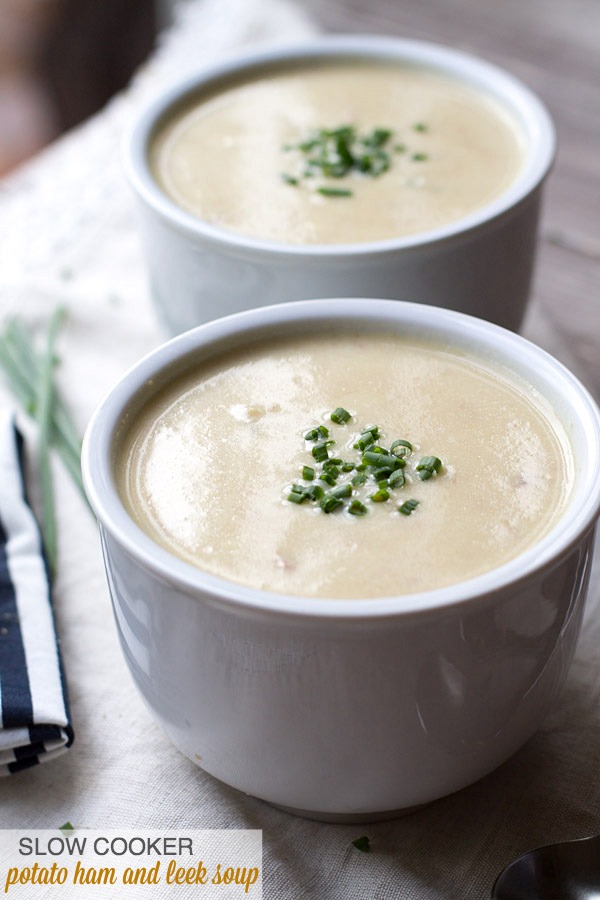 It's in the midst of summer and I'm all about soups. Especially creamy tasty soups like this Slow Cooker Potato Ham and Leek Soup.
We're coming to the end of the second annual #SlowCookerWeek which means the Las Vegas vacation is quickly approaching Ken and I. Before I get to vacation, let's do a small recap of Slow Cooker Week.
On Monday, a few of my blogging pals and I kicked off slow cooker week. I shared a collection of 25 Favorite Slow Cooker Soup Recipes along with a giveaway. You can check out the recipes and enter the giveaway here. But hurry – the giveaway ends at midnight tonight!
On Wednesday, I shared this crazy good Slow Cooker Tex Mex Soup. Pair it with an ooey gooey grilled cheese sandwich and you'll be swooning all day.
On Friday, a few of my blogging pals and I kicked off a Round Robin Giveaway on Instagram. The giveaway ends tomorrow morning – you can enter to win here.
Today I'm sharing this Slow Cooker Potato Ham and Leek Soup. You can pair this one with an ooey gooey grilled cheese sandwich too. I recommend at least three slices of cheese on the sandwich.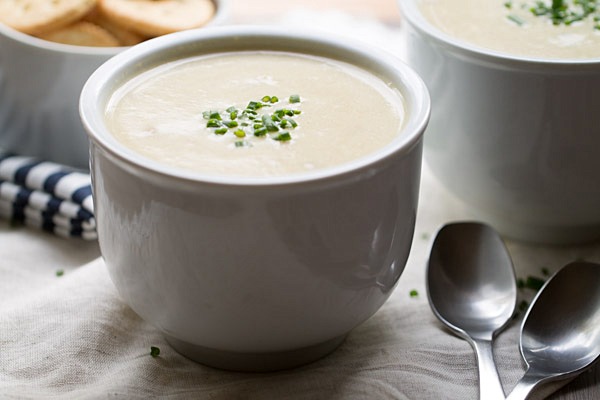 Vacation. Vacation. VACATION! In a few weeks, Ken and I will be heading to Las Vegas for a 5 day vacation. We're not going to gamble, though. We aren't the gambling types. Instead, we are going to attend an IT conference. More of Ken's type of thing to do but I'm pretty interested/semi fascinated with IT stuff so I'm going to tag along. A few things on my Las Vegas bucket list this time around (yep, I've been there before):
Rent a car and drive to Laguna Beach, CA so I can see the California coast. And so I can say I've been to California.
Visit some of the national parks in Nevada or Utah
Visit the Grand Canyon
Luckily, we have someone coming to house and dog sit for us so we won't have to bring the monster dog on the plane with us. But I am going to miss her! And she is probably going to be extremely angry with us for leaving her for a few days. But our friend that is staying at our house has watched her before and she likes him. So I think she will be ok. I think she's a little too old to be comfortable on a plane trip that would require her to stay in a carrier under the seat in front of us.
What are you favorite soup toppings? Mine depend on the type of soup. For this soup, I opted for fresh chopped chives and shredded cheddar cheese. Cheese tends to end up on top of all of my soups. If you haven't heard, I have an immense love for cheese. It finds it's way into many places in my life, most often on a plate and straight into my mouth. Enjoy the recipe. And the cheese if you opt for cheese.
Slow Cooker Potato Ham and Leek Soup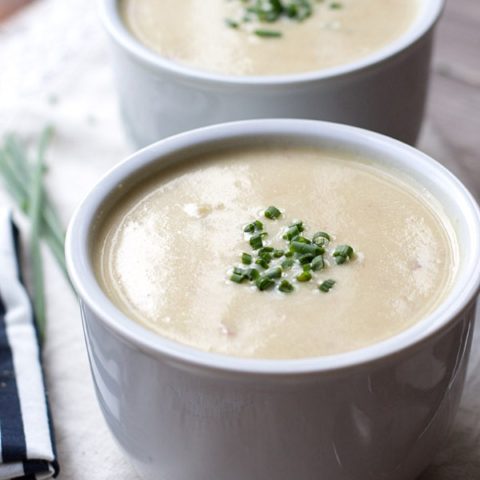 Slow Cooker Potato Ham and Leek Soup
Yield: 4

Prep Time: 10 minutes

Cook Time: 6 hours

Total Time: 6 hours 10 minutes
Ingredients
4 C diced potatoes (I didn't peel my potatoes but you can peel yours, if you prefer them that way)
1 tsp seasoned salt
1 leek, thin sliced and chopped (thin slice only the white and very light green parts)
3 tbsp unsalted butter
1 1/2 C diced cooked ham
2 cloves of garlic, minced
3 C chicken stock (no salt added)
3/4 C half and half
3 tbsp all purpose flour
Instructions
Place the potatoes and ham in a slow cooker. Sprinkle with the seasoned salt.
In a skillet over medium heat, melt the butter. Add the leeks and saute until tender. Add the minced garlic and saute for one more minute. Add everything from the skillet to the slow cooker (including the butter drippings) and mix well. Pour the stock over the mixture and mix well. Cover and cook on low for 6 hours.
After the soup is done cooking, remove half of it and place it in a blender. Blend until smooth. Return to the slow cooker.
Whisk together the half and half and the flour. Microwave in 15 second increments until thickened, whisking between each heating session. It is important that you do not overheat the flour/half and half mixture. If you overheat it, it will start to cook and you will need to discard and start this method over. Once the mixture is thickened, pour into the slow cooker and mix well.
Serve the soup in bowls and top with your favorite toppings.
Nutrition Information:

Amount Per Serving: Calories: 360 Total Fat: 15g Sodium: 903mg Carbohydrates: 37g Sugar: 1g Protein: 20g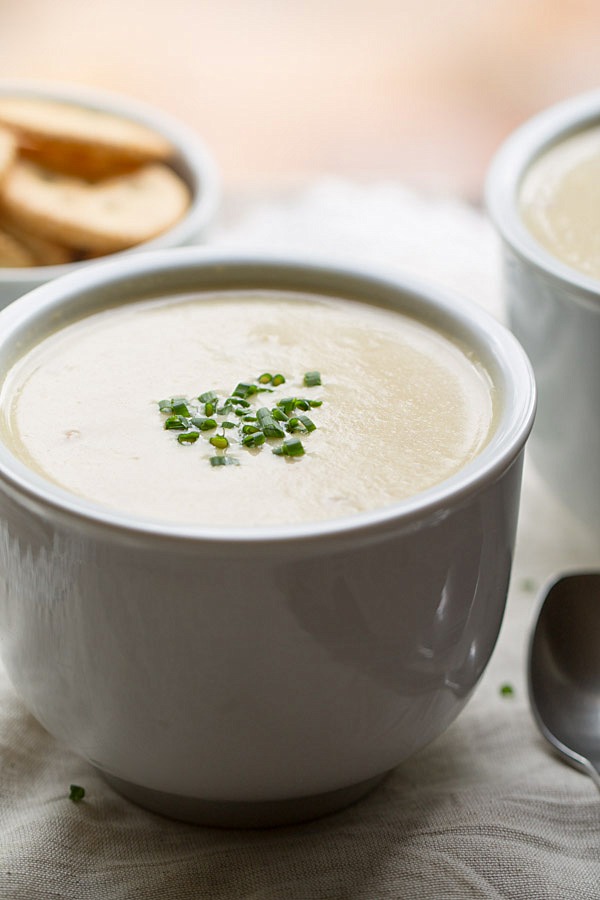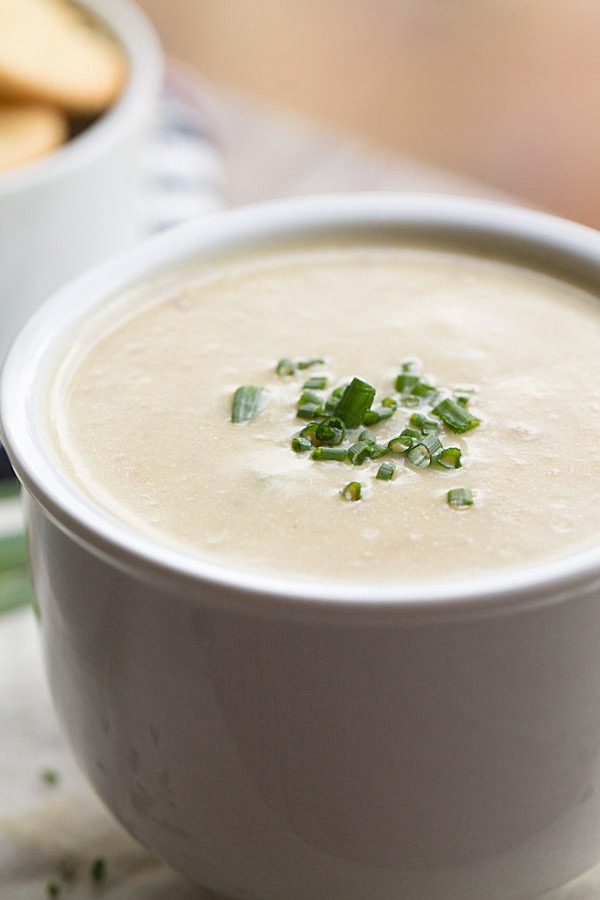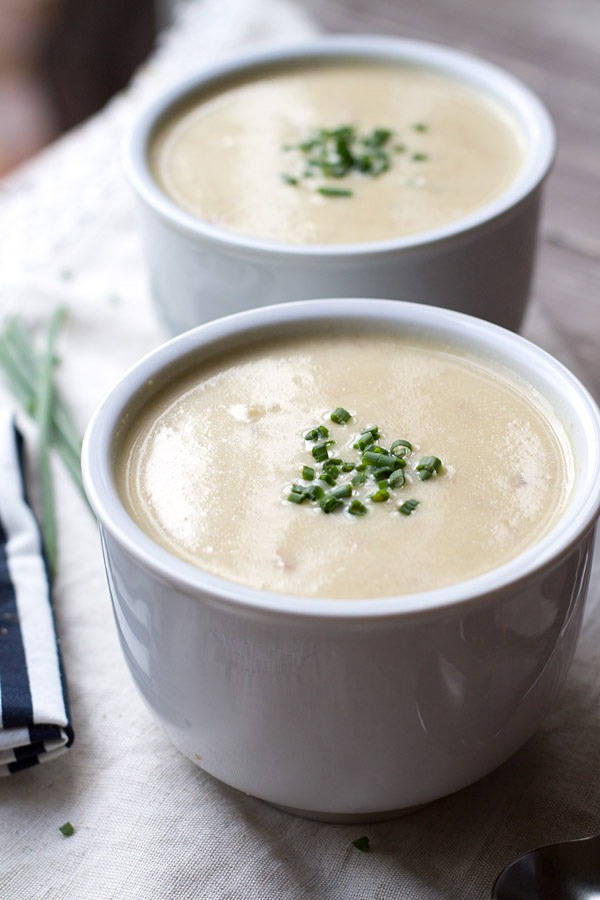 HUNGRY FOR MORE?
Try this Slow Cooker Tex Mex Soup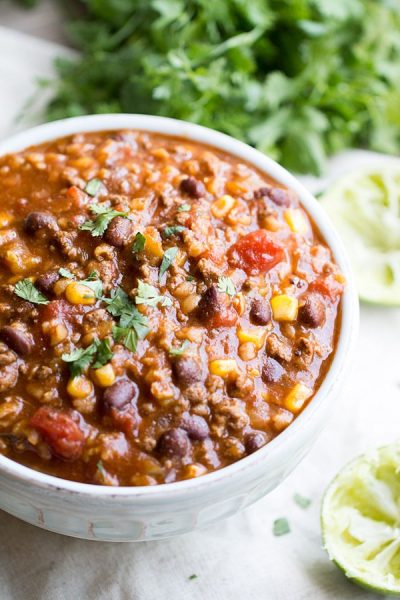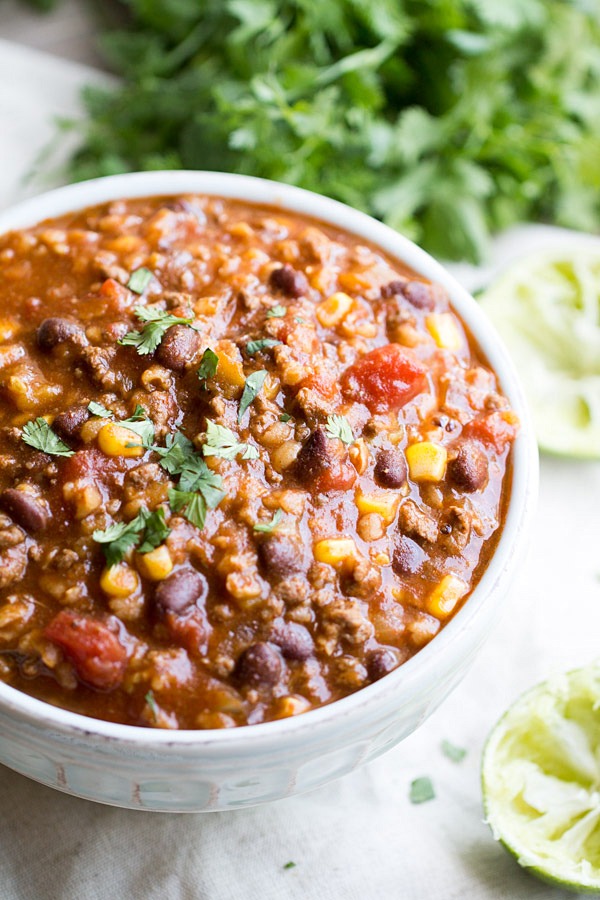 Or this Slow Cooker Thai Chicken Soup