Seafood Enchilada Pasta Bake
Enjoy one of your favorite Mexican style dishes in the form of a pasta casserole with this tasty Seafood Enchilada Pasta Bake. This dish is filled with seafood, creamy sauce and topped with shredded cheese!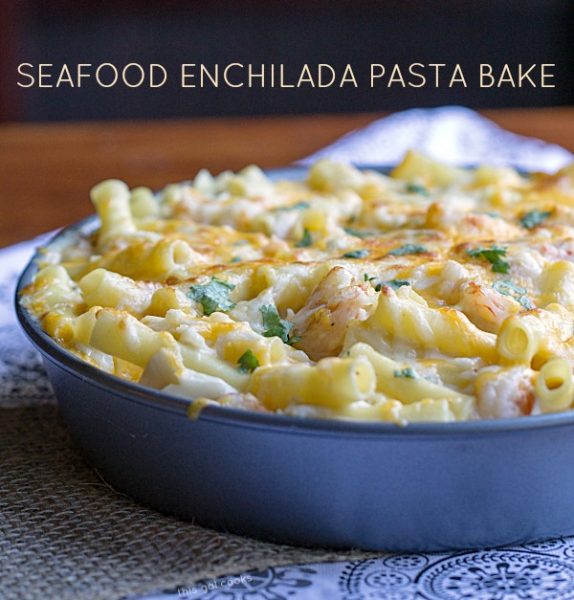 If you could only eat one type of food for the rest of your life, what would it be? Hands down, I would choose Mexican food. I just can't get enough of it. There are so many different ways to enjoy it, I doubt I would ever get sick of it. I haven't gotten sick of it yet and I often have some form of it on a weekly basis.
A while back I made a seafood enchilada recipe that I found in my Better Homes and Gardens New Cookbook. It was quite divine. The creamy sauce is what really made the recipe pop. And of course, the seafood. I decided to give the recipe a try again, only this time I would give it my own twist. Pasta pairs well with creamy sauces so I thought, why not make those enchiladas into a pasta dish?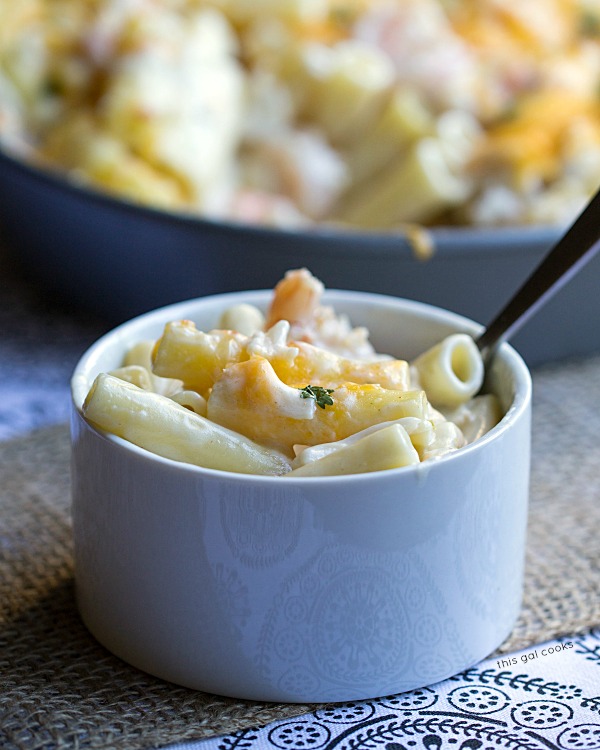 Seafood Enchilada Pasta Bake
I used shrimp and imitation crab meat in this recipe. Don't hate. I know some people turn their nose up to imitation crab meat but I don't. I'm not ashamed to admit that I like it! It tastes good. And it's a helluva lot cheaper than the lump crab meat I buy when I make a fancy dish, like this Roasted Poblano and Crab Chowder or these Crab Cakes with Sweet Chili Lime Sauce. However, if you have lump crab on hand, you may use that, too!
This recipe is pretty easy to put together. Saute some veggies, add the shrimp and imitation crab meat, add the sour cream to make it nice and creamy, place in a baking dish and top with shredded cheese. Bake it until the cheese is bubbly. If you want to be fancy like me, you can garnish with cilantro. Heck, even if you don't want to be fancy, I recommend garnishing with cilantro. But I'm quite partial to cilantro. It's one of my favorite herbs.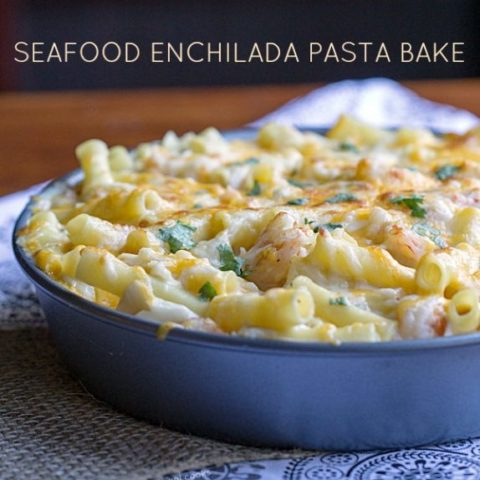 Seafood Enchilada Pasta Bake
Yield: 6 - 8 servings

Prep Time: 20 minutes

Cook Time: 15 minutes

Total Time: 35 minutes
Ingredients
8 oz ziti
1 lb large shrimp, peeled and deveined
8 oz imitation crab meat
1/2 tsp old bay seasoning
1 14.5 oz can of chicken broth
1/3 C sweet onion, chopped
2 cloves of garlic, minced
1/4 C jalapeno pepper, chopped (I used the jarred jalapenos as that is all I had on hand)
1/4 tsp white pepper
1/4 C all purpose flour
2 tbsp sherry
1 C sour cream
2 tbsp butter
3/4 C shredded colby jack cheese
Cilantro for garnish
Instructions
Cook the pasta to your preferred tenderness. Drain and set aside.
Sprinkle the shrimp with old bay seasoning. Toss to coat.
Melt the butter in a large saute pan or pot. Add the onion, garlic and jalapeno and cook over medium low heat until tender.
Add the shrimp, imitation crab meat, sherry and chicken broth and cook until the shrimp are opaque. Break up the imitation crab meat while the mixture is cooking.
Whisk together the sour cream, white pepper and flour. Add to the seafood mixture and mix well. Reduce heat to low and simmer until thickened. Mix in the pasta and then pour the mixture into a 9 inch baking dish. I used a round cake pan. Top with the shredded cheese.
Bake for 10 minutes. Then turn on the broiler and broil until the cheese is bubbly and slightly browned.
Garnish with cilantro.
Notes
Sauce adapted from Better Homes and Gardens New Cookbook