Tequila Lime Shrimp Tacos
These Tequila Lime Shrimp Tacos are a tasty, refreshing grilled recipe that's perfect for a lunch or dinner. Can be easily made GF by replacing the flour tortillas with corn tortillas or serving over rice to make taco bowls!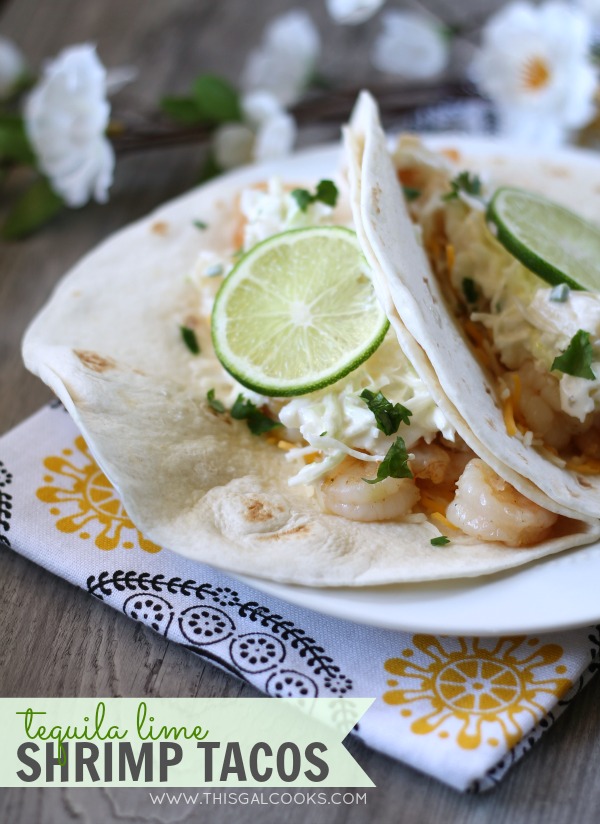 Good morning! It's that time again…time to reveal your recipe for the Spiked! Recipe Challenge! Before I get to my recipe, Carrie and I would like to thank you for participating in this challenge! We are excited to see what awesome and delicious tequila recipes you have come up with for our third ever Spiked! Recipe Challenge!
Tequila Lime Shrimp Tacos
I decided to make a tequila lime marinade. I was going to marinate chicken but being the seafood lover that I am, I ended up using shrimp instead. Shrimp was a fantastic choice. And I'm not just saying that because I'm a seafood lover. The shrimp soaked up the marinade much better than chicken would have. And it came out so tender and perfect.
We grilled the shrimp (I say we but Ken actually did the grilling) and then tucked them in soft taco shells with shredded cheese and topped them with Sweet & Spicy Pineapple Slaw. We served these delicious tacos with tortilla chips, salsa and guacamole.
So I guess you want to see the recipe, right? Ok, ok, but first, let me tell you another little story. I'll keep it short and sweet.
I started shooting in manual mode. Shooting with my DSLR camera, that is. I actually shot these photos in manual mode. But I did a shoot in creative auto as well. I have a comparison to show you.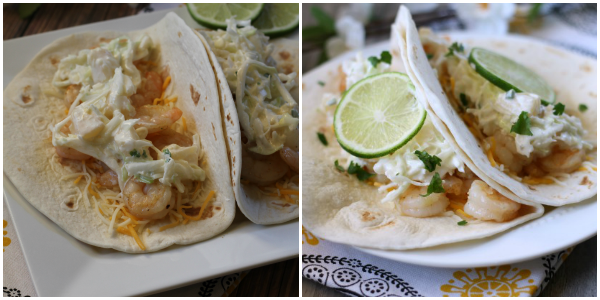 The image on the left was shot with creative auto with a 50mm lens. The image on the right was shot in manual mode (f/2.5, shutter speed 1/50, ISO 100, 50mm lens.) What do you think? Can you tell a difference? I sure can. Manual mode is much crisper, brighter and cleaner!
Ok, now here's the recipe.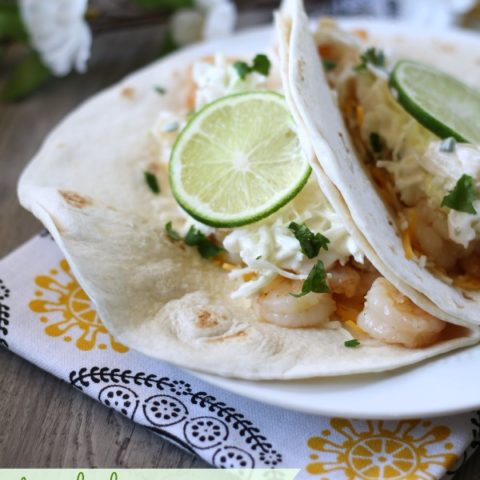 Recipe: Tequila Lime Shrimp Tacos // Spiked! Recipe Challenge
Yield: 4

Prep Time: 1 hour

Cook Time: 10 minutes

Total Time: 1 hour 10 minutes
Ingredients
1 lb medium shrimp, peeled and deveined
2 tbsp tequila
juice from one large lime
2 cloves of garlic, minced
dash of lime zest
1/5 tsp ground chipotle pepper
1 tbsp fresh chopped cilantro
1/4 C olive oil
Dash of salt and ground black pepper
Pineapple slaw
Shredded cheese
Instructions
In a mixing bowl, whisk together tequila, olive oil, cilantro, lime juice, lime zest, salt, pepper, ground chipotle pepper, and garlic.
Add the shrimp and toss to coat. Cover and refrigerate for one hour.
Grill in a grill wok over medium heat until the shrimp is opaque.
Place shrimp in soft taco shells and top with shredded cheese and pineapple slaw.