Recipe: Sausage Gravy with Biscuits
This morning I shared a lovely recipe for homemade drop biscuits. I promised that I would share a recipe for the sausage gravy that was eaten with those biscuits. So I present to you Sausage Gravy!
Sausage gravy is one of those simple to make recipes. There are only 5 ingredients involved, provided you add salt & pepper (I highly recommend adding pepper – there's just something amazing about peppered gravy,) and the cooking process takes less than 15 minutes. This recipe is one of my Sunday morning favorites. As I mentioned in my biscuit post, I used to top frozen biscuits with the sausage gravy. There's really no need to do that because biscuits are so simple to make from scratch. I hope you enjoy this recipe.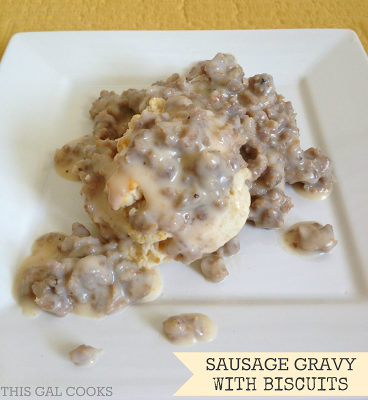 Ingredientsmakes 6 servings
1lb bulk pork sausage (don't eat pork? use turkey sausage)
2 C milk
1/4 C all purpose flour
salt and pepper to taste
Fresh biscuits
Directions
In a large sauce pan or pot, cook the sausage over medium heat.
Add the flour and mix well
Gradually stir in the milk
Add salt and pepper to taste
Enjoy over fresh biscuits.
I'd love to hear what you think about this recipe. Leave a comment to share your thoughts!
Often linking up to these great parties.