Nutella White Chocolate Chip Cookies
These melt in your mouth Nutella White Chocolate Chip Cookies are full of chocolate and Nutella flavor. They're filled with white chocolate chips for an extra burst of chocolate flavor!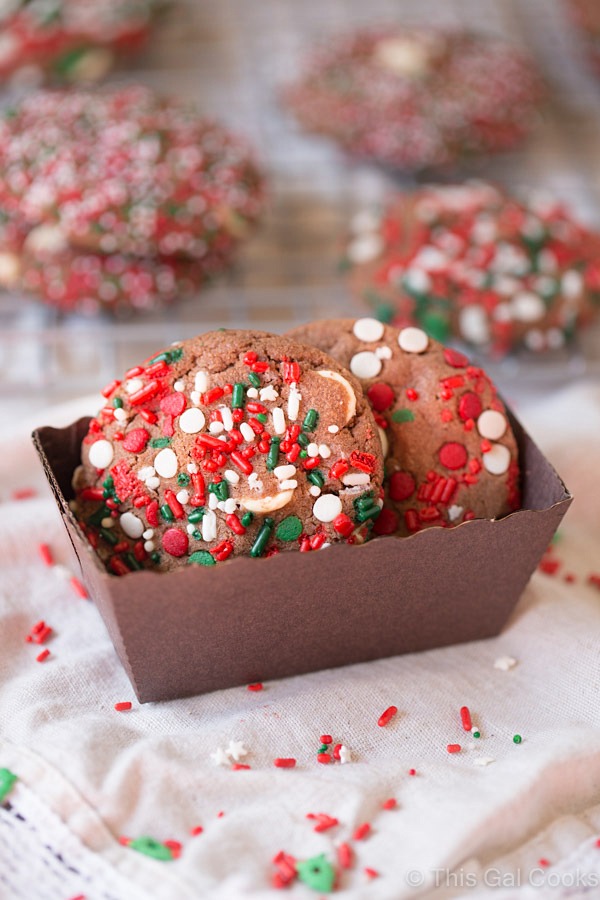 A couple of years ago I signed up for a cookie swap hosted by Julie from White Lights on Wednesday. I was SO excited to try out a cookie recipe from a fellow blogger. I received a delicious cookie recipe from Shary from Atta Mama. I'll admit, I was a little worried when I received a recipe for Nutella Chocolate Chip Cookies. I had never had Nutella before. Gasp. I know. Blasphemy in the food blogger world, right?
When I opened the first jar of Nutella that I had EVER opened, I had to have a taste. BOOM. Instant Nutella lover.
Nutella. Is. AWESOME!
These cookies are awesome, too. I couldn't keep my hands off of them. Dangerous cookies. So I took some to work. They were a hit there, too.  Seriously, they were DEVOURED before the end of the day.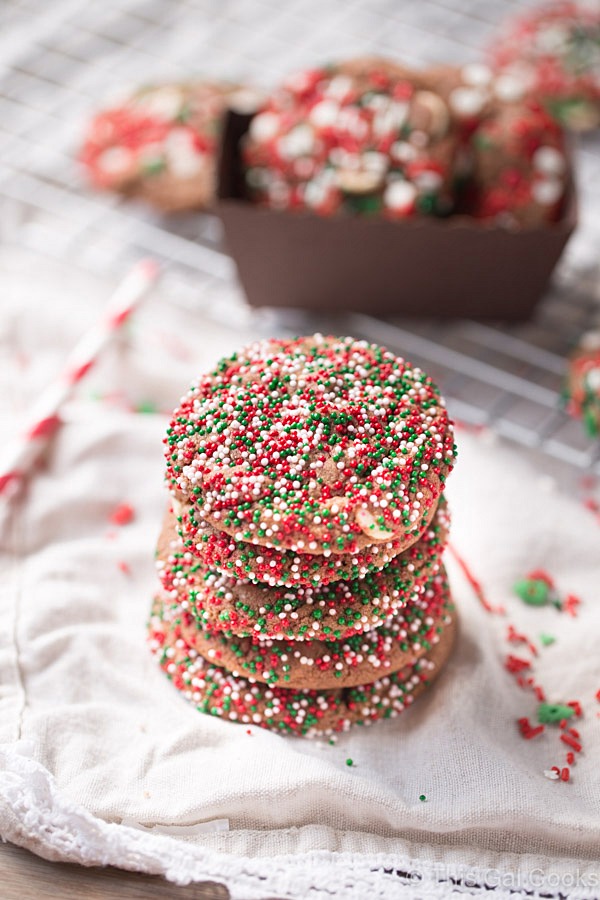 I made a couple of changes to the original recipe. I used white chocolate chips instead of semi-sweet chips and I reduced the amount of cinnamon in the recipe from 1 tsp to 1/4 tsp. I hope you enjoy the recipe!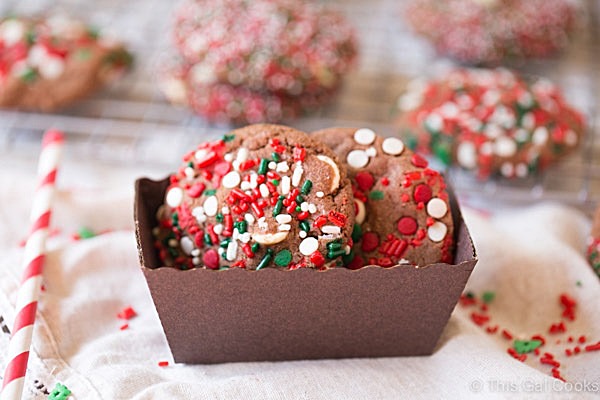 Nutella White Chocolate Chip Cookies
Nutella White Chocolate Chip Cookies
Author: This Gal Cooks
Recipe type: Dessert
Serves: 24 cookies
Ingredients
1⅓ C all purpose flour
1 tbsp unsweetened cocoa
¼ tsp ground cinnamon
¼ tsp baking powder
¼ tsp baking soda
½ tsp salt
½ C unsalted butter, room temp
⅔ C granulated sugar
⅓ C light brown sugar
⅔ cup nutella
½ tsp vanilla extract
1 large egg, room temp
½ C white chocolate chips
Instructions
In a mixing bowl, whisk together the flour, cocoa, cinnamon, baking powder, baking soda and salt.
In the bowl of a stand mixer, using the flat attachment cream together the butter, sugars, Nutella, egg and vanilla extract on medium-high speed for 5 minutes or until fluffy.
Meanwhile, whisk together the flour, cocoa powder, cinnamon, baking powder, baking soda and salt.
Add the flour mixture to the butter mixture and beat on low until combined.
Fold in the white chocolate chips.
Chill for an hour in the fridge or for about 20 minutes in the freezer.
Drop 1tbsp to 1.5 tbsp balls of dough onto a parchment paper lined baking sheet. Place 2 inches apart. NOTE: I scoop the dough with a 1.5 tbsp cookie scoop, roll into a ball and then place on the parchment lined baking sheet.
Bake at 350 for 10-12 minutes. Remove from heat and cool on a cooling rack. I just put the pan on top of the rack to allow the pan and cookies to cool.
Nutrition Information
Serving size: 1 cookie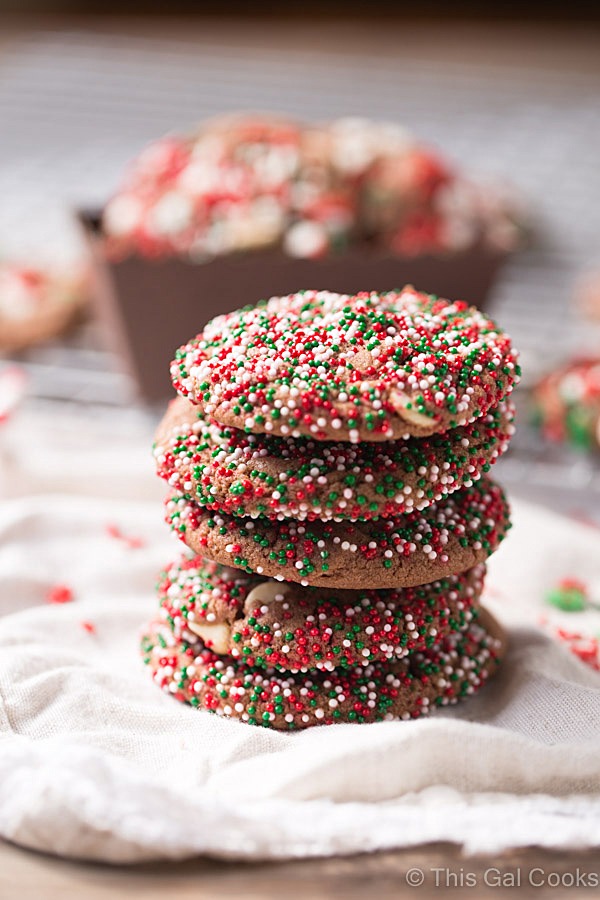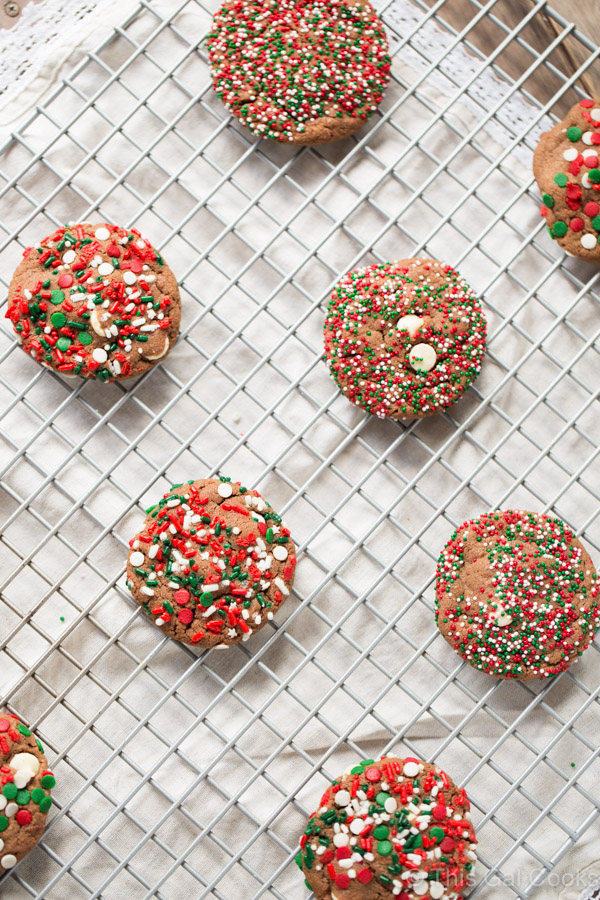 The photos of these cookies were updated in November of 2014.