Roasted Jalapeno & Chicken Chowder
It's actually been cold in Florida for the past few days so I decided to make another soup for dinner on Sunday evening. As you may know, I love spicy foods so I wanted to make a soup with a kick. I decided to make a Roasted Jalapeno & Chicken Chowder. I took the easy route with the chicken. I purchased a rotisserie chicken from Publix. You can't go wrong with a rotisserie chicken from Publix. Tender, juicy, flavorful chicken makes a great addition to soup if you don't feel like cooking chicken to put into your soup. The jalapenos gave the soup the spicy kick I was looking for and the sweet corn gave the spicy kick a complimentary sweetness that tasted pretty amazing. I hope you enjoy this recipe!
Roasted Jalapeno & Chicken Chowder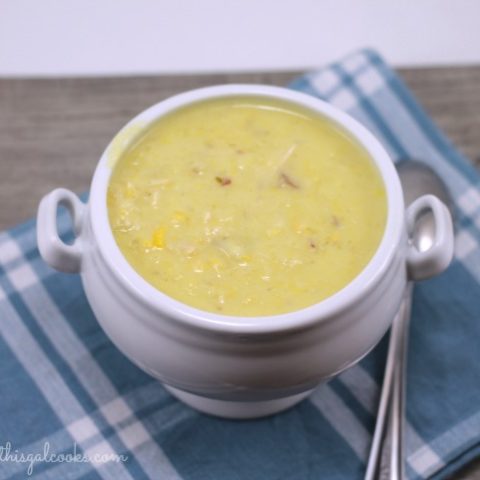 Recipe: Roasted Jalapeno & Chicken Chowder
Yield: 6

Prep Time: 20 minutes

Cook Time: 40 minutes

Total Time: 1 hour
Ingredients
4 jalapenos, roasted, skins removed, seeded and chopped
4 small red potatoes, diced and boiled until tender
2 C chicken, shredded
3 C frozen sweet corn
2 tbsp corn meal
1 C heavy cream
4 C chicken broth
1 large onion, chopped
4 clove garlic, chopped
2 tbsp butter
Salt & pepper to taste
Instructions
In a large pot, melt the butter and saute the onion and garlic until tender.
Add 2 C of the frozen corn, the roasted jalapenos and the corn meal. Mix well and let simmer for 5 minutes.
Add 1/2 of the potatoes and 1/2 of the chicken broth. Puree with an immersion blender. Continue to add the broth until it is all used.
Add the remaining potatoes, corn and the chicken. Simmer for 30 minutes.
Stir in the cream and add salt and pepper to taste.