Mashed Cauliflower Mini Casseroles
I've always had a love affair with carbs. Bread. Pasta. Potatoes. Cupcakes. Cookies. Brownies. Beer. Those are a few of my favorite things. But we all know that carbs aren't exactly the best thing for us to eat. They can be pretty unhealthy, especially when the carbs consumed consist of refined carbs and they aren't too friendly to our waistelines. I really enjoy a good baked potato, a heaping serving of mashed potatoes, and various potato casseroles.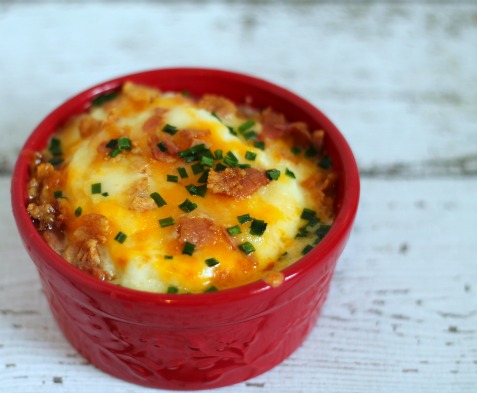 But alas, I've decided to reduce my carb intake again. It won't be a drastic reduction but I'm going to sub some high carb side dishes with low carb side dishes. Which brings me to the recipe that I will be sharing with you today: Mashed Cauliflower Mini Casseroles.  If you're looking for a low carb recipe that's a perfect substitute for mashed potatoes or baked potatoes, then this is your recipe. Cauliflower has such a mild taste that it's hard to believe that this casserole is in fact made with cauliflower rather than potatoes. If you'd rather not have mini casseroles, then just pour the mixture into a small casserole dish instead of the ramekin. I hope you enjoy this recipe!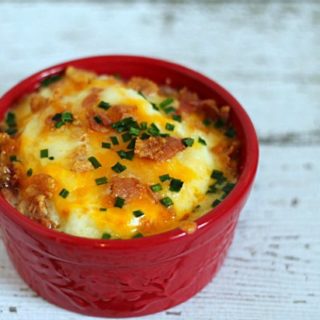 Mashed Cauliflower Mini Casseroles
Yield: 3 servings
Prep Time: 10 minutes
Cook Time: 5 minutes
Total Time: 15 minutes
This low carb recipe is a great alternative to baked potatoes! Individual servings are perfect for grab and go meals or freezing for future use.
Ingredients
1 head of cauliflower, florets removed and chopped
1/4 C heavy cream
1 tbsp butter
1/2 tsp salt
A dash of ground pepper (about 1/8 tsp)
Shredded cheese (use desired amount)
Bacon bits (use desired amount)
Chives (use desired amount)
Instructions
Bring a large pot of water to a boil (add a dash of salt to the water.) Add the cauliflower and cook until tender.
Drain the cauliflower and place in a mixing bowl. Puree with an immersion blender.
Add the heavy cream, butter, salt and pepper and mix well.
Spoon the cauliflower mixture into ramekin bowls and top with the shredded cheese and bacon bits.
Place the casseroles on a baking pan and place in the oven. Broil on high for a few minutes until the cheese is bubbly. Be sure to watch the broiling as to not let the cheese burn. It doesn't take long to get it bubbly.
Remove from the oven and top with chives.
Notes
Calories: 213; Fat: 16g; Protein: 8g; Sugar: 5g; Carbs: 11g