Homemade Spaghetti Sauce with Sausage
Whenever I have spaghetti, I love to make homemade spaghetti sauce. I've made a few different recipes over the years, unfortunately, I didn't write them down. So I decided to make a new recipe this past weekend so I could have a good recipe on hand for my future spaghetti sauce making adventures.
Now I have to admit, there are times when I will use jarred spaghetti sauce. When Publix has the good brands on sale BOGO free, I'll pick up a couple of jars because it makes for a quick weeknight meal. Just boil some pasta, heat up the sauce and you're set in less than 20 minutes. But no sauce compares to homemade sauce. So if you want to have homemade sauce rather than jarred sauce for a weeknight meal, I recommend making my sauce and freezing part of it so you can thaw it for that quick weeknight meal. I hope you enjoy this recipe!
Homemade Spaghetti Sauce with Sausage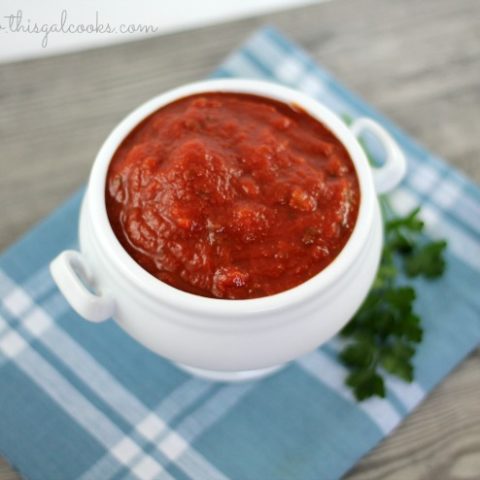 Recipe: Homemade Spaghetti Sauce with Sausage
Yield: 10

Prep Time: 20 minutes

Cook Time: 1 hour 30 minutes

Total Time: 1 hour 50 minutes
Ingredients
1 28 oz can tomato puree
1 29 oz can tomato sauce
1 6 oz can tomato paste
2 bay leaves
1 tbsp fresh oregano, chopped
1 tbsp fresh rosemary, chopped
1 tbsp fresh basil, chopped
1 tbsp fresh parsley, chopped
2 hot Italian sausage links, removed from skins, sliced and formed into small balls
1/4 C red wine
1 cube beef bouillon
2 tbsp white sugar
1 tbsp brown sugar
1 onion, chopped
4 cloves garlic, minced
2 tbsp olive oil
Instructions
In a large pot, saute the onion and garlic in the olive oil over medium heat until tender.
Add the sausage balls and saute for 2-3 minutes or until the outsides are slightly browned.
Add the tomato sauce, tomato puree and tomato paste. Mix well.
Mix in the red wine.
Stir in the oregano, parsley, basil, rosemary, beef bullion and sugars. Add the bay leaves.
Cover and simmer for at least 1 1/2 hours. A longer duration is recommended.