Healthy Fresh Fruit Yogurt Parfait Recipe
It's no secret that I like healthy foods. But it's also no secret that I love to indulge in sweets, pastas and breads. But too much of the sweets, pastas and breads isn't very complimenting to the waistline. It's all about moderation, folks. And moderation is something I lost around Christmas time. It's actually pretty rare that I lose self-control with food. I think my new-found love of baking paired with the creation of my food blog helped me to lose self-control. But alas, I've finally put my foot down and said "no more sweets for a while and a drastic reduction of pasta, bread and carb intake."
Now I'm in no way saying that I am going to quit eating carbs. And I'm not saying you should either. But I am saying moderation. It's all about moderation. Cut back to one bread or pasta item per day. Limit your sweets intake to once or twice per week (I know, it's hard to do but once you quit eating them daily, it won't be as hard to say no!) Drink A LOT of water. When you bake a batch of cookies, cupcakes or brownies (and I know I will – I love baking them and blog readers love them) reduce the ingredients size to make a smaller batch or give most of the batch to neighbors or co-workers so you aren't tempted to eat all of it. Oh, and get out and exercise!  After I share a simple, healthy breakfast recipe with you, I'll be sharing my new-found exercise routine with you!
Healthy Fresh Fruit Yogurt Parfait Recipe
This recipe is pretty simple. All you need is fresh fruit of your choice (I recommend blueberries, raspberries or strawberries) fat-free, low sugar yogurt (I use Light n Fit Vanilla – get the big container, it's cheaper) and granola. You can make your own or purchase a package. I love making my own but this time I bought a pack of Classic Back to Nature Granola. It's delicious and nice and crunchy, which I LOVE! My homemade granola doesn't ever turn out super crunchy. I want crunchy granola in my yogurt.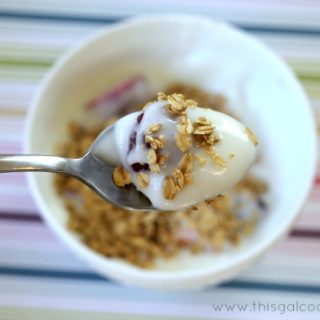 Healthy Fresh Fruit Yogurt Parfait Recipe
Ingredients
Fresh berries
Fat free, low sugar vanilla yogurt
Granola
Instructions
Place desired amount of yogurt in a bowl.
Add the berries and top with granola.
Mix together and enjoy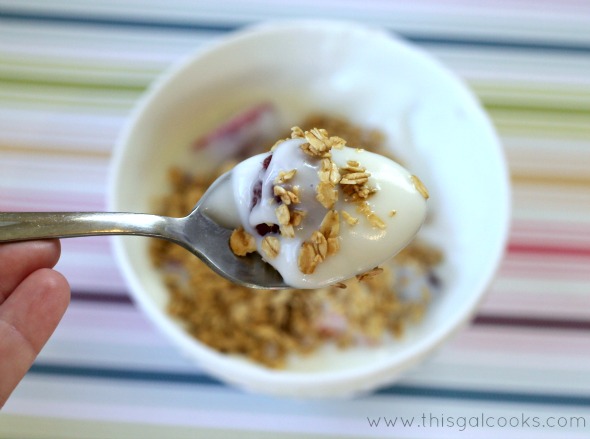 What else can you do to stay fit? EXERCISE! I try going to the gym or walking outside at least every other day but sometimes I just don't have any motivation to go. Earlier this week, the HR department at my job sent out an email about a contest they are doing. It involves counting your daily steps with a pedometer. I jumped all over this!I bought a pedometer and have set a goal to walk at least 10,000 steps every day. I started yesterday and I did over 10,000 steps!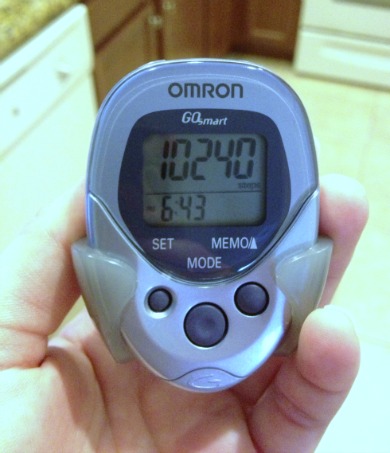 For some reason, having the ability to view my steps throughout the day is a huge motivator for me. When I got home from work yesterday, I had about 4500 steps. I needed almost 6000 more to reach 10k! So I went for a 3.12 mile walk and that brought me up to 10k!  Why 10k steps per day? It's recommended to live a healthy lifestyle; to maintain or lose weight; to keep your body healthy. Heres's some more info from The Walking Site.  My good friend Paula from Call Me PMc also has some good info on her site! You can get that info here.
So what will you be doing to make start living your healthier lifestyle?