Garlic Sesame Rice Noodles
This gluten free Garlic Sesame Rice Noodles recipe is on the table in under 30 minutes. Make it for dinner or for a quick, tasty lunch.
Who loves easy recipes? I sure do. Not that I dislike complex recipes but working full-time Monday through Friday sometimes results in my not feeling up to cooking an elaborate meal during the week. When I can find a quick, easy delicious recipe that's still basically made from scratch, I usually try it. When I found a recipe for Garlic Noodles on Budget Bytes, I figured I would give it a try. It seemed easy enough to prepare; the recipe stated that it only took a total of 15 minutes from preparation to plate. The only difference I made between the recipe on Budget Bytes and my recipe was that I used Cilantro in my recipe and replaced angel hair pasta with rice sticks (rice vermicelli noodles.)
The recipe was quite delicious. It's definitely something I will make again as both my boyfriend and I enjoyed it. I hope you enjoy it too!
Garlic Sesame Rice Noodles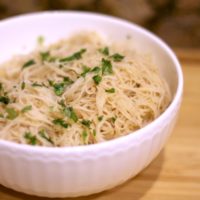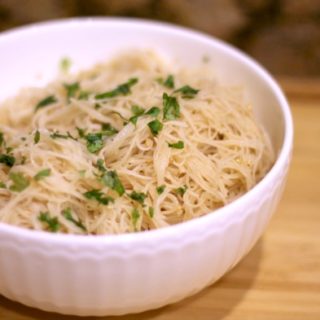 Recipe: Garlic Sesame Rice Noodles
Yield: 4 servings

Prep Time: 10 minutes

Cook Time: 10 minutes

Total Time: 20 minutes
Ingredients
4 tbsp butter
4 cloves of garlic, minced
1/3 C green onion, chopped tbsp oyster sauce
1 tbsp brown sugar
2 tsp sesame oil
2 tsp soy sauce
6 oz rice sticks (rice vermicelli noodles), cookedSesame seeds and cilantro for topping
Instructions
In a large pot, melt the butter and saute the green onions and garlic until tender. Set aside.

Combine the oyster sauce, sugar, soy sauce, sesame oil and then add to the garlic/onion mixture in the pot.

Add the rice noodles and mix well.

Serve in bowls and top with sesame seeds and chopped cilantro.


Other delicious Asian inspired recipes: