Chocolate Chip Pancakes
Let's be real. Sometimes indulging in chocolate chip pancakes for breakfast is a good thing.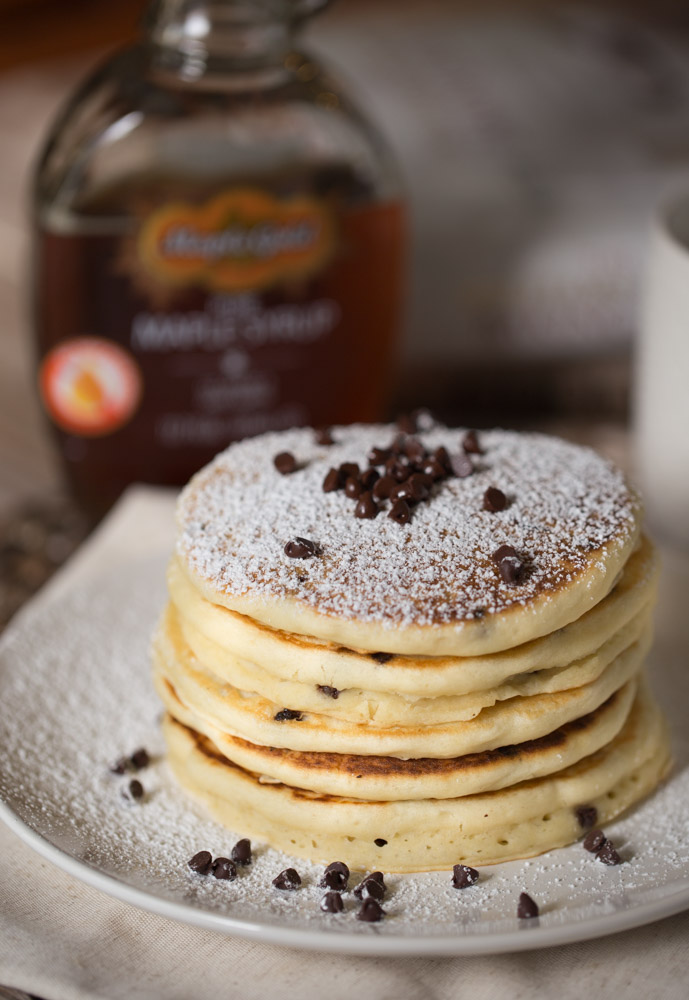 I love pancakes but I don't eat them often. However, I do make them often.
Ken loves pancakes and often requests them for breakfast. Sometimes I make plain pancakes, sometimes I make blueberry pancakes and sometimes I make chocolate chip pancakes. They're always homemade and when Ken requests them, I stick to a classic pancake recipe rather than reaching for the healthier ingredients.
I've made them with whole wheat flour, without egg and even gluten free but none of them compare to a classic pancake recipe.
The boy knows what he likes.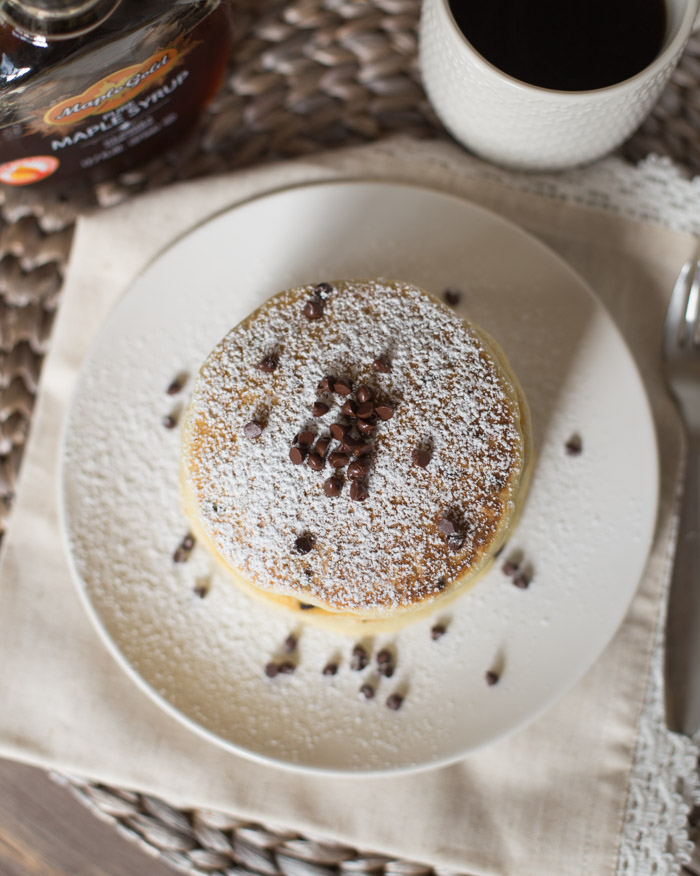 Chocolate Chip Pancakes
These pancakes taste very similar to the homemade pancakes my mom made when I was a kid. I don't remember her ever putting chocolate chips in the pancakes but that's okay. Pancakes sans chocolate chips didn't ruin my childhood.
These pancakes are easy to make and only require one bowl for mixing. Use a measuring cup to measure out the batter or do what I do – eyeball it. Top each pancake with a sliver of your favorite spread – butter or non-dairy spread. Drizzle the stack with pure maple syrup. It's the best syrup around. ♥︎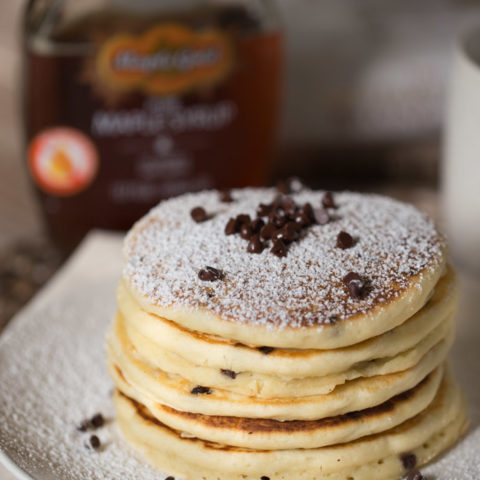 Chocolate Chip Pancakes
Yield: 6-8 pancakes
Prep Time: 10 minutes
Cook Time: 20 minutes
Total Time: 30 minutes
Ingredients
1 C all purpose flour
1 tbsp sugar
2 tsp baking powder
1/4 tsp salt
1 large egg
1 C milk (can use coconut, almond or dairy milk)
2 tbsp vegetable oil
1/4 tsp vanilla extract
1/4 C mini semi-sweet chocolate chips
Instructions
In a mixing bowl, combine the flour, sugar, salt and baking powder. Add the egg, milk, vanilla extract and vegetable oil and stir until combined but lumpy.
Fold in the chocolate chips.
Heat a skillet over medium heat. Spray with cooking spray. Pour 1/4 cup of batter for each pancake onto the skillet. When the top starts to get bubbly, flip over and cook for an additional 1-2 minutes.
Top with powdered sugar and serve with pure maple syrup, if desired.