Chicken Enchilada Pot Pie
Chicken Enchilada Pot Pie is a simple dinner recipe made with chicken, refrigerated pie crust and all of your favorite enchilada flavors and ingredients!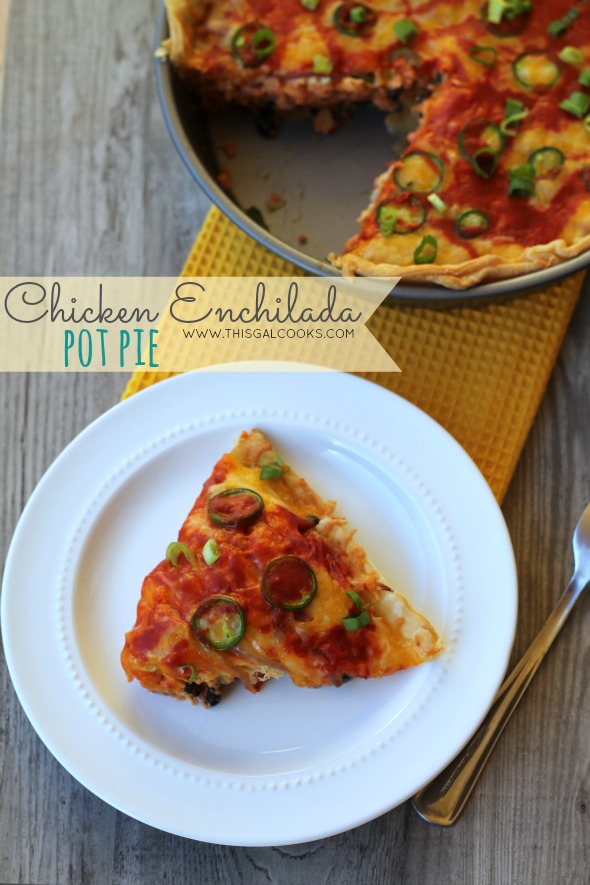 I know what you're thinking. Pot pies usually have the crust on top of the filling, not the bottom. But this delicious pot pie has the crust on the bottom. You could call it a reverse pot pie. Which is absolutely fine. Why the crust on the bottom? So you can top the pie with cheese and jalapenos! Isn't it pretty?
This recipe has it all…well, all that you would typically find in a chicken enchilada meal. Chicken, cheese, enchilada sauce, rice, beans. Ok, it doesn't come with the corn tortillas but you won't miss those when you taste how delicious the flavors taste with pie crust. I hope you enjoy this recipe!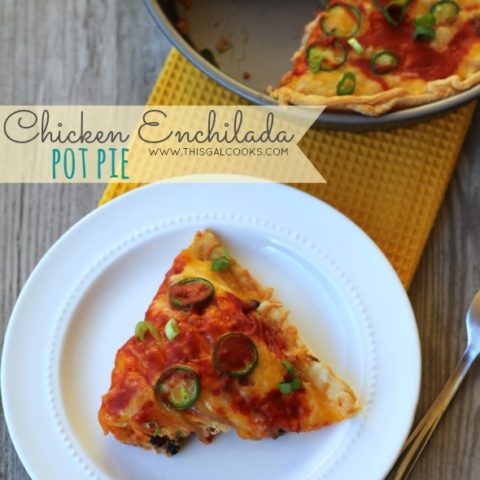 Recipe: Chicken Enchilada Pot Pie
Yield: 8

Prep Time: 25 minutes

Cook Time: 30 minutes

Total Time: 55 minutes
Ingredients
2 boneless chicken breasts, cooked and shredded
1 10oz can of red enchilada sauce
1/3 C sour cream, plus more for topping
1/2 C red onion, sliced thin and sauteed
1 15oz can black beans, drained and rinsed
1 tbsp fresh cilantro, chopped
2 C cooked white rice
2 small jalapenos, sliced
1 1/4 C shredded Mexican cheese
1 9 inch pie crust (plus part of another pie crust, if needed)
1/3 C cream of chicken soup
1 tsp garlic powder
Sliced green onions for topping
Instructions
Roll out the pie crust and place in a 9 inch cake pan. Freeze for 10-15 minutes and then bake at 350 for 10 minutes. Add more pie crust to the sides of the pan if the pie crust shrinks.
Combine the chicken, cream of chicken soup and garlic powder. Set aside.
In another mixing bowl, combine the rice, beans, sour cream, 1/2 of the enchilada sauce and the cilantro.
Spoon the rice mixture into the bottom of the pie crust (you may not need to use all of the mixture. If you don't need it all, save for making burritos or rice bowls at a later date.)
Top the rice mixture with the chicken, then sauteed onion, then cheese and sliced jalapeno. Drizzle with the remaining enchilada sauce.
Bake at 350 for 25-30 minutes or until the cheese is melted and bubbly.
Cool on a wire rack for 10 minutes before serving.
Top with sour cream and green onions, if desired.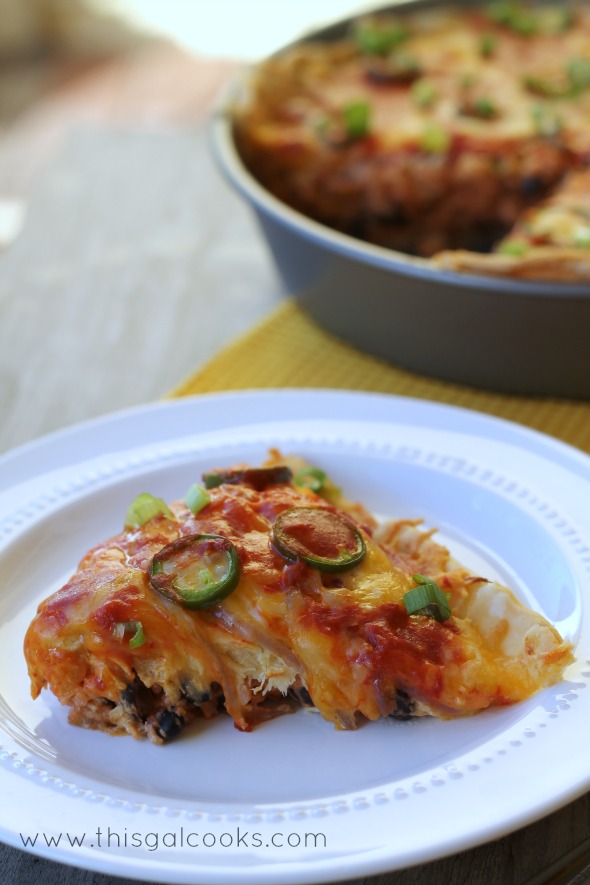 A few more pie dishes that you may enjoy: