Cherry Danish Coffee Cake
Cherry Danish Coffee Cake: A sweet way to start your morning. Easily made with cake mix, cherry pie filling and a sweet, sugary glaze.
Cherry Danish Coffee Cake
Do you ever have those days where you want sweets for breakfast rather than a savory breakfast of bacon, eggs, toast and hasbrowns? I sure do. Normally when I want a sweeter breakfast, I make pancakes or cinnamon roll breakfast cake (you can find a couple of those recipes at the bottom of this post.) Yesterday morning I wanted something sweet for breakfast. So I did what any foodie does and I turned to the internet to get ideas (ok, I also turn to my cookbooks but I was still in bed yesterday morning when I started brainstorming and my cookbooks were downstairs!) I found a recipe on Taste of Home that I used as the inspiration for my recipe. I pretty much followed the exact recipe but I used a different type of cake mix and I made my glaze differently. I hope you enjoy this sugary sweet recipe!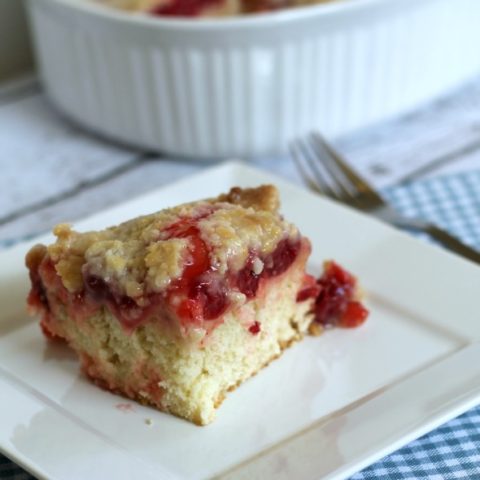 Recipe: Cherry Danish Coffee Cake
Yield: 8

Prep Time: 15 minutes

Cook Time: 40 minutes

Total Time: 55 minutes
Ingredients
1 box white cake mix
1 21oz can cherry pie filling
2 eggs, beaten
1 C all purpose flour
1 package dry active yeast
2/3 C warm water (115 degrees)
1/3 C cold butter, cubed
1/4 tsp vanilla extract
1 1/2 C confectioners sugar
2-3 tbsp milk
Instructions
In the bowl of a stand up mixer, combine half of the cake mix, the flour, water and yeast. Beat with the flat attachment until smooth.
Beat in the eggs until well blended.
Pour the batter into a greased 2.5 qt casserole dish.
Spread the cherry pie filling on top of the batter.
In a mixing bowl, combine the remaining cake mix and 1/3 C butter until crumbly. I used a knife and my fingers to do this. Sprinkle on top of the cherry pie filling.
Bake at 350 for 35-40 minutes or until the top is browned. After baking was complete, I turned on my broiler to get the top a little more brown.
Cool on a wire rack for 10 minutes. Meanwhile, in a small sauce pan, melt the butter over low heat. Whisk in the milk, confectioners sugar and vanilla. Add more milk until desired consistency reached.
Pour the glaze over the cake (I ended up not using all of the glaze.)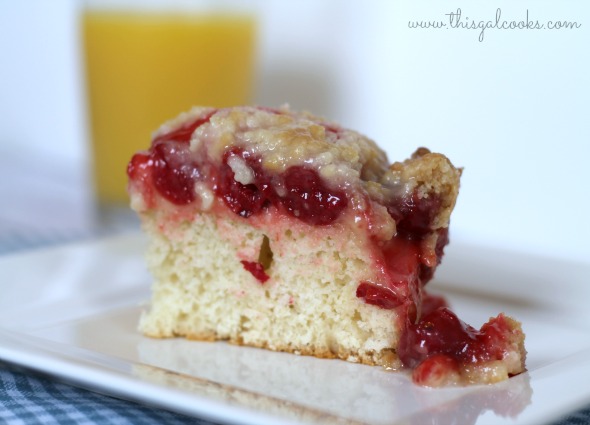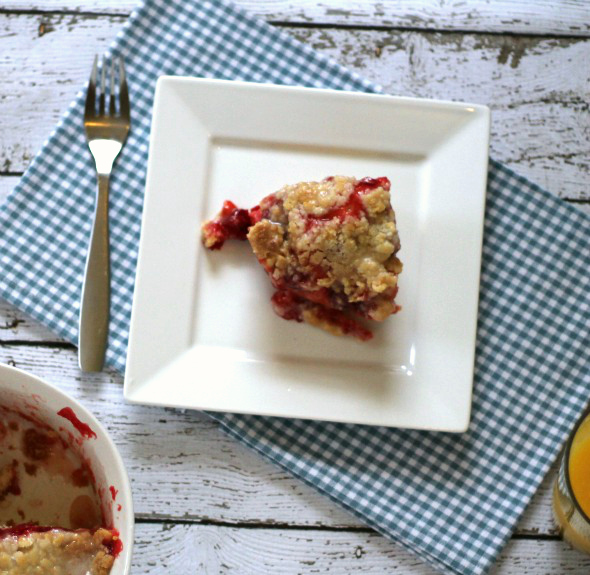 More sugary sweet breakfasts that you might enjoy: