Cheesy Pizza Pasta Casserole
Pizza is one of those recipes that you can get creative with. So is pasta. So if you want to get really creative, you combine the two together. And that's exactly what I did for dinner last night. I wanted to create a recipe with ingredients that I had on hand. Earlier in the week I said I was going to make pizza again this week. Well I did…sort of. I didn't have the time to make dough so I figured pasta would work perfectly in its place. And it did. This meal was delicious. I hope you enjoy this recipe!
Cheesy Pizza Pasta Casserole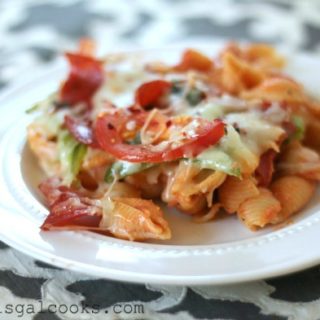 Recipe: Cheesy Pizza Pasta Casserole
Yield: 4

Prep Time: 25 minutes

Cook Time: 5 minutes

Total Time: 30 minutes
Ingredients
1 small onion, thin sliced
1/3 C turkey pepperoni, sliced in half
1/2 small tomato, sliced and slices cut in half
1 C pizza sauce
1 small green pepper, thin sliced
2 C mozzarella cheese, shredded
2 oz cream cheese
6 oz shell pasta, cooked until tender
1 tbsp olive oil
1 tbsp fresh oregano
1 tsp crushed red pepper
Instructions
In a medium saute pan, saute onion and pepper in the olive oil until tender.
In a small sauce pan, heat the pizza sauce. Stir in the cream cheese until melted.
Combine the pizza sauce and cooked pasta and place in the bottom of a 1 1/2 qt casserole dish.
Layer with 1 C of the mozzarella cheese, then add the pepperoni, green peppers and onion in a layer.
Add a layer of half of the remaining mozzarella cheese and top with the tomatoes.
Layer on the rest of the mozzarella cheese and then sprinkle with fresh oregano and crushed red pepper.
Turn on your broiler to high and place the pasta dish on the bottom rack of the oven. Allow to broil until the cheese is melted.