Quick Pickled Jalapenos
This post may contain affiliate links. Please read my disclosure policy. 
Quick pickled jalapenos are a life saver for jalapeno fans that want pickled jalapenos right now! These pickled jalapeños are ready for use in all of your recipes in under an hour.
STUFF
Happy Monday! Did you have a good weekend? I did. My birthday was yesterday and we spent the weekend at our property in Lakeland. We ate dinner at a restaurant with an outdoor pet friendly area so we were able to take McFluff with us. Then we came home, Ken built a fire and we sat by the fire until we couldn't take the massive attack of mosquitos any longer. Sunday we had lunch at one of our favorite spots in Lakeland – The Red Top Pit Stop. You can check out the crazy pulled pork burger I had over on my Instagram page.
I have a love affair with jalapenos and I like to eat them in everything and even as the core of a dish. Jalapenos stuffed with cream cheese, wrapped in bacon and grilled is one of the BEST appetizers ever! I totally need to post my recipe on my blog soon because I think you will love it.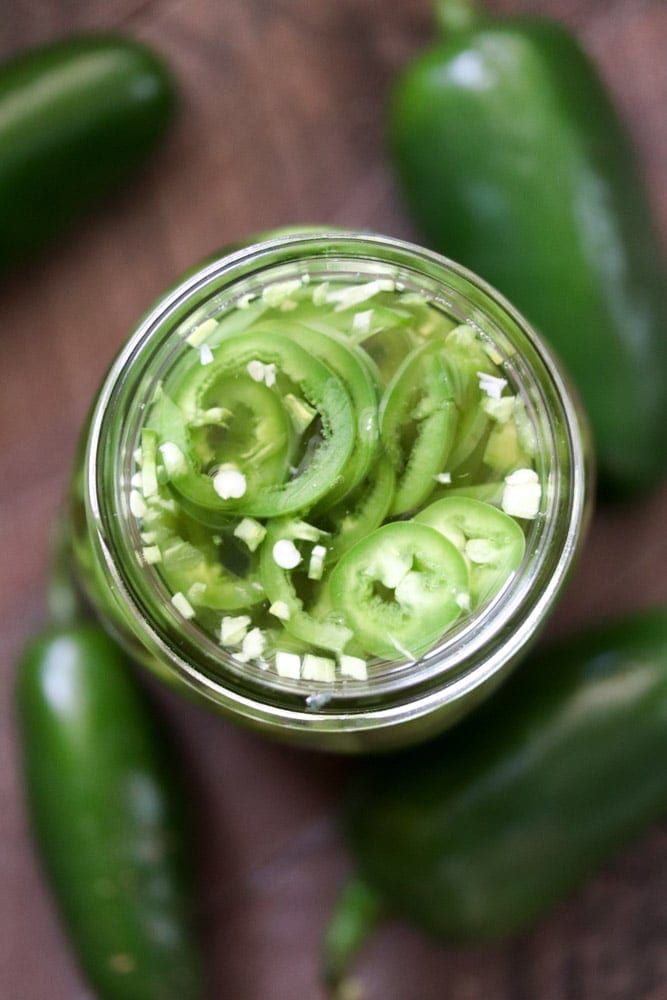 For now, we will swoon over these quick pickled jalapenos.
So about dees jalapenos. I made these quick pickled jalapenos a couple weeks ago and I've already used them in 19372903737 recipes. I also ate them straight outta the jar. They're that damn good.
RECIPE TIPS AND INFO
A few of the recipes I've used them in:
breakfast bowl
taco bowl
savory oatmeal
blackened shrimp and smoked gouda grits (recipe on my blog soon!)
grilled blackened haddock and smoked gouda grits
Other things you could use them on:
pizza
macaroni and cheese
tacos
chili
nachos
spoonful to mouth
They're super easy to make and only require one jar – no mixing bowls or pots to clean! I used an 8oz mason jar to make my pickled jalapenos but you can use any type of jar – a pickle jar, olive jar, etc. Just make sure it's large enough to hold all ingredients.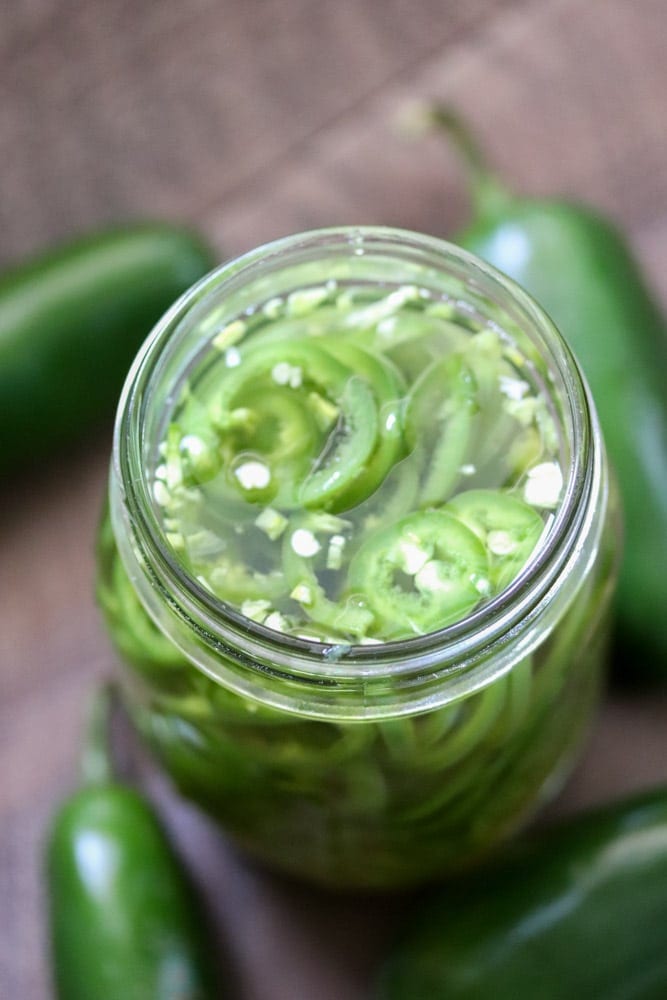 Quick Pickled Jalapenos
Quick Pickled Jalapenos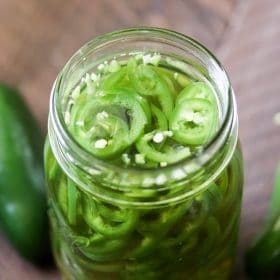 Ingredients:
5-6 medium jalapenos, seeded and sliced thin
2 cloves garlic, peeled and smashed
¾ C cider vinegar
¾ C warm water
¾ tsp kosher salt
1 tsp granulated sugar
Directions:
Add water, cider vinegar, sugar and salt to a 8 oz mason jar. Cover with the lid and shake to dissolve sugar and salt.
Add the sliced jalapenos.
Cover and refrigerate at least 1 hour before serving.
To remove the seeds from the jalapeno: slice off the tops of the jalapenos and remove the seeds with a jalapeno corer or with a slim knife.
NUTRITION: Calories: 15; Fat: 0g; Carb: 2g; Fiber: 0g; Protein: 0g
Serving size: 2oz
All images and text ©
Try this jalapeno corer for easy removal of the seeds!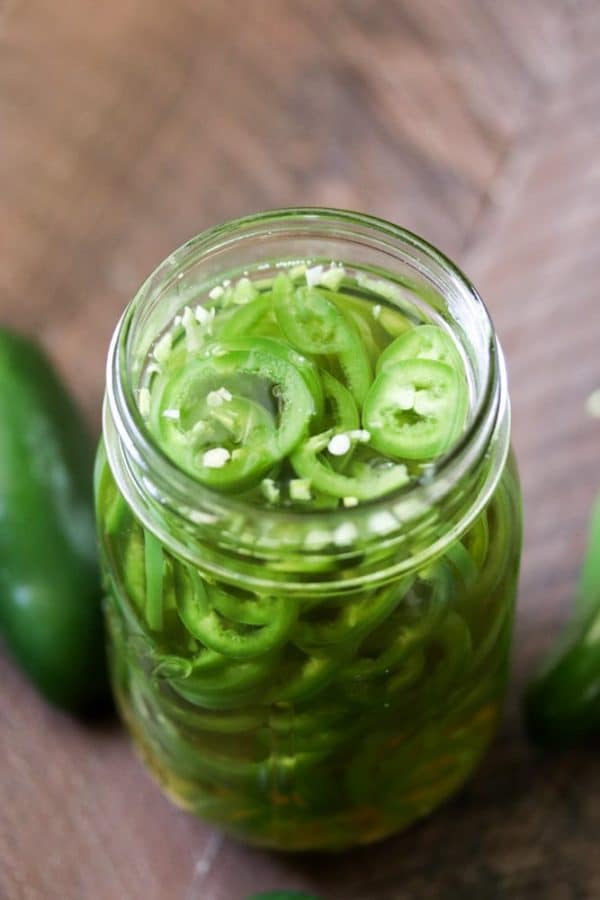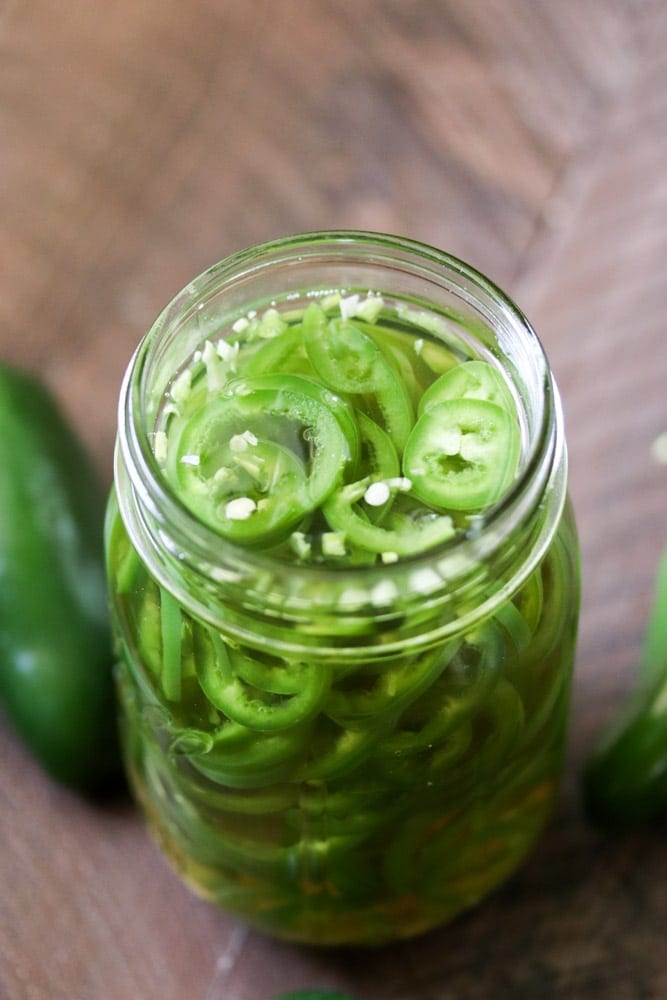 Did you make this recipe? I'd love for you to leave a comment and a rating below! 
Follow me on Instagram.