Peanut Butter Cupcakes with Chocolate Ganache
Peanut butter lovers, you're going to love these Peanut Butter Cupcakes with Chocolate Ganache by Gloria from Simply Gloria!
Hello, This Gal Cooks readers!  I'm Gloria from Simply Gloria and I am so excited to be over here! I'm taking over for Julie today while she is off having some fun time!  Julie is my sweet bloggy friend and I love her to pieces!
If you haven't had a chance to visit me yet in my little corner of the blogging world, you'll see that I love to bake!  But, I especially have a love for peanut butter!  I recently baked up a Lazy Daisy Peanut Butter Oatmeal Cake.  You're more than welcome to come on over and have a slice for later!  Or how about something more for your chocolate craving, like these Triple Chocolate Applesauce Cookies!
Today, I'm going share with you these Peanut Butter Cupcakes with Chocolate Ganache!
Peanut butter cake filled cups topped with a swirl of fluffy peanut butter frosting.  Drizzled with decadent chocolate ganache.  Garnish with a sprinkle of toffee chips!
Peanut Butter Cupcakes with Chocolate Ganache
I have always been a little obsessed with making cupcakes.  And, maybe eating them, too!
Think about it, cupcakes are the perfect little piece of cake all wrapped in a pretty lining.  So even indulging in more than one cupcake still beats the guilt of eating a whole cake!  Am I right?  Not saying that I've actually done that …or maybe I'm not going to reveal if I did… ;)
Making these Peanut Butter Cupcakes are a breeze.  As well as the Peanut Butter Frosting and the Chocolate Ganache!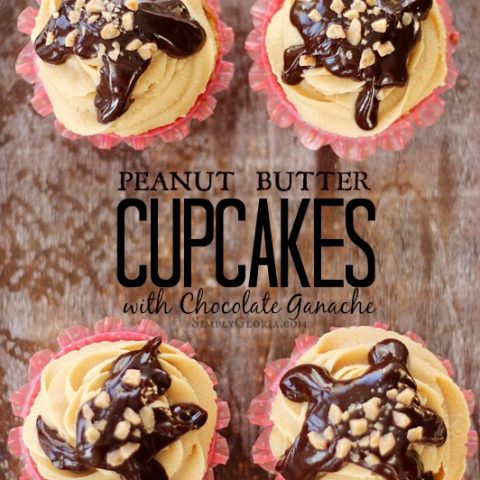 Peanut Butter Cupcakes with Chocolate Ganache
Yield: 15 cupcakes
Prep Time: 20 minutes
Cook Time: 25 minutes
Total Time: 45 minutes
Ingredients
for the cupcakes:
1 cup creamy peanut butter
1/2 cup unsalted butter, softened
1 cup buttermilk
2 eggs, beaten
2 teaspoons vanilla extract
2 and 3/4 cup all purpose flour, sifted
1 and 1/4 cup granulated sugar
2 teaspoons baking powder
1 teaspoon baking soda
1/4 teaspoon salt
for the frosting:
1 (8 ounce) package cream cheese
1 cup creamy peanut butter
¼ cup heavy whipping cream
1 teaspoon vanilla
3 cups powdered sugar
for the chocolate ganache:
4 ounces chocolate
1/2 cup heavy whipping cream
1 tablespoon butter
Instructions
Preheat oven to 350 degrees.
In a medium size bowl, whisk all the dry ingredients together. Set aside.
In a large mixing bowl, put in butter and creamy peanut butter. Mix very well for about 1 minute. You want to make sure it is well blended.
Once the peanut butter and butter is mixed, start alternating the dry ingredients and the wet ingredients. Scrape down the sides and bottom and give it one more little blend around to make sure everything is incorporated.
Divide into a lined cupcake pan. Bake for 20-23 minutes.
Stick a toothpick in the middle of cake to test if done baking. If the toothpick comes out clean, the cake is done.
For the frosting:
Cream together the peanut butter and softened cream cheese.
Add ¼ cup of heavy whipping cream and mix while adding the powdered sugar…1 cup of powdered sugar at a time.
For the ganache:
Place chocolate in a medium mixing bowl. Set aside.
Place cream in a small sauce pan over medium heat, and bring to a simmer. Pour over chocolate and let stand until chocolate has softened.
Add butter and whisk until smooth. Allow to cool slightly before using.
Drizzle over the frosted cupcakes and sprinkle with toffee bits.
Notes
Store in a covered container and will stay fresh up to 3 days.
I want to thank Julie for having me over here to share these peanut buttery cupcakes with you today.  It was a lot of fun!