Hazelnut Cake with Salted Caramel Sauce
This Hazelnut Cake with Salted Caramel Sauce by Zainab from Blahnik Baker is the perfect sweet treat for any cake lover!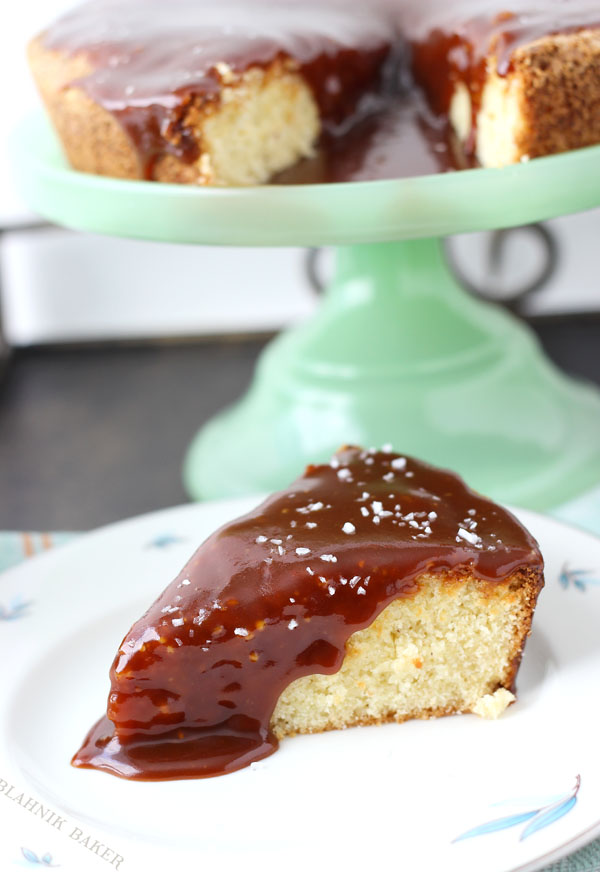 Hazelnut Butter Cake with Salted Caramel Sauce
Hi everyone! I'm Zainab and I blog over at
Blahnik Baker.
I am so excited to be guest posting for Julie today while she is on vacation. I hope she is enjoying herself because girlfriend deserves a break from all her hard work. I met Julie a few months after I started blogging and she has not only become an amazing blogging friend but also a great mentor!! A lot of what I know today, I owe to her kindness. :) So when she asked me to guest post for her while she frolics in the Carolinas, I knew I had to bring one of my favorite things to bake: a cake! Before we talk about this indulgent hazelnut butter cake with salted caramel sauce, let me tell you a little bit about myself and my love for baking! I live in (cold…oh so cold) Upstate NY where I love to bake cakes to stay warm and share with friends and family. But that's not the only reason why I love baking. Another major reason is because I'm always looking for reasons to use my ever-growing collection of cake stands. Some may say (cough cough *my husband*) I have a problem but I just think I have an eye for beautiful things. :)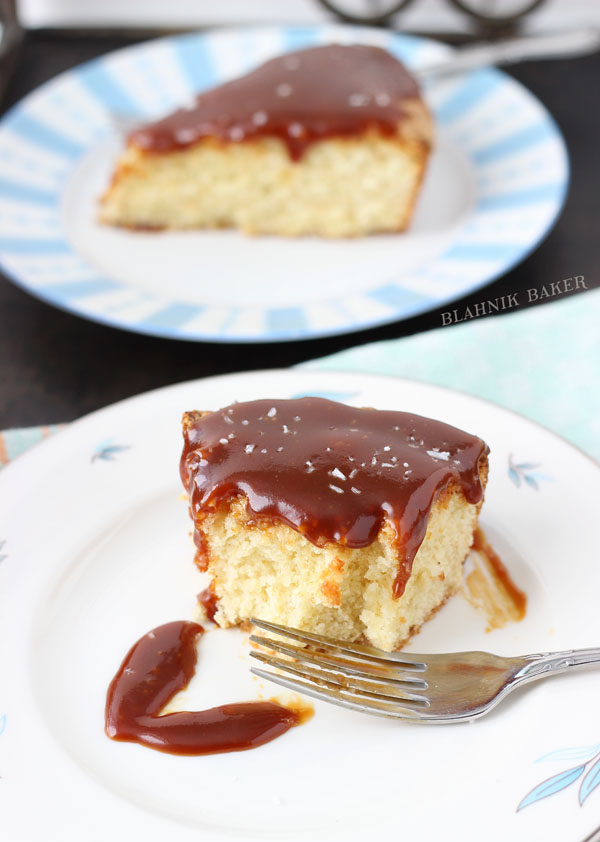 A few weeks ago on our way back from a road trip to DC, I picked up this lime green cake plate and I've been dying to use it. So I figured I'd bring it over on this very special visit here today. After all, This Gal Cooks readers are fabulous! Of course I had to make an extra special cake for you guys. This hazelnut butter cake with salted caramel sauce is an ode to simple, moist, delicious and nutty cakes. The cake is made with a rich nut mixture of blanched hazelnut, butter and eggs. A simple cake batter with no liquids yields a very fluffy, aromatic cake that is baked with a sprinkle of raw sugar that makes the top crusty and crunchy. A deep amber sea salt caramel sauce is then drizzled (or flooded if you are me :)) over the top to give the perfect sweet and salty dessert.
This cake is very easy to put together and, because it is just one layer, it is perfect for a small dinner party with friends or you can scale up the recipe for a bigger crowd.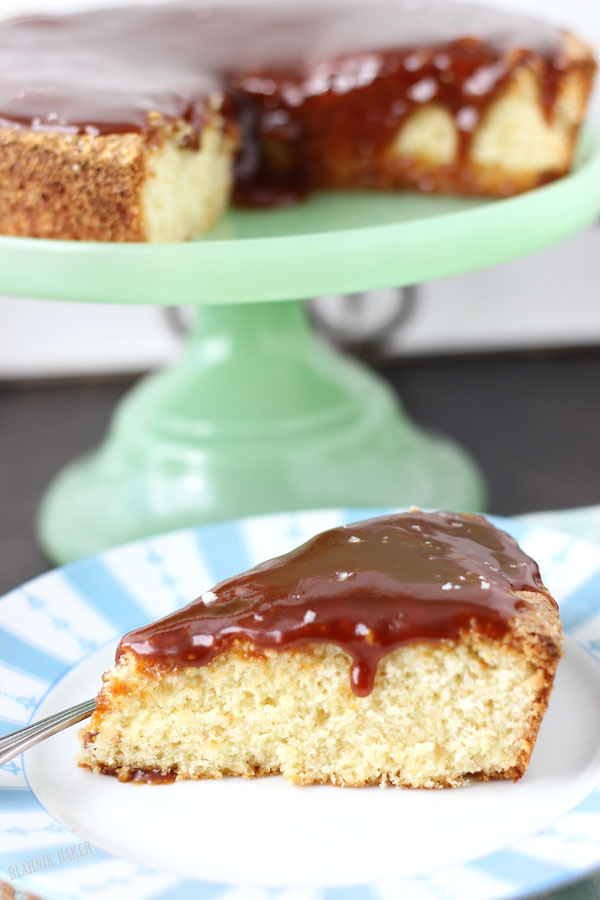 Thank you very much for having me here today. I hope you will stop over at Blahnik Baker to say "Hi" at some point. :)
Hazelnut Cake with Salted Caramel Sauce
Ingredients
For the Cake
½ cup blanched hazelnuts
1 cup granulated sugar, divided
1 cup all-purpose flour
1 teaspoon baking powder
½ teaspoon salt
½ cup (1 stick) unsalted butter, softened at room temperature
3 large eggs, room temperature
1 tablespoon granulated sugar
For Salted Caramel Sauce
¾ cup granulated sugar
1 tablespoon light corn syrup
¾ cup heavy cream
1 tablespoon unsalted butter
½ tablespoon flaky sea salt
Instructions
For the Cake:
Preheat oven to 350 degrees F. Grease and line an 8-inch baking pan with parchment circle. Grease parchment. In a bowl of a food processor, finely process hazelnuts with 1 tablespoon granulated sugar. Set aside 2 tablespoon of nut mixture. In a medium bowl, whisk together the remaining nut mixture, flour, baking powder and salt. Set aside. In the bowl of a stand mixer, cream the butter with the remaining sugar until light and fluffy, about 3 minutes on medium speed. Add in eggs, one at a time, beating to blend after each addition and scraping down the side of the bowl as needed. Reduce speed to low and add dry ingredients in two additions. Mix until combined. Spoon batter into prepared pan and sprinkle the reserved nut mixture over batter. Sprinkle granulated sugar as well. Bake until golden brown and a cake tester inserted into the center of cake comes out clean, about 30-35 minutes. Transfer cake to a cooling rack and let cool in pan for 10 minutes before turning out. Let cool completely.
To make Salted Caramel Sauce
In a medium saucepan, bring to boil over medium-high heat two tablespoons water, granulated sugar and corn syrup, stirring constantly to dissolve sugar. Once boiling, leave for 8-10 minutes until mixture turns deep amber in color, swirling pan occasionally. Remove from heat and slowly add in the heavy cream to the mixture. The mixture will bubble vigorously. Return to medium heat and stir occasionally until smooth, about 2 minutes. Remove from heat and stir in butter and sea salt. Let sauce cool before serving with cake.
Notes
Adapted from Bon Appetit Magazine