Low Country Boil + Charleston Sneak Peek
Since I just got back from Charleston, I thought it would be fitting to share this South Carolina classic with you: Low Country Boil. Shrimp, corn, potatoes, smoked sausage and Old Bay are cooked in a big ole pot of water until they're ready to be devoured.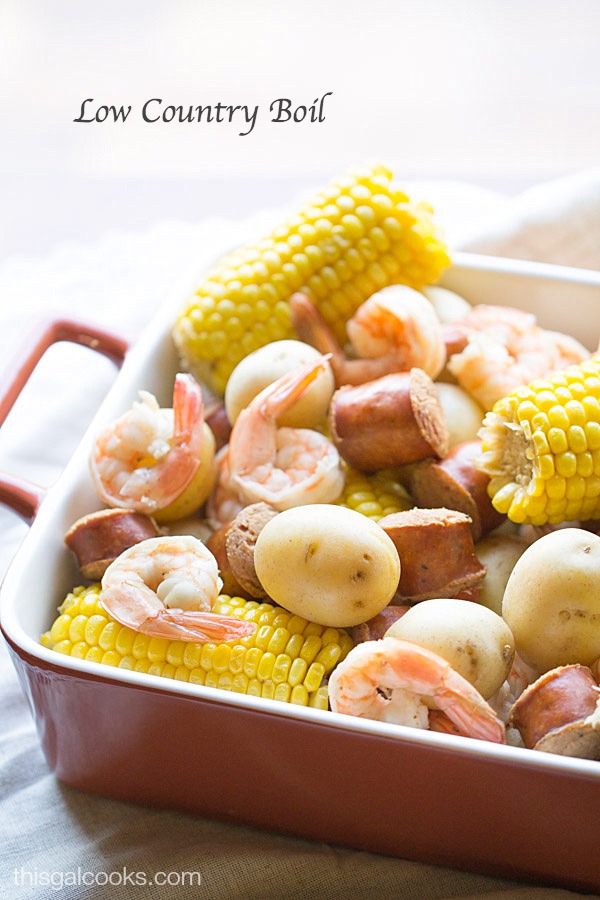 I'm back!
From vacation, that is. You may have seen this collection of 15 Easy One Skillet Meals that I shared yesterday. So I wasn't away from blogging; just away from Florida.
My time away from Florida was A-M-A-Z-I-N-G.
First trip to Charleston. Second time being in South Carolina. However, my first time in South Carolina was just passing through, along with a quick stop to South of the Border while we were on our way to North Carolina earlier this year.
What can I say about Charleston? It's the MOST beautiful city I've ever visited. The weather in September is amazing. Low humidity (except on the day it rained). A crisp, welcoming coolness in the air during the evening, overnight and morning hours. Nice people. Good food.
I'm hooked. My heart belongs to Charleston, now. ♥︎
I'll be sharing more of my experience, along with some photos, on this week's Friday Four. Be sure to tune in on Friday so you can get the entire Charleston scoop!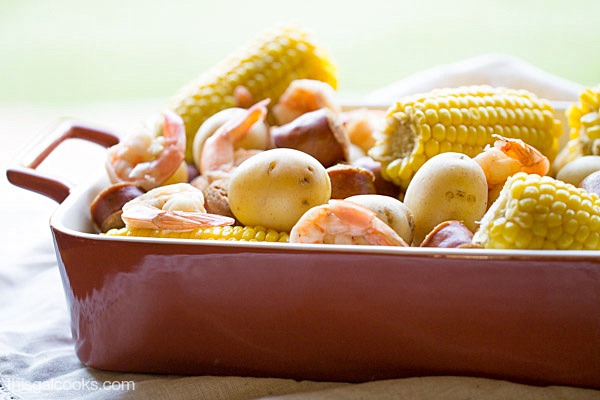 SECRET! I didn't know what a Low Country Boil was until May of this year. Ken went to Charleston for work and dined on it while there. He LOVED it and requested I make it. He told me what was in the recipe and I thought well that's easy enough.
Low Country Boil is a coastal South Carolina/Coastal North Georgia dish that consists of red potatoes, corn on the cobb, shrimp, smoked sausage and seasoning. You cook everything in one huge pot of water which means easy cleanup, easy crowd pleaser. If you want more detailed info, you can read it here.
My recipe used golden potatoes. Ken didn't specify red potatoes until AFTER I got home from the store. "You didn't get red potatoes." Nope. I was just told potatoes. It still turned out well.
So how horrible of a food blogger am I to hold off on sharing this recipe with you until now? Seriously, I made this in MAY! But that's ok. Now is better than never, right? Enjoy the recipe!
Low Country Boil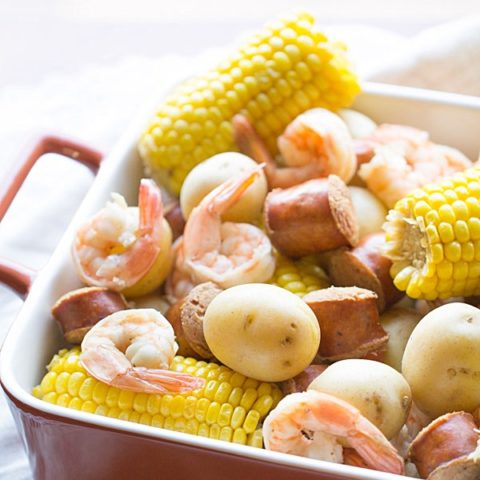 Low Country Boil
Yield: 8 servings

Prep Time: 10 minutes

Cook Time: 23 minutes

Total Time: 33 minutes
Ingredients
5 quarts of water
4 ears of corn, each cut in half
1 lb large shrimp, peeled and deveined
1 lb andouille sausage, cut into chunks
1 lb golden new potatoes (if you don't purchase small potatoes, cut them into chunks for easier cooking)
4 tbsp old bay seasoning
Instructions
Place the water and old bay seasoning into a large stock pot. Bring to a boil and add the potatoes and andouille sausage. Simmer for 20 minutes. Add the shrimp and simmer for 3-4 more minutes, or until the shrimp is pink.
Once the food is done cooking, remove from the water and place in a serving dish.
Serve with french bread or your favorite type of bread or dinner roll.