Harvest Wild Rice Salad with Pumpkin Vinaigrette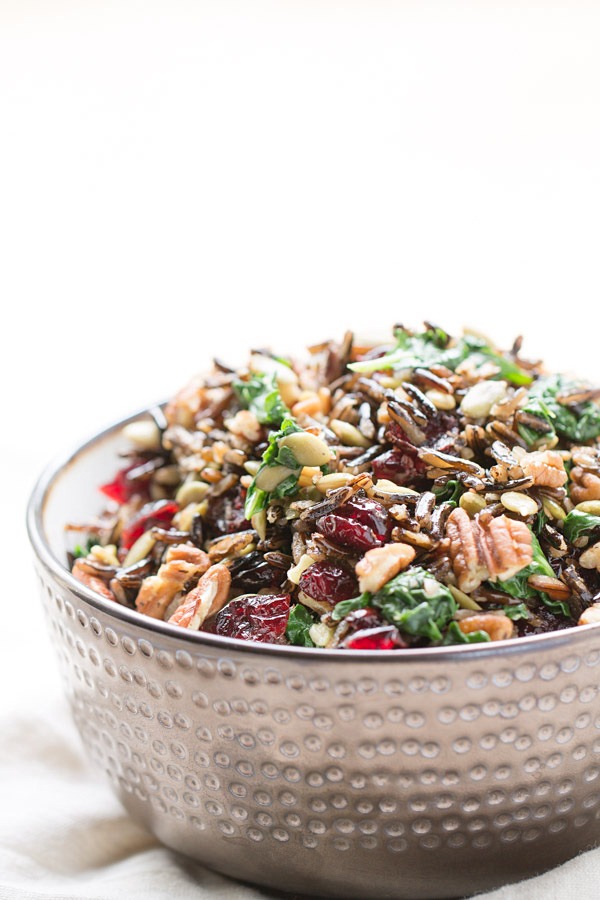 Harvest Wild Rice Salad
Despite the fact that it's now fall, it's still hot as heck in south Florida. Despite the fact that it's still hot as heck in south Florida, I still want to enjoy comforting fall inspired recipes. So I went to work in my Kitchen and made this Harvest Wild Rice Salad with Pumpkin Vinaigrette.
This harvest wild rice salad is filled with toasted pecans, dried cranberries, pepitas and baby kale. I made a simple pumpkin vinaigrette for this salad. Throw seven ingredients that you probably already have on hand into your food processor. Process until well blended. Boom. You have pumpkin vinaigrette.
I used Pompeian Balsamic Vinegar and Pompeian Extra Virgin Olive Oil in the pumpkin vinaigrette. Pompeian offers great products at affordable prices. That's why they are my go to brand for olive oils and vinegars. Find out where to purchase your favorite Pompeian products by visiting Pompeian online.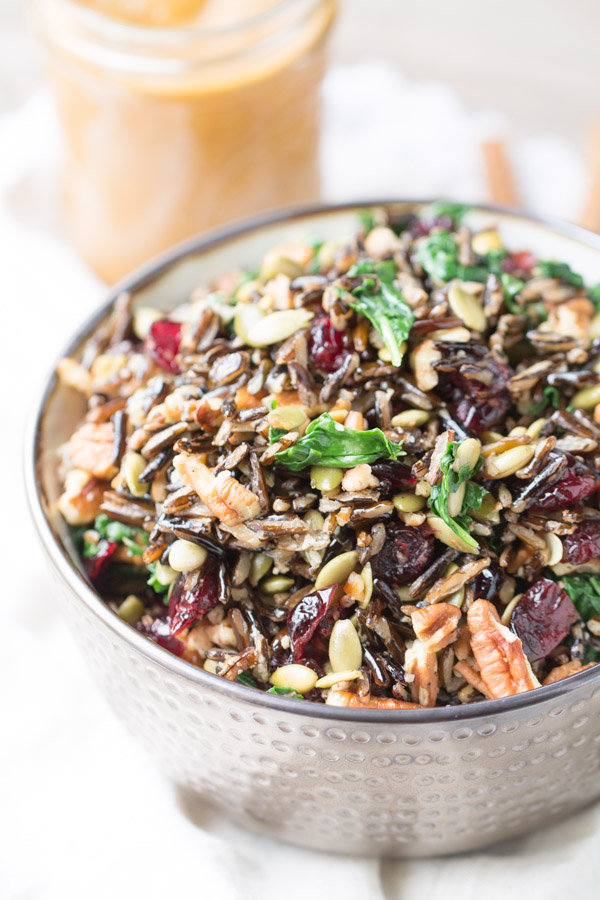 So…back to this salad. Did I mention that it's P-E-R-F-E-C-T for fall? Cause it is. You can enjoy this salad as a main dish or as a side. I enjoyed mine with a piece of grilled salmon. I also enjoyed a bowl of it solo for lunch. If you're a fan of cheese, try it with a little feta. It taste's great with a little feta.

Harvest Wild Rice Salad with Pumpkin Vinaigrette
Author: This Gal Cooks
Recipe type: Salad
Serves: 5 servings
Ingredients
For the salad (makes 4 cups)
2½ C cooked wild rice, cooled (I used quick wild rice)
1 C chopped pecans
3 C baby kale, stems removed and torn into pieces
¾ C dried cranberries
¾ C pepitas (lightly salted or no salt)
For the dressing (makes 1 cup)
¼ C pumpkin puree
¼ C extra virgin olive oil
½ C unsweetened applesauce
1 tbsp balsamic vinegar
2 tbsp water
1½ tbsp maple syrup
2 tsp pumpkin pie spice
Instructions
Preheat your oven to 350. Line a baking pan with aluminum foil. Place the chopped pecans into the pan and lightly spray with cooking spray. Toss to coat. Bake for 3 minutes and then stir. Bake for 3 more minutes. During the last 3 minutes of baking, watch the pecans to make sure they do not start to burn. If they start to brown a lot, remove them from the oven. Once done baking, remove from he oven and set aside to cool.
Heat 1 tsp of olive oil in a skillet over medium heat. Add the baby kale to the skillet and saute for 1-2 minutes. Remove from the skillet and set aside to cool.
In a mixing bowl, toss together the wild rice, dried cranberries, pepitas, pecans and baby kale. Set aside.
Make the dressing. Add the pumpkin puree, applesauce, olive oil, maple syrup, salt, pumpkin pie spice, water and balsamic vinegar to a food processor. Process until well blended.
Serve the salad in bowls. For a full serving, use ½ tbsp to 1 tbsp of the dressing. For a half serving, use about a teaspoon of the dressing.
Notes
The nutrition information provided is for 1 Cup of the salad with 1 tbsp of the dressing. Halve the nutrition information for the ½ C serving.

The dressing is very robust and only a little is needed. I suggest starting with a small amount and then increasing as needed. The amount of dressing used (over or under 1tbsp) will alter the nutritional information.

Store unused vinaigrette in a refrigerator for up to 1 week.
Nutrition Information
Serving size: ¾ C Calories: 480 Fat: 31g Carbohydrates: 45g Sugar: 12g Sodium: 89mg Protein: 12g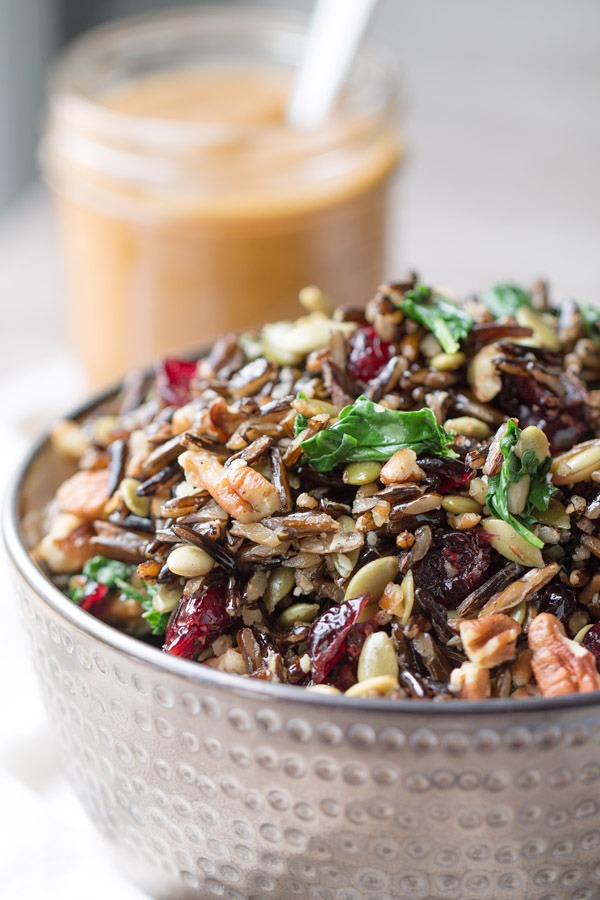 I'm a member of the Pompeian #PantryInsiders. This recipe was written on behalf of Pompeian, however, all opinions and recipes are my own.