Guest Post – Kristina from Claiming Our Space
Hi, I'm K from Claiming Our Space and I am so glad to be post swapping with Julie here at This Gal Cooks. She has such great recipes, doesn't she?
D – my husband, Willow – our sweet dog, and I are the proud owners of a 70s fixer that we are slowly, on the 10 year plan, making into our forever home while we experiment in the kitchen, spend time in the garden and pretty much update every room in our house.
I hope you stop by to see Julie's post on our site as well as stop by again in the future to check out what we are up to. I hope you also take the time to link up to our weekly party, Tout It Tuesday.
---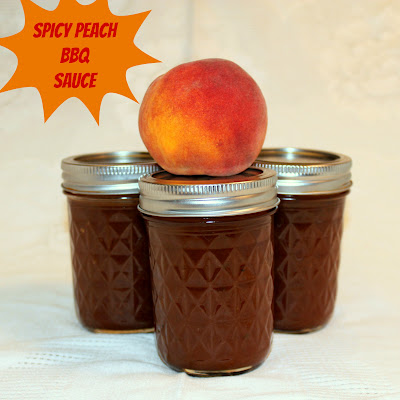 I got the base for this recipe from a friend many years ago. Her family used to live on a farm and Peach BBQ Sauce was something they made every summer. She and her sisters would be in charge of picking the peaches for this tasty treat. She remembers those time fondly now but she said at the time it was the pits (no pun intended).
We like our sauces to have just a bit more heat so we made a few modifications to make this perfect for us. It keeps in the fridge for weeks or it is easy to can (using the hot water bath process) for gifts. It is great with ribs, chicken or pork chops on the grill. It can also be used for roasted/pulled pork or beef. I have even seen a few recipes on the internet where this type of sauce is used on fish.
Spicy Peach BBQ Sauce
Ingredients
7 Medium Peaches, peeled, pitted and sliced
1 1/4 Cup Brown Sugar
1/2 Cup Ketchup
1/2 Cup Vinegar (I used cider vinegar)
4 Tablespoons Soy Sauce
2 Clove Garlic – crushed
2 teaspoon Salt
1 Tablespoon minced fresh jalepeno
1 Tablespoon lime juice
1 teaspoon Ground Ginger
1 teaspoon Ground Mustard
1 teaspoon cumin
Dash of Pepper
Directions
Place all ingredients in a large nonreactive pot.
Heat to a boil.
Puree with a stick blender or pour carefully into a blender to puree.
Once pureed, simmer until the sauce thickens (at least 15 minutes)
If you are planning in using the sauce quickly, put the sauce into glass jars and let the flavors mingle overnight before using.
If you plan to hot water process, you should process for 15 minutes