Easy Pumpkin Spice Cake
This easy pumpkin spice cake is super moist and full of bold fall flavors! You'll love this fall favorite cake and the cream cheese frosting, too!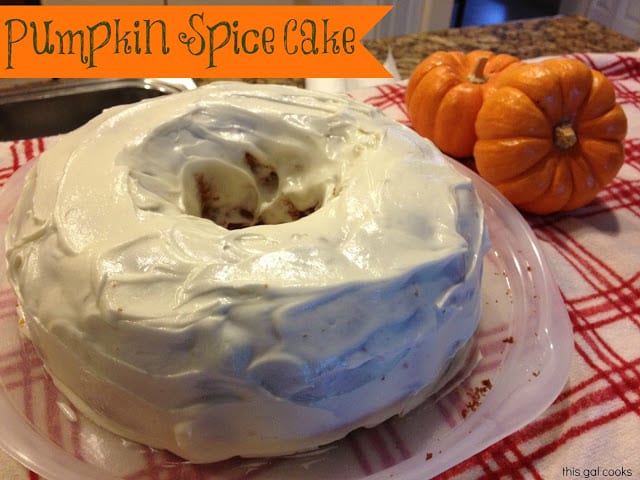 While at the store yesterday, my boyfriend saw a Pumpkin Spice Cake. He mentioned the cake a couple of times so I figured he must want me to make something like that. I told him that I could make one and that we didn't need to buy one.
Since today is Columbus Day, I had the day off. Yep, bankers get all of the holidays off, even the BS holidays. But I'm not complaining. I like my days off. So today I decided to make the easy pumpkin spice cake. I was going to make one from scratch but I had a lot of things to do today so I decided to make one using boxed cake mix. *gasp* Seriously, boxed cake mix tastes pretty darn good. Of course, when making from scratch, you eliminate a few additives but after scouring over the ingredients on the box, I wasn't to concerned with any of the ingredients. Anyhow, I made this cake for Thanksgiving last year so I decided to make it again today since it got rave reviews from my family last Thanksgiving. I did make the cream cheese frosting from scratch because quite frankly, prepackaged icing tastes horrible. Just my opinion. If you prefer packaged icing, by all means, use it. But I suggest doing your tastebuds a favor and making my from scratch recipe. :)
I hope you enjoy the recipe!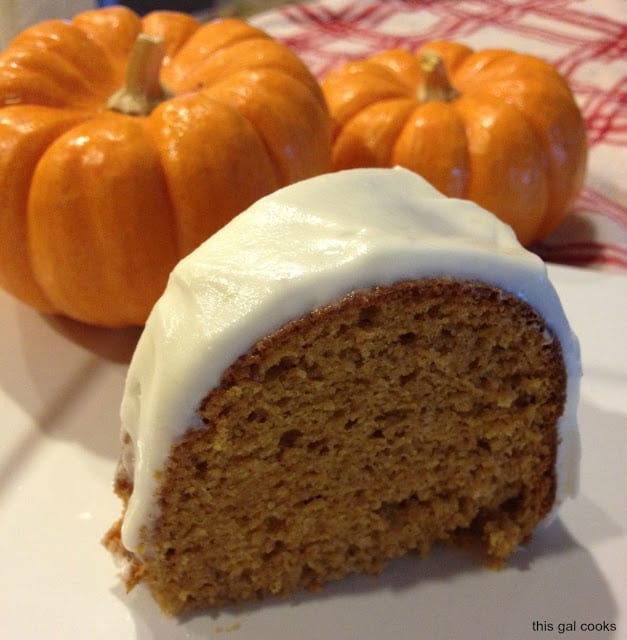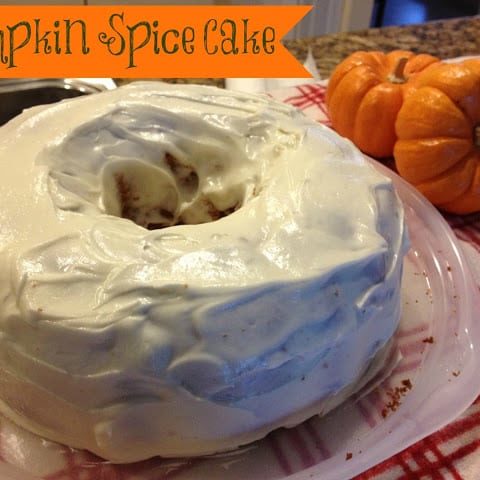 Easy Pumpkin Spice Cake
Yield: 8-10

Prep Time: 15 minutes

Cook Time: 45 minutes

Total Time: 1 hour
Ingredients
For the cake
1 box of white cake mix (I used Pilsbury Moist Supreme)
1 3.4 oz box of butterscotch pudding
4 eggs, room temp and beaten
1 C canned pumpkin puree
2 tsp pumpkin pie spice
1/4 C water
1/4 C vegetable oil
For the cream cheese frosting
4 oz of cream cheese, room temp
1/4 C butter, room temp
1 tbsp whipping cream
2 C confectioners sugar
1 tsp of vanilla extract
Instructions
For the cake
Preheat oven to 350
Grease a 10 inch bundt pan with vegetable shortening and then dust with flour
Mix all cake ingredients together and blend with an electric mixer
Pour the batter into the pan and smooth with a spoon
Bake for 40-45 min or until a toothpick inserted into the center comes out clean. Allow to cool before frosting.
For the cream cheese frosting
Mix butter and cream cheese together until smooth
Add the vanilla and mix well
Gradually add the confectioners sugar and mix until well blended
Add the whipping cream and mix well. If you prefer a thinner icing, add more whipping cream