Crockpot Lemon Rosemary Chicken
Lemon and rosemary combine to make this wonderful Crockpot Lemon Rosemary Chicken. Just fill up your crockpot, set the temp and let it do the cooking for you!
Crockpot Lemon Rosemary Chicken
Follow This Gal Cooks via RSS and never miss a fantastic recipe!
So have any of you ever encountered a crab invasion? No kidding, I really mean it. A crab invasion. I know, some of you may be asking yourself "what the heck is a crab invasion?" Heh Heh. Here in south Florida, some of us encounter crab invasions each year. After we bought our house, we found out our neighborhood was basically built on the homes of hundreds, if not thousands, of blue land crabs. I'll never forget the first time we encountered it. My mom was in town visiting us and we had gone out to dinner. After dinner, we decided to go to a bar down the road from our house so we could enjoy a few drinks. As we were driving past our neighborhood, my boyfriend said "hey did you guys see that?" Mom and I were like "what?!" Ken hits the next turn off, makes a u-turn and goes back towards our neighborhood. I kid you not, there were hundreds of crabs all over the road at the entrance of our neighborhood.
We went to have a few drinks and then came home. The crabs were still EVERYWHERE! This lasted for about two weeks. Crabs under the car. Crabs crawling up the side of our screen door. Crabs hitching a 25 mile ride in the hood of my car. Seriously, that really happened. I was driving to work and kept hearing a scratching noise. When I left to go home from work, I heard the scratching noise again so I sat in the parking lot for a few minutes. When the noise stopped, I backed out of the spot and there was a crab sitting on the ground where my car used to be.
The point of this story is that the time is almost here for crab invasion. Or Crabpocolypse 2013. It's crabtastic!
So let's get to that Crockpot Lemon Rosemary Chicken recipe. If you love lemon, you will love this. Ken wasn't a huge fan of it. He said it was "too lemony." I happened to enjoy it but then again, I'm a sucker for lemon! Enjoy!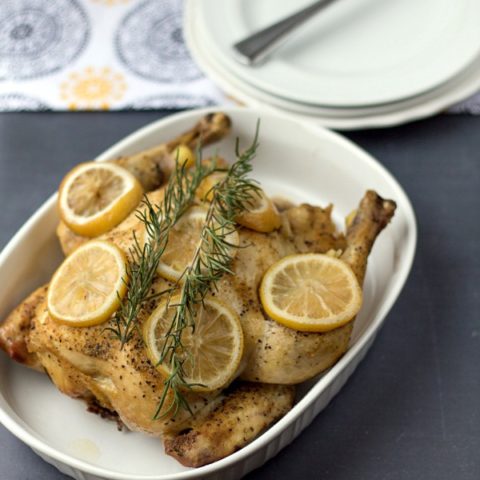 Crockpot Lemon Rosemary Chicken
Yield: 6 servings

Prep Time: 10 minutes

Cook Time: 6 hours

Total Time: 6 hours 10 minutes
Ingredients
1 6-7lb whole chicken
2 lemons, sliced
1 large onion, chopped
1 tbsp olive oil
1 tbsp soy sauce
1 head of garlic, cloves removed, peeled and ends chopped off.
1 tsp seasoned salt
1/2 tsp onion powder
1/2 tsp garlic powder
1/4 tsp ground black pepper
1tsp lemon pepper seasoning
6 sprigs of fresh rosemary
Instructions
Combine the lemon pepper seasoning, onion powder, seasoned salt and garlic powder.
Spray the inside of your crockpot with cooking spray.
Place 3/4 of the onion, 1/2 of the garlic cloves, 2 sprigs of rosemary and half of the sliced lemons into the bottom of the crockpot.
Brush the outside of the chicken with olive oil and place into the crockpot. Hold the chicken, end cavity up, and stuff with 2 sprigs of rosemary, the remaining onion and garlic and then the soy sauce.
Lay the chicken down, breast side up. Pat with the seasoning mix.Top the chicken with the remaining sliced lemon and 2 sprigs of rosemary.
Cover and cook on low for 5-6 hours. Check the periodically. Once it reaches 165, you're ready to eat.
You can make gravy with the juices from the crockpot. It will be quite lemony.
To make the gravy:
Strain the juices.
Whisk together 1 1/2 C of the juices with 1/4 C flour. Simmer until thickened. Add more juices or flour depending on your preferences. Add salt if desired.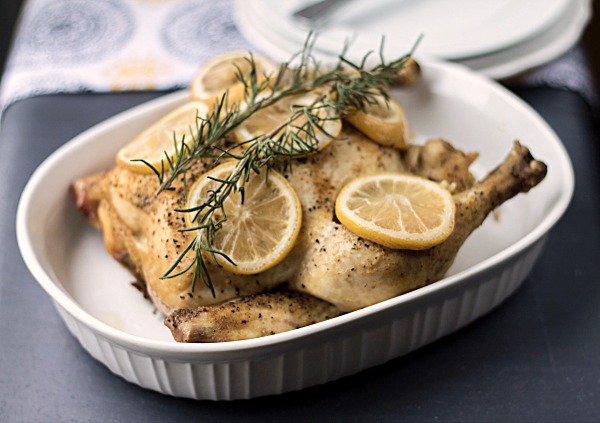 More recipes from This Gal Cooks
{click images to get recipes}