Chocolate Pudding Pie In A Jar
This recipe is made with packet pudding mix. If you're looking for a homemade pudding recipe, I suggest trying this Homemade Chocolate Pudding with Cherry Sauce recipe (you can make it without the cherry sauce, too.)
One of my all time favorite desserts is the chocolate pudding pie. My mom used to make them when my brother and I were kids and we just loved them. So simple to make yet so delicious. There's something about the combination of graham cracker crust, chocolate pudding and Cool Whip topping that just makes you go "yum."
When I got older and moved out on my own, I began making this delicious dessert on my own. When you're living on a budget with minimal extra spending money, as I was when I first moved out on my own, fancy desserts and expensive meals weren't something I could always enjoy. But pudding pie ingredients are super cheap and often on sale. Which made me happy. It meant I could enjoy one of my favorite desserts!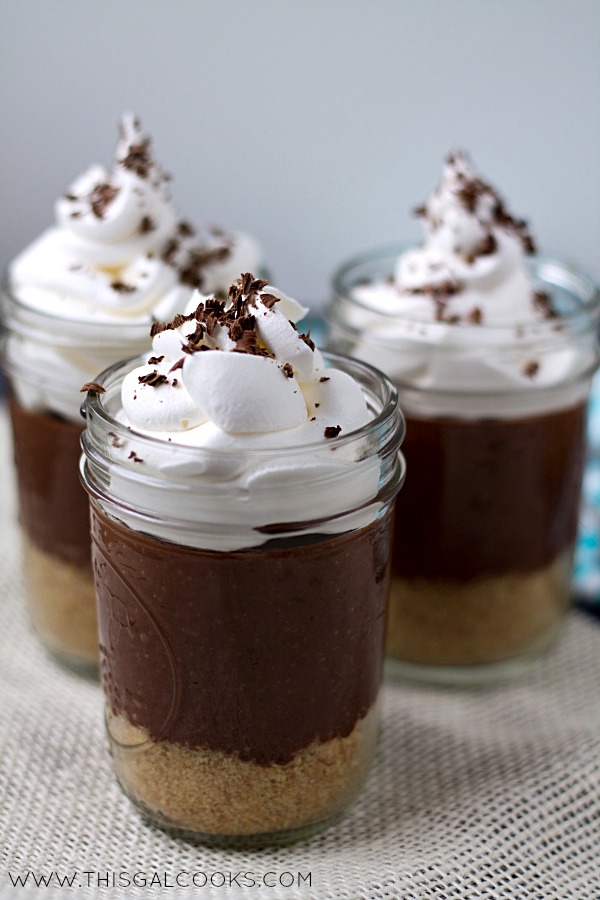 Now that I'm a little older (well, not that old – I'll be turning the wee age of 32 next month) and I make a somewhat decent living, I can afford to dine on the finer things in life. But that doesn't stop me from craving chocolate pudding pie. So a few weeks ago I decided to get creative with pudding pie. Ah yes, creativity with pudding pie. It's a wonderful thing! It resulted in this cute little Chocolate Pudding Pie In A Jar recipe! Don't you wish you had one right now?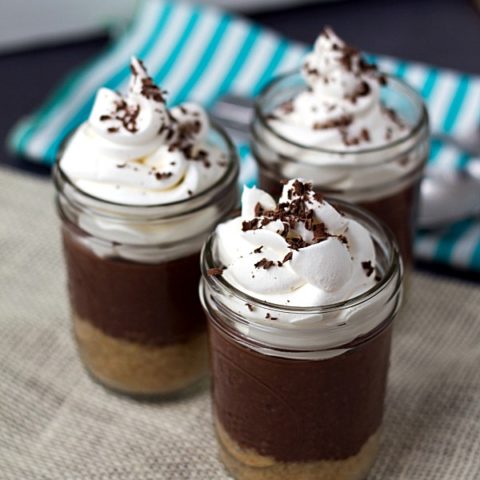 Chocolate Pudding Pie In A Jar
Yield: 4 servings

Prep Time: 10 minutes

Total Time: 10 minutes
Ingredients
4 6oz mason jars
1 3.4oz package of chocolate pudding (use instant, NOT Cook & Serve)
1 3/4 C milk
1 C crushed graham crackers
1 tbsp granulated white sugar
2 tbsp butter, melted
Cool whip
Shaved bakers chocolate - semi sweet
Instructions
Mix together the sugar, graham crackers and melted butter. Press into the bottom 1/4 of 4 6oz mason jars.
Mix together the milk and pudding mix. Pour into each jar up to the beginning of the rim.
Cover and refrigerate for 20-30 minutes.
Top with the Cool Whip. I put the Cool Whip in a ziplock bag and cut off the corner so I could squeeze the Cool Whip into the jars and make it look fancy.
Top the cool whip with the shaved chocolate.