Creamy Spinach, Mushroom & Chicken Pasta
Last year, I found a great recipe for a creamy mushroom chicken pasta. Let me tell you, this recipe is FANTASTIC! I have made it three or four times since I found it. I decided to make it again Sunday night for dinner only this time adding fresh baby spinach to the mix and using gluten free pasta rather than wheat pasta.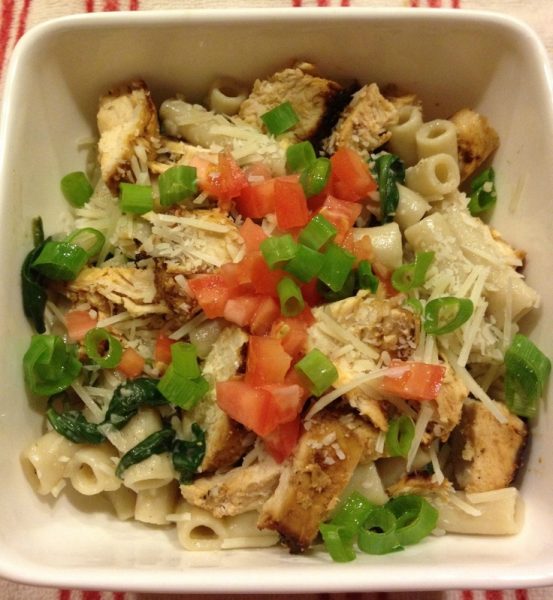 Wow. The additions/changes to this recipe resulted in an even better dish. The spinach not only added some extra nutrients, it also added some color and a great flavor. The gluten free pasta was surprisingly good. It was tender and had a nice, subtle flavor. I had never had gluten free pasta before so I was hesitant to try it. I am glad I did try it. I will be buying more in the future. This recipe isn't totally gluten free because I did use flour to thicken the sauce but you can easily make it gluten free by using gluten free flour or cornstarch. I hope you enjoy this recipe.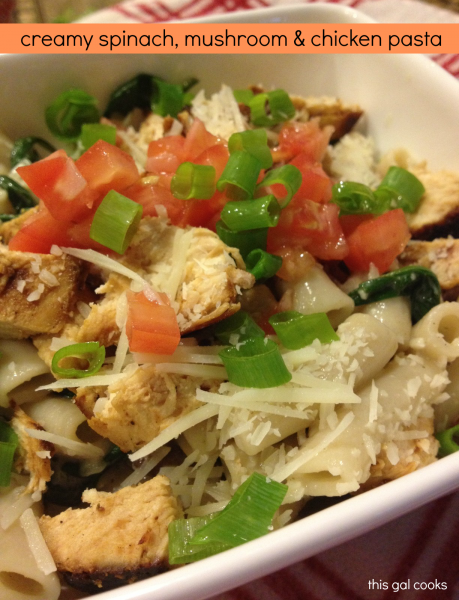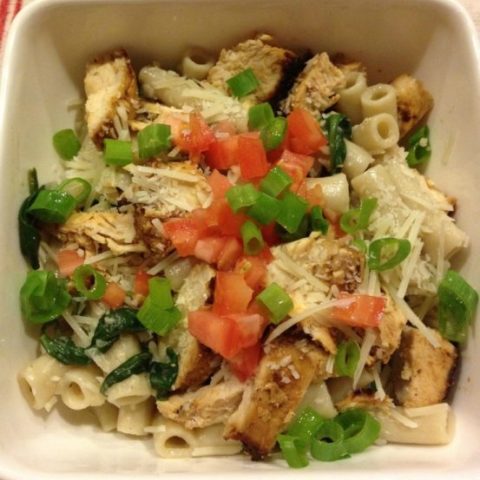 Creamy Spinach, Mushroom & Chicken Pasta
Yield: 4

Prep Time: 20 minutes

Total Time: 20 minutes
Ingredients
2 boneless, skinless chicken breasts, marinated in Italian Dressing
1 6oz bag of baby spinach, rinsed
1 8oz package of sliced baby portabella mushrooms
3 cloves of garlic, chopped (I used my food processor)
1 medium onion, chopped (I used my food processor)
2 tbsp all purpose flour
1 tsp chicken bouillon
1/2 C whipping cream
1/2 tsp dried thyme
1/2 C white wine
1 C water
salt and pepper to taste
2 tbsp olive oil
parmesean cheese for topping
diced tomatoes and sliced green onions for topping
Instructions
In a large pot, bring water with a dash of salt to a boil. Add the pasta and cook until desired tenderness is reached.
On a skillet (I used a grill type skillet) coated with cooking spray over medium high heat, cook the chicken until it reaches 165 degrees, about 7-9 minutes each side. Slice the chicken once it is cooked.
In a pot, heat the olive oil over medium heat and saute the onion and garlic and cook until tender. Add the mushrooms and spinach and cook until the mushrooms are tender and spinach wilted. Drain excess liquid and add the veggies back to the pot.
Add the flour to the pot and coat the veggies. Stir continually so it does not burn.
Add the chicken bouillon to the water and whisk together. Add the chicken bouillon/water mix, white wine and thyme to the pot. Mix well. Reduce heat and let simmer for 5 minutes.
Add the whipping cream to the pot and mix well. Give the mixture a taste and add salt and pepper if needed.
Mix the cooked pasta into the sauce mixture.
Top with parmesan cheese, sliced green onion and fresh diced tomato.
Notes
serving size is approximate

adapted from budgetbyes.com