Cranberry Muffins with Rum Pecan Streusel
These Cranberry Muffins with Rum Pecan Streusel are perfect for a grab and go breakfast or to share with friends and family! Fresh cranberries and pears and baked into a delicious batter and topped with rum pecan streusel!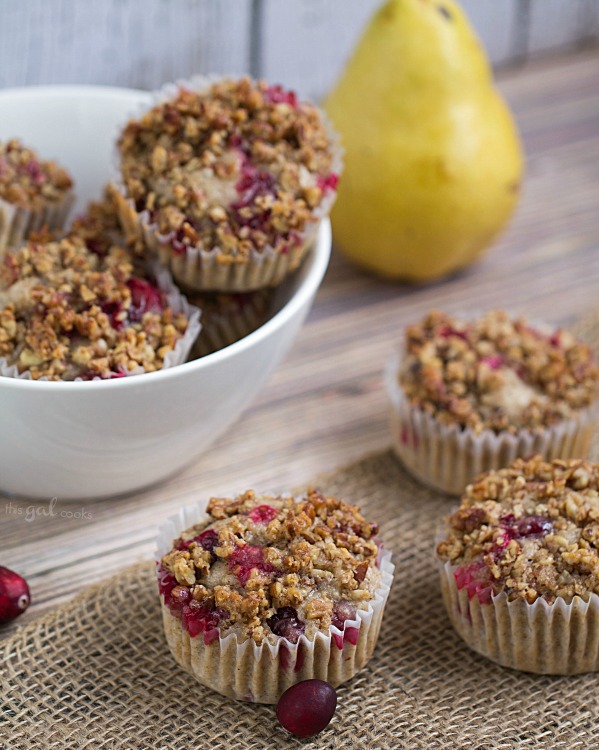 It's that time again. Spiked! Recipe Challenge time. This month's booze of choice was spiced rum. Now I am not a huge fan of drinking spiced rum but I sure do love baking with it. It does some amazing things to the taste and texture of food that your palate will thank you for. For example, the spiced rum made these cranberry muffins moist while boosting the spices baked into them. The smooth, slightly spiced flavors complimented the tart cranberries rather well. The rum pecan streusel brought these muffins to a whole different level than your typical streusel topping would have done. The meatiness and the crunch of the pecans were a perfect fit for a tart and sweet muffin.

Cranberry Muffins with Rum Pecan Streusel
This muffin recipe came to me on a whim. I was actually going to make a cranberry pear tart for my Spiked! recipe but due to time constraints, I decided on the muffins. Seriously. I was making breakfast and then BOOM, this fantastic muffin recipe popped into my head.
And on the second Monday of November, Julie created muffins.
I also almost destroyed the muffins and part of my kitchen. I made breakfast. I made muffins. After making breakfast, I forgot to turn off the stove. After making muffins, I placed them on the cooling rack that I placed on the stove. I went upstairs for a few minutes and then I was like "why does something smell like it's burning?" I went downstairs. The air was a little smokey. Ack! I left the stove on and the muffins are sitting on top of it! I lost four muffins from that batch. The bottoms of them were dark as night. I'm so happy that Ken and I did not decide to go out that morning. It would have been chaos when we returned.
Have you ever done anything mindless like that?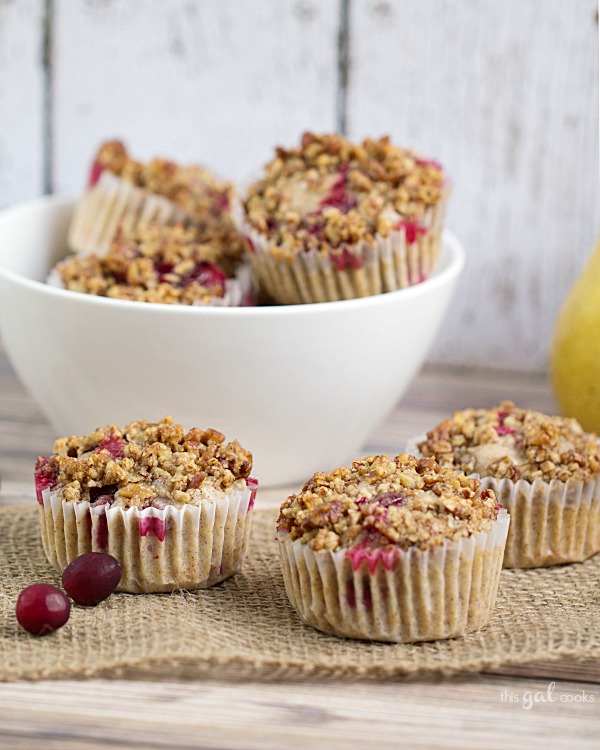 Cranberry Muffins with Rum Pecan Streusel
Author: This Gal Cooks
Recipe type: Breakfast
Serves: 12 muffins
Ingredients
1½ C fresh cranberries
¼ C spiced rum
1½ C all purpose flour
¾ C sugar
2 tsp baking powder
1 tsp ground cinnamon
½ tsp salt
¼ tsp ground allspice
1 C finely chopped pears
¼ C canola oil
1 beaten egg
For the streusel topping
1¼ C chopped pecans
2 tbsp brown sugar
2 tbsp spiced rum
Instructions
Line a 12 cup muffin pan with liners.
Mix together the cranberries and rum. Set aside.
In a mixing bowl, combine the lour, sugar, baking powder, salt, cinnamon and allspice.
In another bowl, combine the egg, pear, canola oil. Stir in the cranberry/rum mixture. Pour into the flour mixture and mix until just combined.
Spoon the mixture into 12 muffin cups.
Make the streusel topping. Mix together the pecans and brown sugar. Stir in the 2tbsp spiced rum. Spoon over the muffins.
Bake at 350 for 15-20 minutes. Do the toothpick test to make sure the muffins are done.
Cool before serving.
Notes
Adapted from Better Homes and Gardens New Cookbook
Nutrition Information
Serving size: 1 muffin