Butterscotch Pumpkin Muffins
The baking frenzy has begun again. Over the weekend, I made some delicious pumpkin pie pancakes with some pumpkin puree. I had some leftover pumpkin puree that I needed to use so I decided to make some muffins with it. But not your ordinary muffins. I made Butterscotch Pumpkin Muffins with white chocolate chips. I am pretty darn proud of these muffins. They look good, they're low fat and they taste good! I tell ya, if I keep eating all of these pumpkin treats, I am going to turn into a pumpkin. Yea, I know, lame joke but it made me laugh while I was typing it! I got the base recipe for the muffins from the "Better Homes and Gardens New Cookbook" published in 1996. I got creative and added the pumpkin, butterscotch flavor and white chocolate chips. I hope you enjoy my recipe.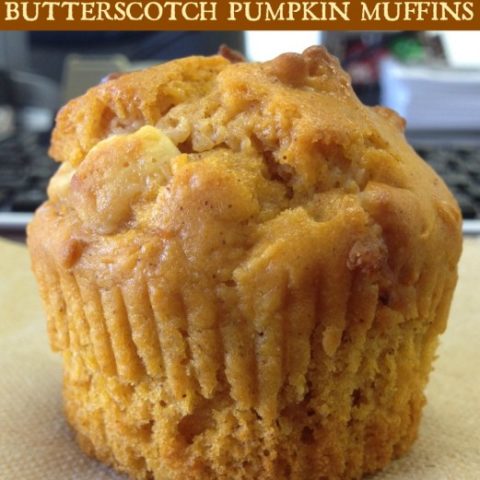 Butterscotch Pumpkin Muffins
Yield: 12 muffins

Prep Time: 15 minutes

Cook Time: 20 minutes

Total Time: 35 minutes
Ingredients
1 3/4 C all purpose flour
1 tsp pumpkin pie spice
1/2 C sugar
1/2 C and 1 tbsp milk
3/4 C pumpkin puree
1/2 C white chocolate chips
1/4 C applesauce
1 egg, beaten
1/4 tsp salt
2 tsp baking powder
1/2 of a 3.4 oz package of butterscotch pudding (instant)
Instructions
In a large mixing bowl, combine the flour, sugar, pumpkin pie spice, salt, baking powder and butterscotch pudding.
In another mixing bowl, combine the egg, milk, pumpkin puree and applesauce.
Add the wet ingredients to the dry ingredients and mix until well combined (I hand mixed, I didn't use an electric mixer)
Fold in the white chocolate chips
Place the muffin mix in a pan lined with muffin papers, about 2 tbsp of mix per muffin cup.
Bake at 400 for 18-20 minutes
Allow to cool before attempting to remove from the muffin papers. If you don't the muffins will stick to the papers! Don't be a muffin waster. Cool before you eat.
Notes
A few people have mentioned that the muffins stick to the paper. I did not have this problem once they cooled overnight but here is what you can do to prevent sticking if you do not want to wait for them to cool over night: Use 1/8 C of applesauce and 1/8 C of canola oil in the mix. Or you can try spraying the muffin liners with cooking spray.



More Recipes From This Gal Cooks
{click the images to view the recipes}