BBQ Baked Beans Recipe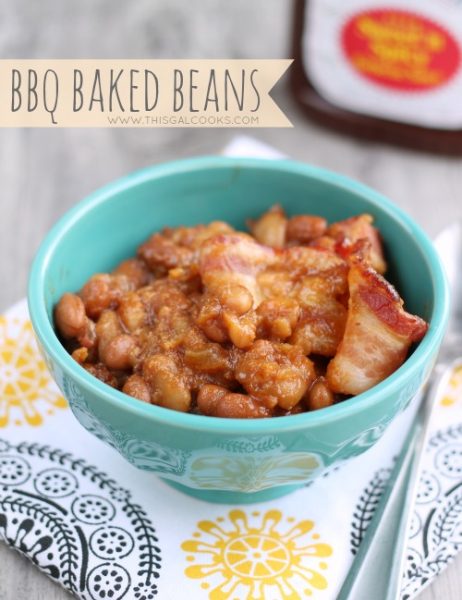 BBQ Baked Beans
Oh so you liked baked beans? Well I got a finger lickin good, er should I say bowl lickin good recipe for you right here. These BBQ Baked Beans are made from scratch and are baked with bacon. I just won you over with the bacon, didn't I?
Saturday we did a BBQ again. BBQ at our house is a common thing. We have a smoker so why not? This time we smoked ribs, chicken and corn. I made Smokey Chipotle Mac n Cheese and BBQ Baked Beans to go along with this feast. It's safe to say that the baked beans were the BEST baked beans I've ever had. The mac n cheese was phenomenal as well and I will be sharing that recipe with you later this week. So sit tight. I know, you wish you had the delicious mac n cheese recipe sitting in front of you right now but trust me, these beans are sure to make you forget all about the mac n cheese. This is a Julie original – I made this recipe up using the taste test method! I hope you enjoy this recipe.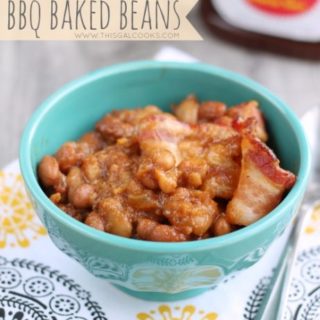 BBQ Baked Beans
Yield: 6-8 servings

Prep Time: 15 minutes

Cook Time: 30 minutes

Total Time: 45 minutes
Ingredients
8oz of bacon (I used cherry wood smoked)
1 16oz can of pinto beans, drained and rinsed
1 15.8oz can of northern beans, drained and rinsed
1 C chopped sweet onion
1/2 C brown sugar
2 1/2 tbsp molasses
1/2 C ketchup
3/4 tsp ground mustard
1/4 tsp cayenne pepper
1 tsp liquid smoke
2 tsp apple cider vinegar
2 tsp garlic powder
1 tbsp Worcestershire sauce
1/2 tsp salt
Instructions
In a large pan or pot, cook the bacon. Remove the bacon from the pan and set aside, leaving the bacon grease in the pan.
Add the onion to the pan of bacon grease and cook until tender.
In a large mixing bowl, combine the sugar, molasses, ketchup, ground mustard, salt, cayenne pepper, liquid smoke, cidar vinegar and worcestershire sauce. Mix in the onion and bacon grease. Add the beans and mix well.
Pour the beans into a baking dish and place the cooked bacon on top. Bake on 350 for 30 minutes.
Notes
Serving size is approximate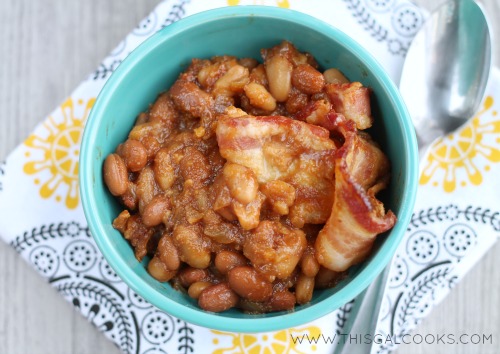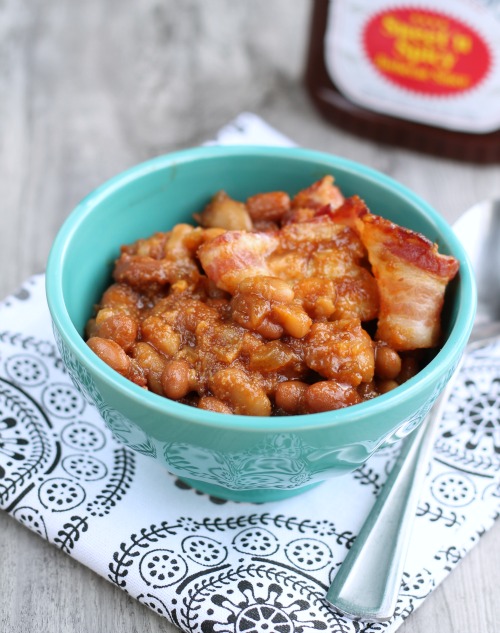 PS, this is a revamped recipe – I made this again over Memorial Day weekend 2013 and took new photos. This recipe now reflects the new and improved photos!