Breakfast Tostadas with Black Beans and Eggs
Forget Taco Tuesday. It's Tostada Monday and we're going to stuff our faces with Breakfast Tostadas today.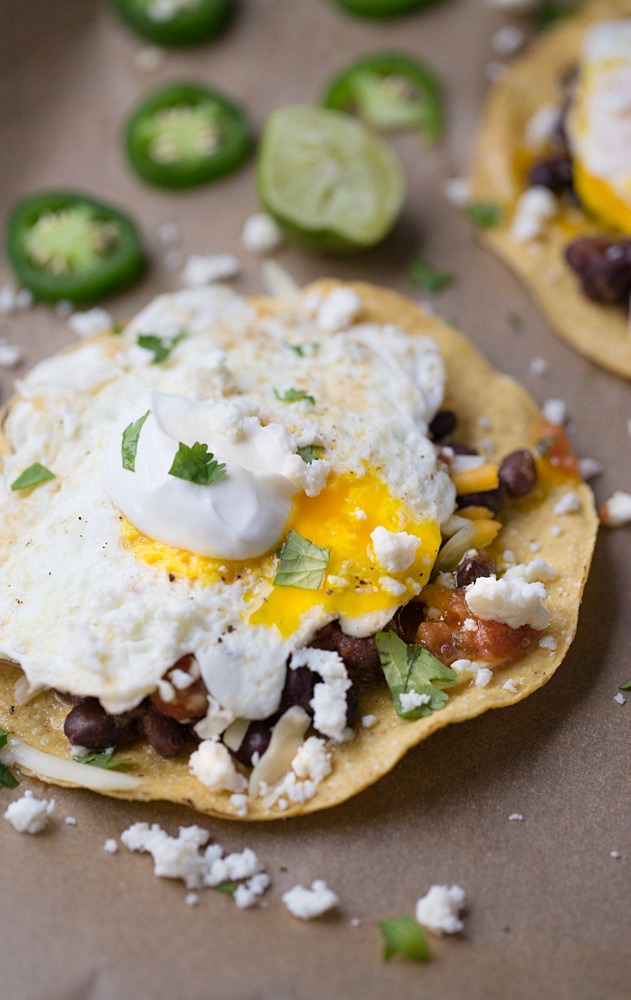 Crispy crunchy tostadas are topped with black beans, homemade salsa, shredded cheddar and an ooey gooey runny egg. Garnished with fresh cilantro and queso fresco. They're a vegetarian Tex-Mex lover's dream breakfast. ♥︎
Before we talk about breakfast tostadas, do you mind if we talk about Daylight Savings Time?
Are you as I am that Daylight Savings Time started yesterday?
No?
Feeling like you lost an hour of sleep?
Feeling like you just cannot go on with life because your weekend was one hour shorter than the previous weekend?
Feeling like today is the worst because it's the Monday after Daylight Savings Time beginning?
I am not feeling any of those. I'm actually excited that we now have an extra hour of daylight in the evening! I've been counting down to Daylight Savings Time for weeks. You can ask my co-workers. They know all about it and have probably snickered behind my back about my silly counting down of the days until DST arrived. Nah, not really. They snickered about it right to my face. But it was all in fun. :)
Breakfast Tostadas
This is a great recipe to use for a quick savory breakfast that requires minimal cleanup.
To make these breakfast tostadas, I topped crisp, crunchy tostadas with seasoned black beans and this Blender Salsa from Averie Cooks. To date, it's the best homemade salsa recipe I've tried. I highly recommend trying it. Then I topped the tostadas with shredded cheddar, over easy eggs, fresh chopped cilantro and queso fresco. If you'd like to cut back on the cheese, you could leave out either the queso fresco or the shredded cheddar cheese.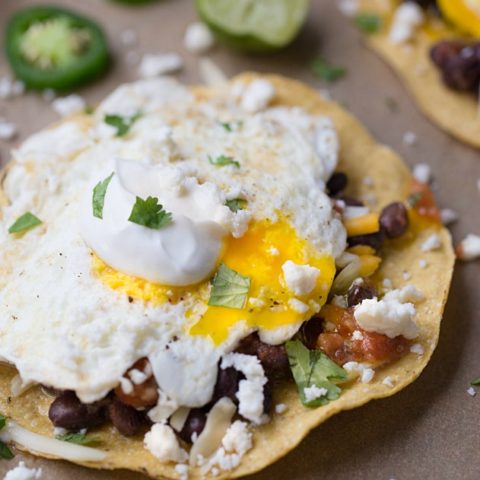 Breakfast Tostadas
Yield: 4 servings

Prep Time: 15 minutes

Total Time: 15 minutes

Simple Breakfast Tostadas are topped with seasoned black beans, fresh salsa, two cheeses and fried eggs.
Ingredients
4 corn tostada shells
4 large eggs
1/2 C seasoned black beans (I seasoned the black beans with some cumin and the salsa I used in this recipe - see instructions below)
1/2 C shredded cheddar cheese
4-8 tbsp of salsa (this will depend on your preference)
Fresh ground black pepper
Sour Cream (optional)
Crumbled Queso Fresco for garnish (optional)
Fresh Chopped Cilantro for garnish (optional)
Instructions
Preheat your oven to 180 degrees. Place the tostada shells directly on the middle oven grate and heat for about 5 minutes. You can then turn off the oven and leave the tostadas in there until you are ready to use them. This will keep them warm.
Heat the black beans in a sauce pan over medium heat. Season with a pinch of cumin and about 1 1/2 tbsp of salsa, if desired. Once the beans are hot, cover and turn off the heat.
Cook your eggs to preference. I cooked over easy eggs but you could do sunny side up or scrambled, too.
Assemble the tostadas. Place the tostadas on plates or a large tray. Top each tostada with 2 tbsp of the black beans, 2 tbsp of shredded cheese, 1-2 tbsp of salsa and the eggs (one egg for each tostada. If using scrambled, spoon equal amounts of eggs over each tostada). Sprinkle the eggs with ground black pepper. Top each egg with about 1 tsp of sour cream and then sprinkle with queso fresco and chopped cilantro.
Nutrition Information:

Amount Per Serving: Calories: 220 Total Fat: 12g Sodium: 393mg Carbohydrates: 16g Sugar: 3g Protein: 12g