Blackened Fish Tacos
I absolutely LOVE fish tacos. In addition to dining on them at restaurants, I've made them many times. I wanted to try something a little different, though, so I visited some blogs and found some inspiration from Cheap Crafty Mama. Earlier this week, she posted a recipe for Cheesy Fish Tacos and I got my inspiration from that exact recipe. Of course, I made some alterations, but overall, I kept the recipe pretty much the same. Please enjoy the recipe.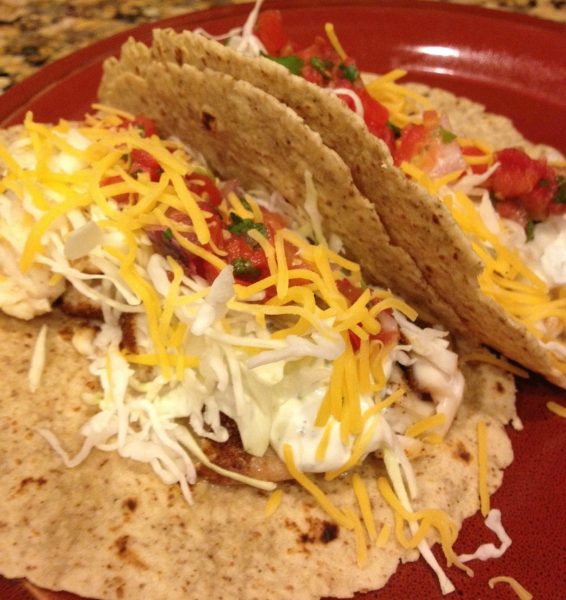 Ingredients
4 tilapia fillets
Blackened Seasoning
Angel Hair shredded cabbage
1/2 tbsp of lime juice
1/2 cup of sour cream
1/2 cup of mayonnaise
2 cloves of garlic, minced
1 cup of cilantro
A pinch of salt
Fresh salsa or pico de gallo
Shredded cheese
Tortillas of your choice
Instructions
1. Preheat oven to 350
2. Line a baking pan with aluminum foil and spray with cooking spray
3. Coat the tilapia with blackened seasoning and place on the baking pan
4. Bake the tilapia for 10-15 minutes or until flaky
5. While the tilapia is baking, prepare your cream sauce. Place cilantro, lime juice, mayo, sour cream, pinch of salt and garlic into a food processor. Grind until well mixed and the cilantro is chopped into small pieces.
6. Remove the fish from the oven when done baking break into pieces.
7. Garnish with cilantro cream sauce, shredded cabbage, shredded cheese and salsa or pico.