Beyond the Kitchen: Stitch Fix #9
This is not a sponsored post. I purchased all of these items with my own money. However, I've included referral links in this post that give me credit towards my next Stitch Fix purchase.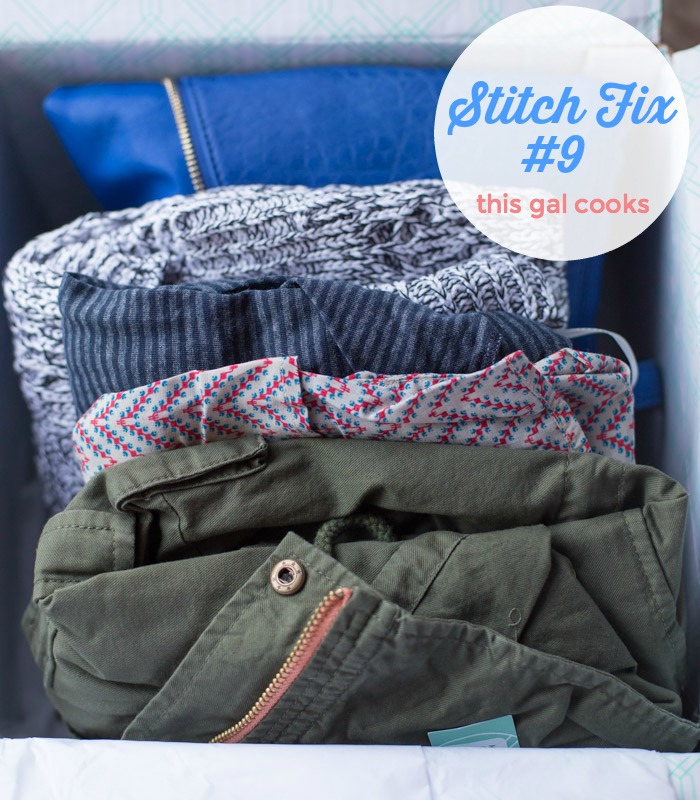 You guys, it's Friday and I'm doing something I don't usually do A FASHION POST!
ZOMG. Did I just blow your mind? Make you spill coffee all over yourself? Make you laugh so hard you shot milk out of your nose?
Something you may not know about me. I like clothes and I like fashion. I have 123152 pairs of shoes. That's down from what it used to be. I used to hoard purses and wallets. I rehabilitated myself from that and have used the same Fossil cross body bag for 4 years. BUT, despite my love for fashion, I hate shopping, unless it's of the grocery sort.
Then Stitch Fix came along and now I'm the happiest gal on the planet. They send me a box full of fashion once per month and it's like Christmas on the day it arrives! The most recent fix happens to be the most special fix – I kept EVERYTHING that came in the box, thanks to my awesome stylist Camille! A few weeks ago I saw this Travel Essentials post on the Stitch Fix blog and I was like OMG this post is totally meant for me it has my name all over it all kinds of happy. Mountain escape, check. I have one of those going on next month. So I let my stylist know and she hand picked items similar to those in the Mountain Escape feature and sent them to me. VACATIONS HAPPILY!
Ya'll, please don't judge my photos. They aren't up to par with my food photos and I'm not the fashion-y wear clothes, snap photos of me in said clothes type of person. So I hung the clothes and the bag on hangers hanging from my closet door and snapped photos with my iPhone. Total amateur right here.
Here's what I got in Stitch Fix #9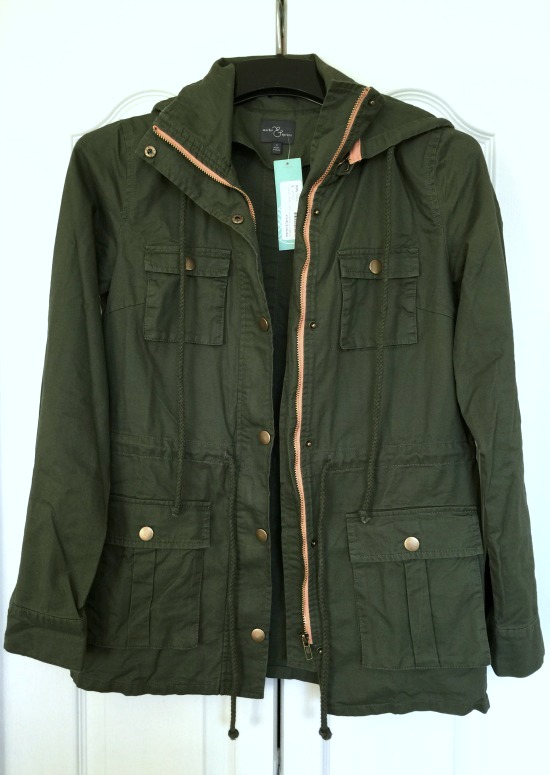 Chaplin Hooded Anorak Cargo Jacket / Market & Spruce – $88. I LOVE this jacket. I love the dark olive green color.  It fits perfectly. It isn't too heavy. The material is comfortable. It has a REMOVABLE hoodie, which I love because sometimes I just do not want the hoodie going on. And it can be worn dressy casual or just plain casual. KEPT!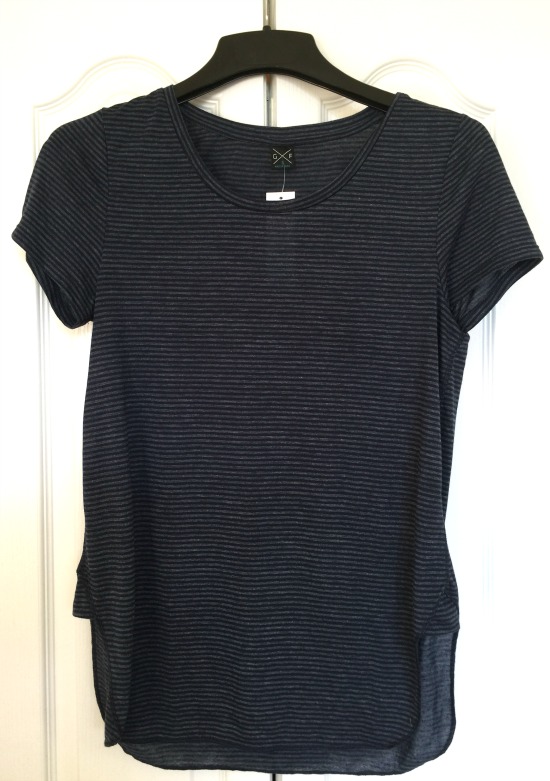 Zena Knit Top / Gentle Fawn – $44. This is a casual, comfortable top and totally my style because it isn't clingy but it doesn't make me look like I'm pregnant. This gal cannot stand clingy tops. I'm not a teen anymore and I'm not in my early 20s and I like beer so my abs ain't flat like they used to be. Clingy shirts aren't my friend. But this shirt IS my friend and I love it and it pairs well with the boyfriend jeans that I kept from another fix so I KEPT it!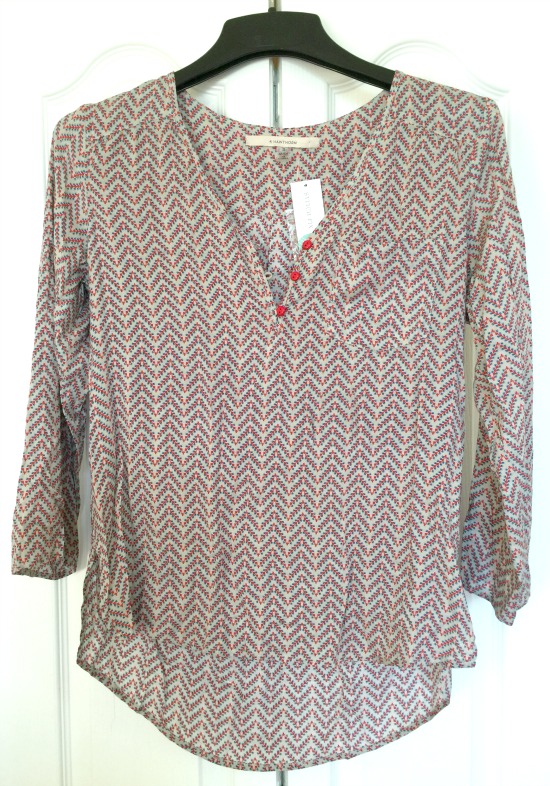 Trinidad Chevron Striped Henly Top / 41Hawthron – $48. I went back and forth about whether or not I would keep this top. It fits nice and isn't clingy but I just wasn't sure about it. Seriously, I tried it on with 3 or four pairs of shorts, a pair of dress pants and a pair of jeans before deciding to keep it. In the end, the soft light-weight fabric won me over. KEPT.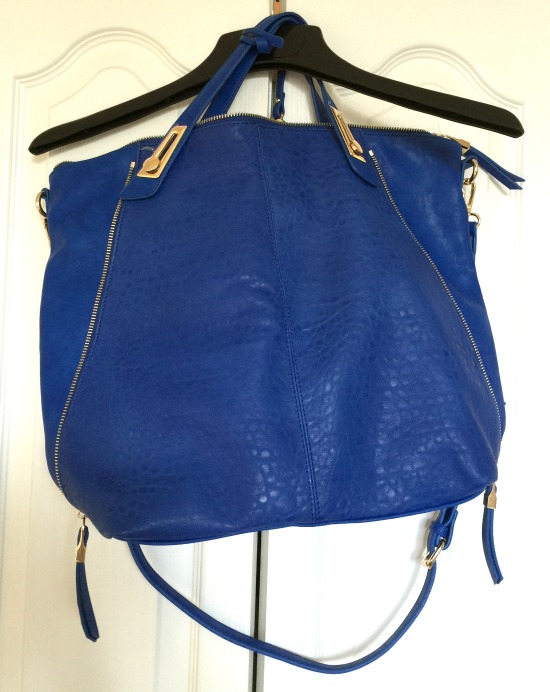 Rex Hardware Detail Crossbody Hobo Bag / Urban Expressions – $68. Another item I went back and forth about keeping or sending back. I'm not into big purses. I have a small Fossil cross body bag that I've had for four years that I cannot part ways with. I like leather purses and this purse is not made of leather. BUT, this large cross body bag is large enough to hold my laptop (in it's case!) and many other things. TRAVEL FRIENDLY! And it's great for carrying everything to work in, even my smaller purse. Yes, I carry a purse inside purse. Don't judge. And while I typically go for leather because I feel it lasts longer, I could tell that this purse was made well and will hold up for a long time. KEPT!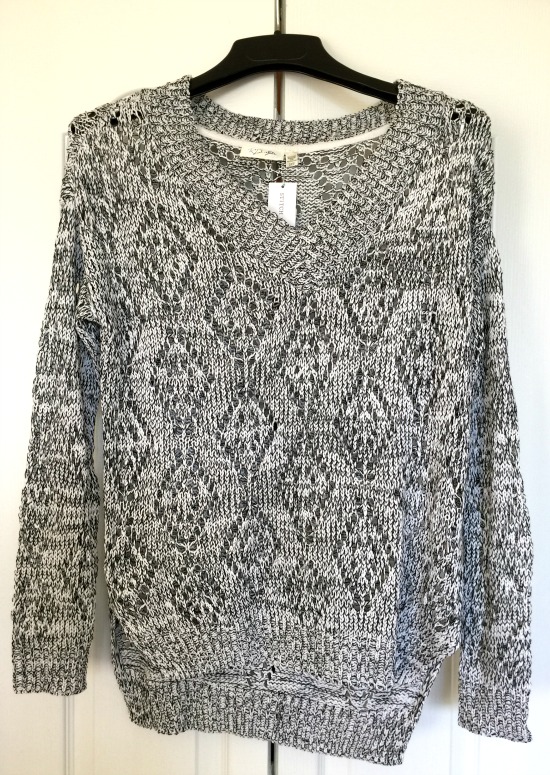 Charlton V-Neck Sweater / RD Style – $68. I live in Florida so sweaters are rarely a thing. Most of the year, we be like WHAT'S A SWEATER? So this sweater was something I was totally going to send back. However, I do like the style and the way it's made (it's crochet style so the sweater is not solid material – you've gotta wear a cami under this). It was also cheaper for me to keep it because I was keeping everything else (25% discount if you keep everything!) AND, I tried a light green tank/cami on under it and the layering combo looked great! KEPT.
Here's the breakdown.
Stitch Fix charges a $20 styling fee but the styling fee is credited towards your purchase. Also, because I kept everything in this fix, I received a 25% discount off the total price of all items. That's right – Stitch Fix gives it's customers a 25% discount off of the entire purchase if all items in the fix are kept. How awesome is that?!
All of the items in my fix totaled $316.00
The styling fee credit of $20.00 was applied to my purchase.
The 25% discount totaling $74.00 was applied to my purchase.
Out of pocket for all of these amazing items: $222.00
If you'd like to sign up for Stitch Fix styling service, you may do so by visiting Stitch Fix on the web. It's so easy to sign up! You'll fill out a style profile so your stylist can get a feel for your likes and dislikes.
Check out my other Stitch Fix post here.