10 Elegant Chicken Entrees
Good morning and Happy Wednesday! I'm happy to have Andi from The Weary Chef taking over my blog today while I'm in Atlanta for work! Today Andi will be sharing 10 Elegant Chicken Recipes. Not only are these recipes tasty, they're very easy to make!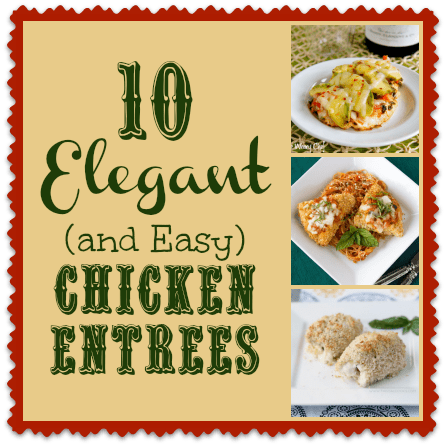 Hello there! I'm Andi, and I'm thrilled that Julie invited me to share these Ten Elegant and Easy Chicken Entrees with you today! You may know me as The Weary Chef, which is the name of my blog where I share easy weekly dinner menus, cocktail recipes, and bonus recipes along the way. I would love if you would stop over to say "Hi," and you can find some easy dinner ideas while you are there!
We all know that chicken is very versatile. It's a perfect addition to casseroles, pasta, and soups, but some people might think chicken on its own is boring. Au contraire, mon frere! (I'm speaking French now since we're talking about elegant recipes. I know how to keep it classy.)
The collection of easy chicken entrees I'm about to bring you is anything but boring! These dressed up chicken dishes will impress your family or dinner guests, and you won't have to spend hours in the kitchen!
(Click on the images for the full recipes.)
There you have it, folks. Is your mouth watering? What kinds of side dishes would you serve with these easy chicken entrees? Tell us your ideas in the comments!