Lemon cake mix and fresh blueberries come together to make this super simple Cake Mix Lemon Blueberry Muffins recipe!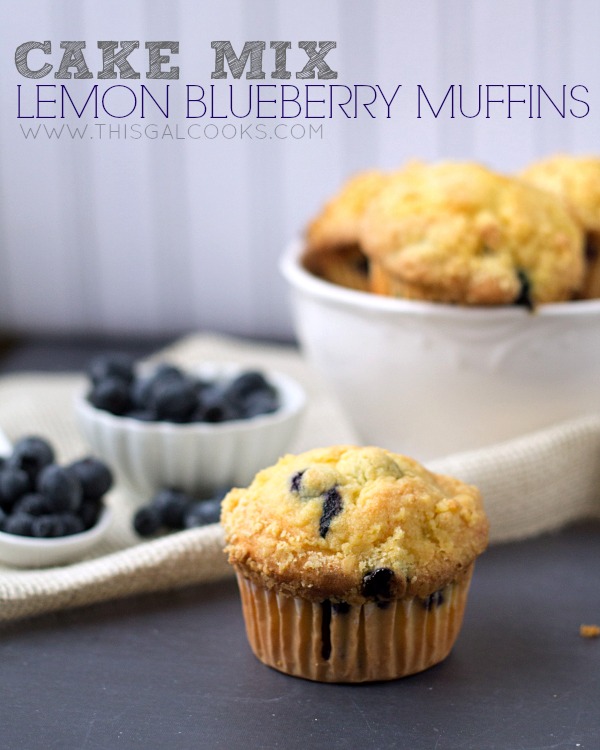 Gah. I'm quickly putting together this post because I have a ton of school work to work on. What does putting a post together quickly do to my brain? Make me not be able to think of things to write about! Can you say writers block? Writers block. This gal has it. So instead of writing about something inspiring, useful or interesting, I've spent this entire first paragraph of this post rambling about writers block. Ok, I'll try to write about something else now.
Are you one of those people who has a wandering mind? I sure am. I tell ya, reading about some of the business topics that I have to read about causes my mind to wander. A lot. I've always been a day dreamer. I can remember sitting at my desk in 5th grade, elbow on the desk, chin propped in the palm of my hand, thinking about anything and everything that didn't have to do with the boring topic the teacher was talking about. To this day I still do that. I think it's part of the reason that it's taken so long for me to complete my bachelors degree. Taking 3 hour per evening night classes just wasn't for me. I would find myself day dreaming quite often. It wasn't until online classes became the norm that I was able to complete classes at a more accelerated pace.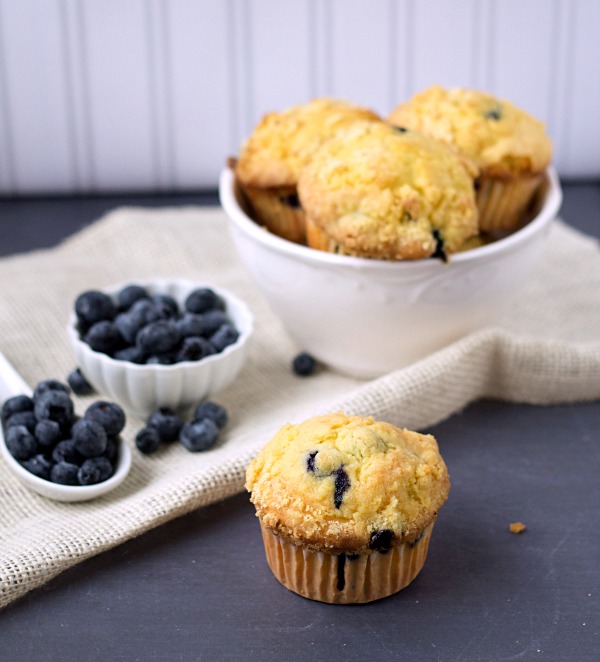 There are actually a few factors that played into me taking forever to finish my degree. Inability to sit still for long periods of time, lack of interest in the topics covered and the desire to do recreational activities or just sit on my butt at home after work can all be attributed to my lengthy stay at college. But with all of that being said, I still ask my self what I'm going to do after I graduate. I have a desire to do more, to learn more!
I think we will see a lot of school talk in my future posts. I'll try to keep it interesting. :)
Now let's talk muffins. I had a box of lemon cake mix. I had some fresh blueberries. I thought "hey! lemon and blueberry go good together!" So I made these muffins. They came out ok. To me they weren't anything spectacular. Definitely not as good as my made from scratch Raspberry Lemon Muffins. But they hit the spot if you're craving a muffin. And I kinda like the photos that I took of them. So here ya go. If you end up making them, let me know what you think!

Cake Mix Lemon Blueberry Muffins
Ingredients
1 box of lemon cake mix. I used Duncan Hines.
1 C all purpose flour
2 eggs, beaten
⅓ C cold butter, cubed
1½ C fresh blueberries
2 tbsp all purpose flour
1 C water
2 tbsp vegetable oil
1 tsp baking powder
Instructions
Preheat oven to 350
In a mixing bowl, whisk together the cake mix and 1 C flour. Divide in half.
Add the baking powder to half of the cake mix. Mix well. Beat in the eggs, water and oil until well combined.
Toss the blueberries in 2 tbsp flour and then fold into the batter.
Cut the butter into the remaining mix.
Pour the batter into lined muffin cups and then sprinkle with the crumb mixture.
Bake at 350 for 18-20 minutes.
Allow to cool for 30 minutes to an hour before serving.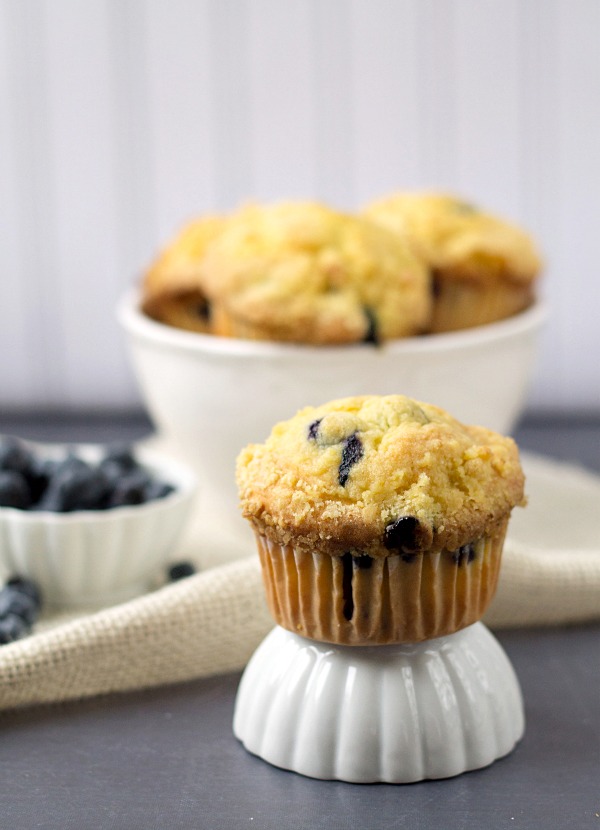 More from This Gal Cooks