Teriyaki Salmon with Sesame Asparagus
Healthy dinners that are packed with flavor are always a winner in my book! This Teriyaki Salmon with Sesame Asparagus is healthy and delicious. And it's super simple to make!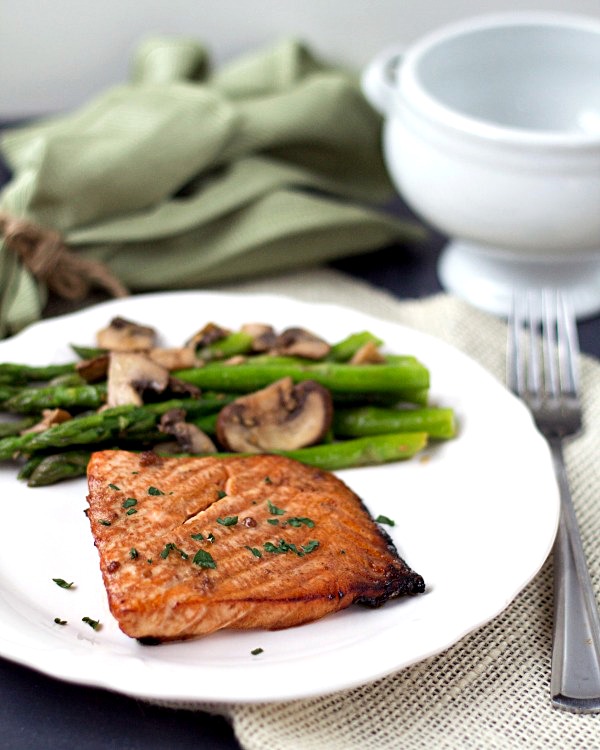 Summertime and grilling. They go hand in hand. Well actually, grilling and Florida go hand in hand. You can pretty much grill during any time of the year. Now Ken, who grew up in Minnesota, says that you can grill when it's very cold and snowing outside but who wants to do that?
We love our grill. I enjoy preparing the foods to cook on it and Ken enjoys grilling. He's the grill man. Ha! That's the silly name that I call him sometimes. Usually when I want him to grill. Maybe in my mind I think it is motivation. However, I don't think it is. I don't think Ken thinks it is either. It's just a silly nickname that I came up with. Trust me. I come up with a lot of those!
We have this silly little thing we do when we grill. We both say "another great dinner, thanks to me" as we are about to eat. Funny, right?! I say it's because I prepped it and made all of the sides (unless we grill the sides as well) and Ken says it because he did all of the grilling. In the end it's all due to teamwork, right? Hehe, it's all because of me. ;)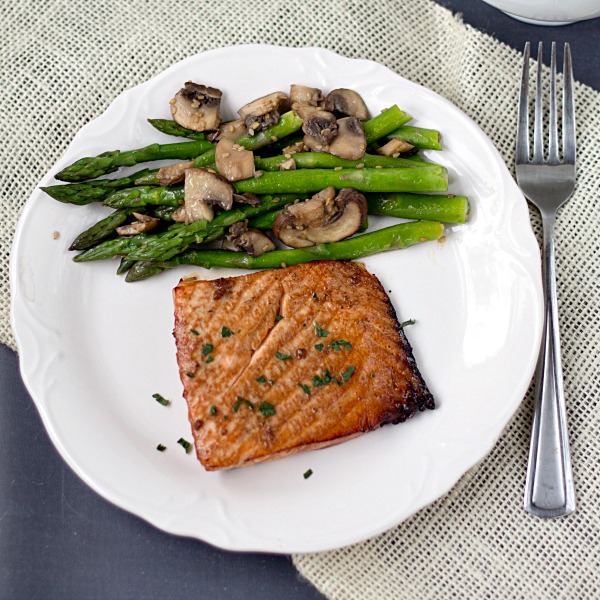 A couple of weeks ago I wanted to have a healthy dinner. We had been dining out often and I think I may have had two cheeseburgers that week. Say what?! Two cheeseburgers? Yea so a healthy meal was a must have. I turned to one of my favorite cook books, my Better Homes and Gardens New Cook Book, and settled on Teriyaki Salmon for the healthy protein and Sesame Asparagus for the healthy side vegetable. It sure looks healthy doesn't it? And it's quite simple to prepare which means you have more time to spend with the friends and family! Enjoy this easy to make Teriyaki Salmon with Sesame Asparagus!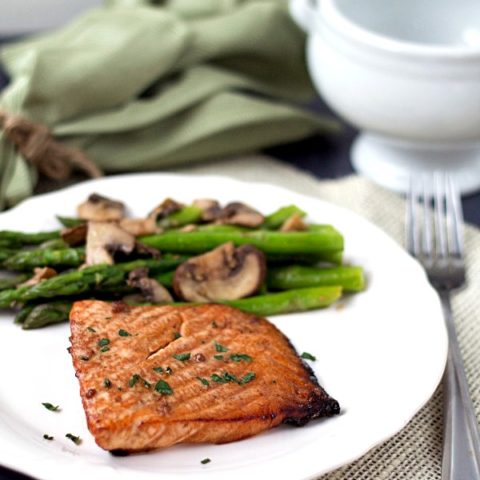 Teriyaki Salmon with Sesame Asparagus
Yield: 2

Prep Time: 15 minutes

Cook Time: 20 minutes

Total Time: 35 minutes
Ingredients
For the Salmon:
3/4lb salmon (have your friendly seafood associate cut it into two pieces or be daring and cut it yourself!)
1 clove garlic
1/3 C soy sauce
1 tsp fresh ground ginger
2 tbsp orange juice
1 tbsp olive oil
1 tbsp sherry
1 tsp honey
For the Sesame Asparagus
1lb asparagus spears, end of the base removed
8oz baby bella mushrooms, sliced
1 tbsp butter
1 tbsp sesame seeds
1 tsp lemon juice
1/4 tsp sesame oil
1 tsp soy sauce
Instructions
For the Salmon:
Whisk together all ingredients minus the salmon.
Rinse salmon and pat dry. Place in a baking dish.
Pour the teriyaki sauce over top of the salmon and marinate for about 1/2 hour.
Place each piece of salmon on a piece of aluminum foil (individually) and then brush some of the marinade on top.
Grill on medium indirect heat for about 10 minutes or until opaque. Do not overcook or you will have chewy salmon. No one wants that!
For the Sesame Asparagus:
Steam the asparagus. I used a microwaveable steamer. It took about 4 minutes to steam.
Melt the butter in a saute pan. Add the mushroom and sesame seed and cook until the mushroom is tender. Add the lemon juice, sesame oil and soy sauce. Mix well.
Place the steamed asparagus in a baking dish and pour the mushroom sauce over top.
Serve with the salmon.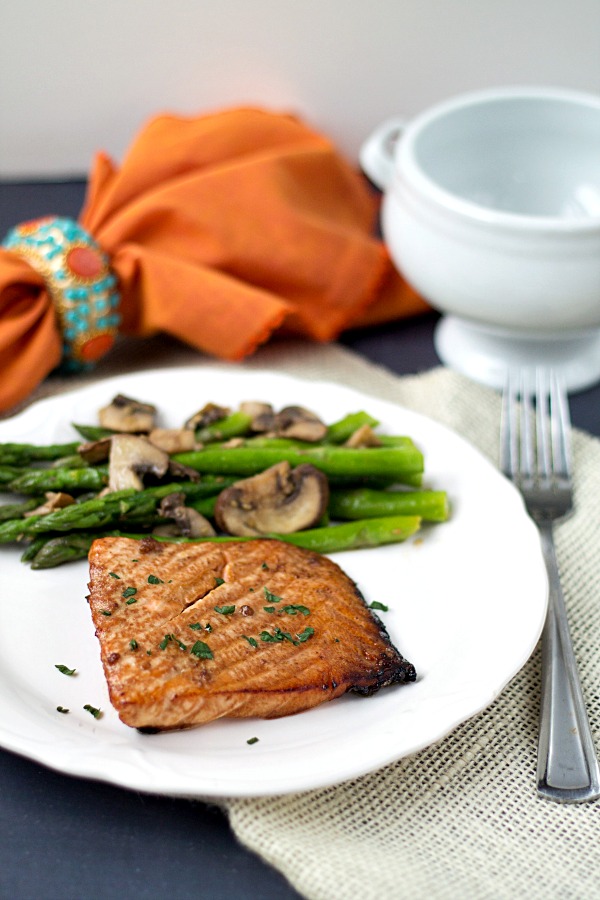 This is the perfect, easy meal to add to your weekly meal plan. Don't want to use asparagus as your side? Simply substitute broccoli. Broccoli tastes great with sesame sauce!
 More recipes from This Gal Cooks
{click images to view recipes}