Spicy Shredded Beef
One of my favorite items at Mexican restaurants is the shredded beef. It tasted great in tacos, enchiladas and chili rellanos. It's tender and it has great flavor. I recenlty decided to make my own version of this tasty meat and it turned out rather well. We used the meat in tacos. It went well in both flour and corn tortillas topped with sour cream, lettuce and cheese. No need for hot sauce with this meat as it has enough kick to it on it's own. Please enjoy the recipe.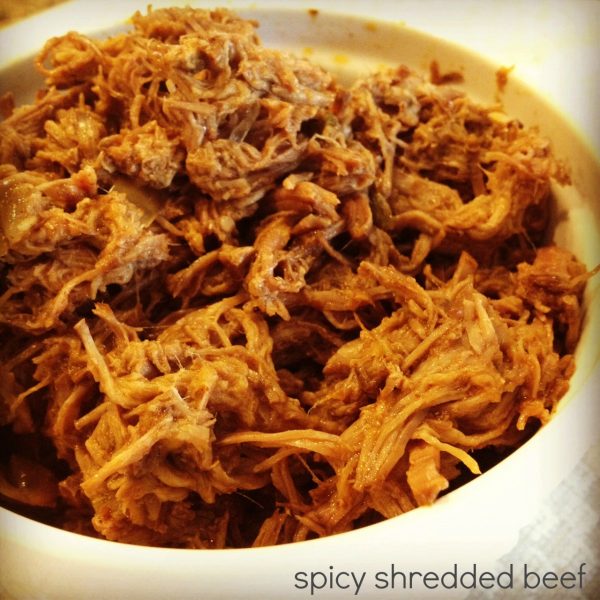 Ingredients
2.5lb chuck roast
2 tbsp olive oil
1 tsp salt
1 tsp pepper
1 large onion, chopped
1 large jalapeno, diced
1 tbsp taco seasoning
2.5 oz of hot sauce (I used Tapatio hot sauce)
Directions
1. Trim the beef of any excess fat
2. Season with salt and pepper
3. Brown in a skillet with the olive oil
4. Combine the hot sauce, onion, jalapeno and taco seasoning
5. Place the roast into a slow cooker
6. Top with the hot sauce mixture
7. Fill the crock pot with water until it is covering the bottom 1/3 of the roast
8. Cook on high for 6 hours. If the roast is fork tender and falls apart easily, it is ready to shred. Shred the beef and set aside. Strain the sauce in the crockpot in order to remove the onions and jalapenos. Reserve the sauce in a bowl. Add the beef back to the crockpot and pour your desired amount of sauce over the beef and mix well. Serve with tacos, enchiladas, nachos or chili rellanos.