Spiced Cranberry Sauce – GYCO
Good Tuesday morning to all of you! I am very excited to present to you my submission to the Get Your Chef On cooking challenge – Cranberries. This wonderful cooking challenge is hosted by Julie from White Lights on Wednesday and Jenn from Four Marrs and One Venus. Every two months they release the secret ingredient, interested participants sign up, make their dish that contains the secret ingredient and then link up on the "go live" day. It's a very fun experience so you should join in on the next GYCO event! No really, you should!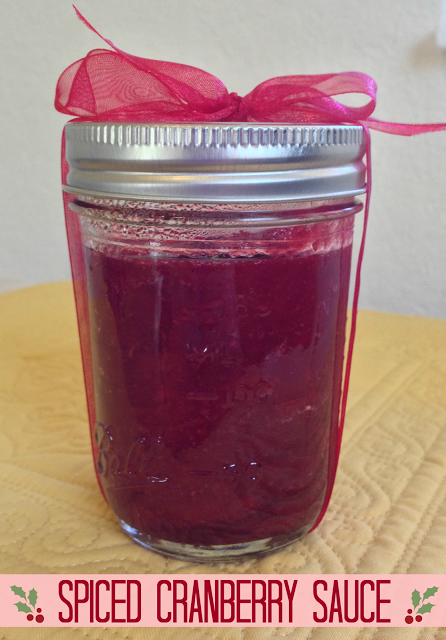 I decided to make a spiced cranberry sauce. Yes, I know that cranberry sauce is probably the expected recipe to make with cranberries but I wanted to make homemade cranberry sauce for Thanksgiving so this was my choice for the contest. Now my cranberry sauce isn't your normal cranberry sauce. Mine's made with fresh cranberries, honey, allspice and Splenda. The addition of allspice gives it a wonderful flavor that sets it apart from most cranberry sauces. I attempted to can this recipe but being as this was my first time attempting canning, the end result wasn't successful. The sauce was great but the lids didn't seal. I just simply put the cranberry sauce into a freezer bag and stuck it in my freezer so it will be just like new on Thanksgiving day! Remove. Thaw. Enjoy. I hope you enjoy this recipe! I got the inspiration for this recipe here. 
Ingredients
Cranberry juice (enough to fill the pot with 2 inches of liquid – I used light cranberry juice)
24 oz of fresh cranberries, rinsed and mushy or dull cranberries removed
1/2 C honey
1/2 C splenda
1/4 tsp allspice
3 tbsp orange juice
Directions
Fill a large pot with the cranberry juice until it is about 2 inches full.
Bring to a boil and add the cranberries. Cook the cranberries for 15-20 minutes or until mushy. You will hear the cranberries popping as they are cooking.
Once the cranberries are done cooking, turn off the heat. I felt that my sauce was too thin (too much liquid) so I used a strainer to remove the cranberries from the liquid.
Add the honey, Splenda, Allspice and orange juice.
If canning, follow directions for canning. You can find the directions on many websites, including the site I referenced above as the inspiration for my recipe.
What did you make for the GYCO cooking challenge? If you signed up, link up your cranberry recipe below. If you didn't sign up, be sure to next time and enjoy the below recipes!
document.write(");