Savory Orzo with Mushrooms
Mushrooms are sautéed in a light sauce and then tossed with orzo to create this Savory Orzo with Mushrooms dish. You can serve this simple recipe as a main dish or as a side.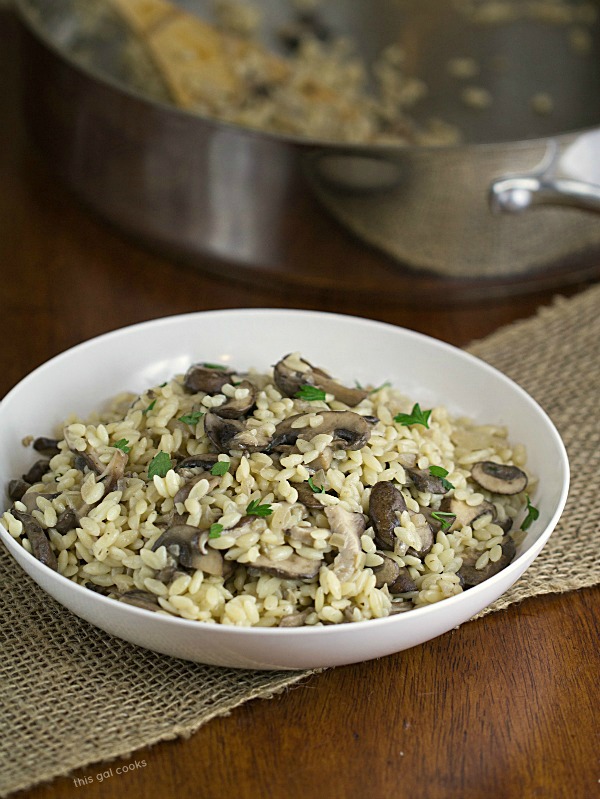 This recipe almost didn't happen.
It was a Saturday evening. Ken was busy organizing our garage and I was having fun with furniture in my dining room. I was working hard at transforming my Ikea cube bookshelf into somewhat of a coffee bar slash breakfast bar. Well, I wouldn't really say I was hard at work. All I did was set it on the floor lengthwise and place my K-Cup machine on top of it. Then I placed a small bowl of K-Cups, some coffee mugs and other novelties on top of it. It looks pretty rad, especially with the Jack Daniels sign propped atop it.
So by this time, I was pretty hungry. I almost ordered take out but I was too lazy to go pick it up. I decided to try out a recipe that I found in the most recent Food Network magazine. Instead of using the wild rice that the recipe called for, I would use orzo. I started cooking the pancetta and then proceeded to add a splash of sherry to the pan. Big mistake. The pan was too hot. A huge cloud of smoke (or maybe vapor) burst into the air. And then my house was smoky. And it didn't smell good at all. Not to mention that I was afraid my smoke alarms were going to go off. Or worse, my fire sprinklers would give my house a shower.
None of that happened. But this did.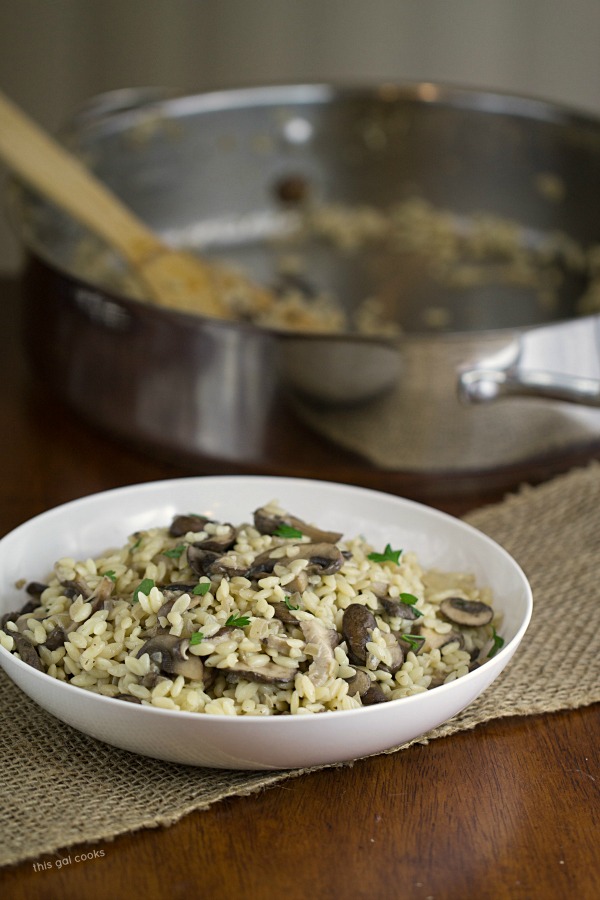 Savory Orzo with Mushrooms
After my frustration wore off, I decided to throw my own recipe together. Sorry Food Network Magazine. But don't you worry, there are a ton of other recipes in your magazine that I want to make.
I made sautéed some onion, garlic and fresh thyme in some butter and turkey stock. Then I added some sherry and mushrooms (no crazy smoke incidents this time) and cooked the mushrooms until tender. Cream, ground pepper and a dash of salt finished off this sauce. I tossed the mixture with some cooked orzo and then sprinkled it with a little parsley.
Yum. A simple gourmet type dish without all the elbow grease.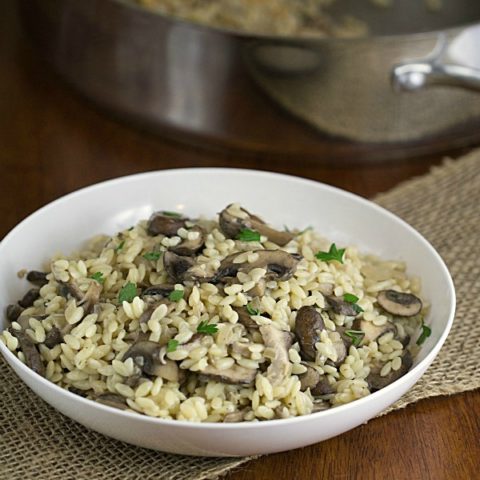 Savory Orzo with Mushrooms
Yield: 4

Prep Time: 10 minutes

Cook Time: 15 minutes

Total Time: 25 minutes
Ingredients
1 1/4 C cooked orzo
3.5 oz package of shittake mushrooms, sliced
8 oz package of baby bella mushrooms, sliced
1 tbsp sherry
1 small sweet onion (about 1/3 C) diced
2 cloves of garlic, minced
2 tbsp butter
1 tbsp fresh thyme, chopped
2 tbsp turkey stock
1 tbsp heavy cream
Salt and ground pepper to taste
Fresh shredded parmesan cheese for topping
Fresh Italian Parsley, chopped (use for garnish)
Instructions
In a large skillet, melt the butter, Add the onion, garlic, thyme and turkey stock and cook until the onion is tender. Stir occasionally so the onion and garlic do not burn.
Add the sherry and mushrooms and cook until tender.Add cream, salt and pepper to taste, mix well and then remove from heat.
Mix in the cooked orzo. Place in serving bowls and top with shredded parmesan cheese and parsley
Notes
This recipe will make about four one cup servings or about 8 half cup servings.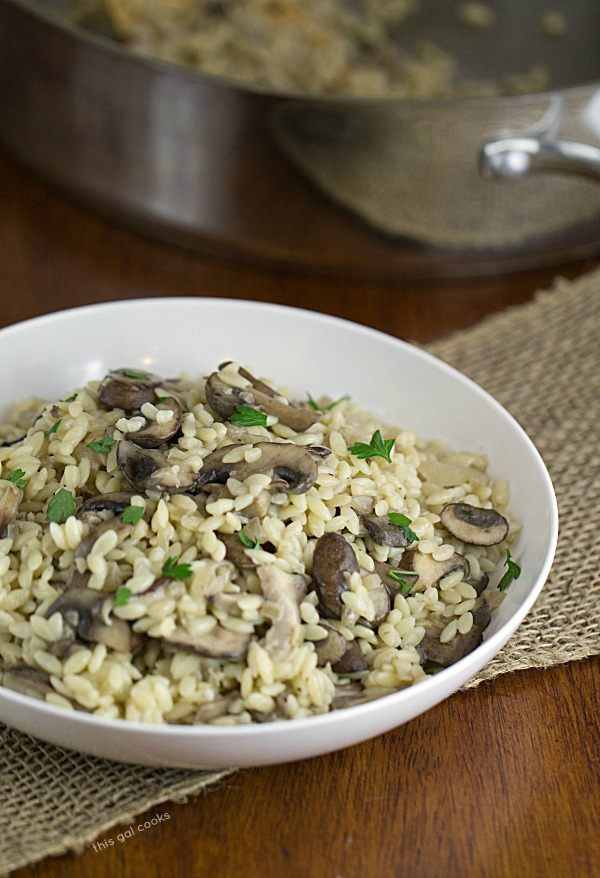 More from This Gal Cooks