White Chocolate Blueberry Bars
White Chocolate Blueberry Bars: Fresh homemade blueberry preserves and white chocolate are sandwiched between a sweet oatmeal cookie-like crust.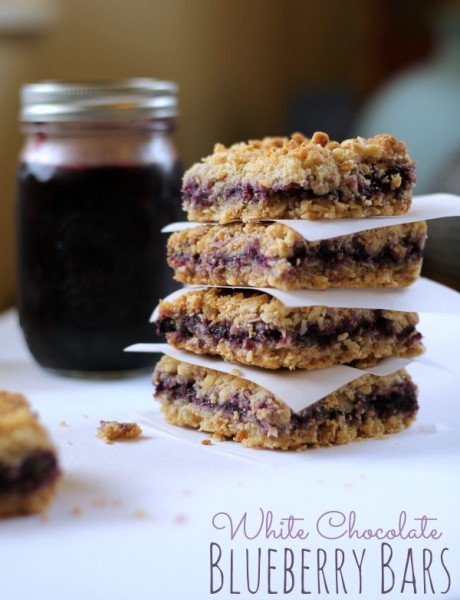 Happy Saturday to all of you. Many of you will be enjoying an extra long weekend this weekend. What plans do you have? Are you having a BBQ? Are you going to a BBQ? We are having a BBQ at our house tomorrow. It's just the two of us tomorrow but we'll still enjoy it!
Perhaps you are still deciding on which desserts to make this weekend. Something fruity, Summery and sweet may be on our mind. It just so happens that I have the perfect recipe for you!
I was inspired to make this recipe after seeing these Raspberry White Chocolate Streusel Bars by A Kitchen Addiction.  I loved the concept of incorporating berries and white chocolate into a recipe. While I do like the flavor of raspberries, I am not a fan of the little seeds in them so I decided to make my own version of these bars with blueberries. I purchased 2 pints of blueberries and made Blueberry Preserves to fill these little bars with. They were a hit with Ken and with the fellow co-workers. I'm sure they will be a hit with your family too. Enjoy the recipe!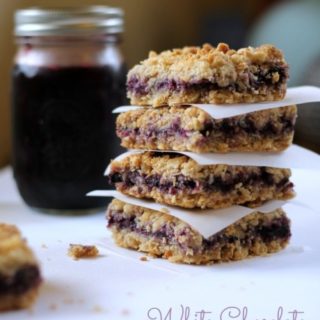 Recipe: White Chocolate Blueberry Bars
Yield: 9

Prep Time: 15 minutes

Cook Time: 35 minutes

Total Time: 50 minutes
Ingredients
1 1/2 C all purpose flour
1 1/2 oats
1/2 C brown sugar
1/3 C white granulated sugar
1 tsp baking powder
1/4 tsp salt
3/4 C butter, room temp
1 C blueberry preserves
3/4 C white chocolate chips
Instructions
In a large bowl, combine the flour, oats, sugars, baking powder and salt. Cut in the butter (I used two knives and my fingers) until the mixture resembles crumbs.
Press half of the mixture into a greased 9x9 baking dish. Spread the blueberry preserves over top. Top the blueberry preserves with the white chocolate chips. Top with the remaining mixture (just sprinkle on top; no need to press the topping.)
Bake at 375 for 30-35 minutes or until the top is golden brown. Cool completely on a wire rack before serving.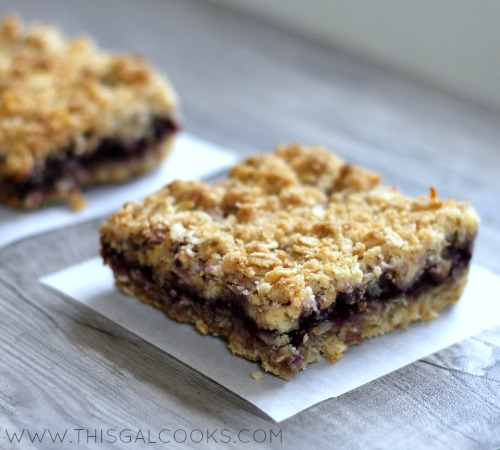 Here are a couple more recipes that you may enjoy (including the blueberry preserves!)