Sweet and Spicy Pineapple Slaw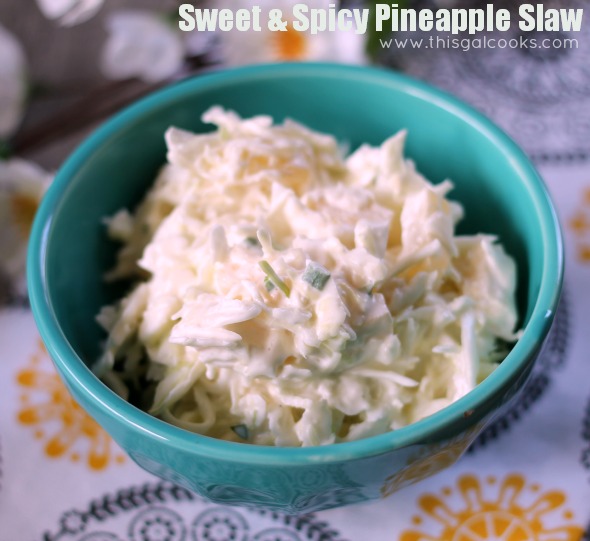 I made awesome coleslaw on Sunday. But before I get to that, let me tell you a little story about coleslaw. A lot of people (I'm mainly speaking of restaurants) make horrible tasting coleslaw. It's almost as if they think that just throwing some shredded cabbage with some mayo or horrible coleslaw sauce is acceptable. Newsflash: It's not. But there are a few that make phenomenal coleslaw. Just the right sweetness and tanginess make it awesome and some places just know how to do it right.
I make a pretty spectacular basic coleslaw, you can see that recipe here, but I wanted to make a sweeter, spicier coleslaw. A coleslaw experiment! I wanted to try to mimic the flavor that I had tasted in a few different coleslaws that I tried that I actually enjoyed. I suspected the flavor I tasted was pineapple and my suspicions were confirmed when I made the coleslaw I am sharing with you today, Sweet and Spicy Pineapple Slaw.
Sweet and Spicy Pineapple Slaw
So this is the awesome coleslaw I made. Pineapple, Serrano Chilis and pineapple juice set this apart from your basic, everyday coleslaw. I made this to top Tequila Lime Shrimp Tacos that I made on Sunday. I'll be sharing that recipe with you later this week. It paired quite well with the tacos but it is also great as a side dish to compliment a variety of meals. I think it would go great with BBQ. I hope you enjoy this recipe.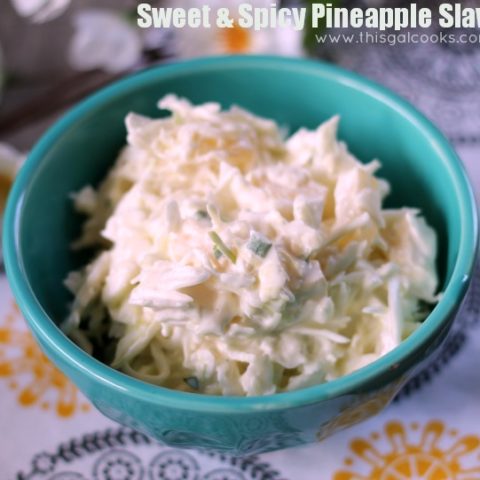 Recipe: Sweet & Spicy Pineapple Slaw
Yield: 8

Prep Time: 10 minutes

Total Time: 10 minutes
Ingredients
1 10oz back of angel hair shredded cabbage
1 20oz can pineapple tidbits drained with 1 1/2 tbsp of juice reserved
1/2 C sour cream
1/2 C mayo
2 tbsp white vinegar
2 tbsp white sugar
1 serrano chili, seeded and chopped
1/2 tsp ground pepper
1/2 tsp garlic powder
1/4 tsp salt
Instructions
In a mixing bowl, whisk together the mayo, sour cream, vinegar, pineapple juice, sugar, garlic powder, pepper and salt.
Stir on the pineapple and Serrano chili
Mix in the cabbage
Cover and refrigerate for 30 minutes to 1 hour
Have you entered to win a $400 gift card prize back yet? If not, what are you waiting for?