Sweet Potato & Shrimp Risotto
Last night I decided to try a few new recipes to go along with our grilled steak dinner. I decided to make a Cheddar Beer Bread (post to come later this week) and a Sweet Potato & Shrimp Risotto. The inspiration for the risotto came from this recipe that I found on Bon Apetit. I can assure you that I did want to make this recipe with Butternut Squash but at $1.29 per pound, and the squash weighing over 6lbs, I decided to go for a cheaper substitute. I actually walked around the grocery store for about 5 minutes trying to decide on a substitute. I finally decided on sweet potatoes and trust me, sweet potatoes were a good choice.  Another change that I made to the original recipe was substituting the sage for rosemary. I couldn't find fresh sage at the grocery store but I have a rosemary plant at home. Rosemary was a good choice. It paired well with the sweet potatoes.   The result of this recipe was an amazing combination of flavors that paired well with the steak that we had for dinner. It also is good as a dish by itself. I hope you enjoy this recipe.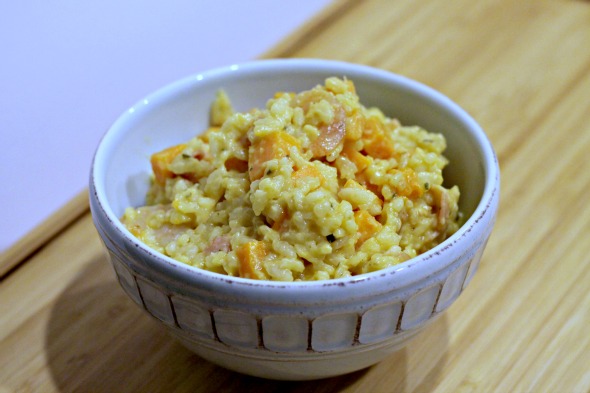 Ingredients
3 C cubed sweet potato (about 2 potatoes, before cubing, slightly cook in the micorwave for about 4-5 minutes to soften)
3 oz pancetta, chopped
1 tbsp olive oil
1 lb shrimp, pelled, deveined and seasoned with sea salt and pepper
1 large onion, chopped
1 clove of garlic, chopped
1 C arborio rice
4 C vegetable broth, heated
1 tbsp chopped fresh rosemary
1/4 C whipping cream
Directions
In a large saute pan or pot, saute the pancetta over medium high heat until crispy. Remove from the pan and set aside. Be sure to leave the grease in the pan.
Add the shrimp to the pan and saute until opaque. Set aside.
Add the olive oil to the pan and saute the onion and garlic until translucent.
Add the rice and stir for about a minute.
Add the heated vegetable broth and the rosemary and bring to a boil.
Add the sweet potatoes and simmer until the rice is tender and creamy, about 15-18 minutes.
Add the whipping cream, shrimp and pancetta to the rice mixture. Add salt and pepper to taste.