Sundried Tomato & Spinach Quinoa
Have you heard of or tried the power food quinoa? If not, you may be asking yourself just what exactly is quinoa and why is it called a power food. Quinoa is a gluten free grain that's packed with antioxidants, hence the label "power food." It's an excellent nutritional food for vegetarians and vegans because it's packed with protein and it's great for people who need to incorporate healthier foods into their diet. Another great feature of quinoa is that it tastes great. It has a mild nutty flavor and pairs well with many dishes including seafood, chicken or you can opt to enjoy it by itself.
I recently made a new quinoa recipe that incorporated spinach, sundried tomatoes and feta cheese. This side dish paired well with the grilled tilapia that we had for dinner recently. I hope you enjoy this recipe.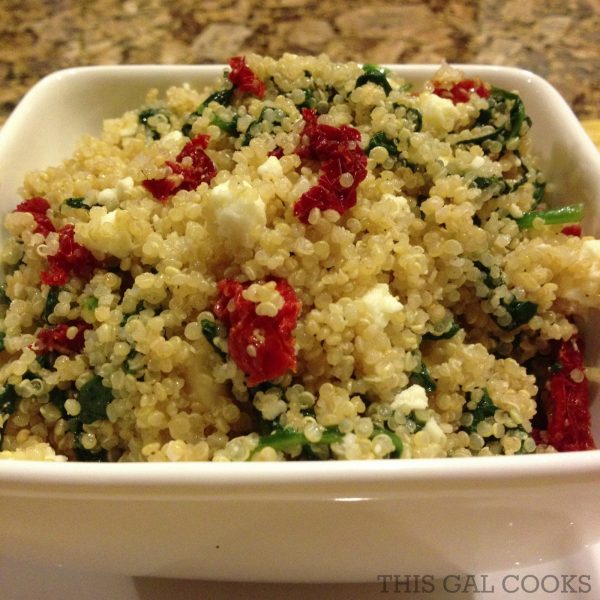 Sundried Tomato & Spinach Quinoa
Ingredients
1 1/2 C uncooked quinoa
5 oz package of baby spinach
1 tbsp olive oil for sauteing spinach
2 tbsp olive oil for seasoning
1 clove minced garlic
3 tbsp cider vinegar
1/2 C sundried tomatoes
1/2 tsp greek seasoning
1/2 C feta cheese
Directions
Cook the quinoa according to package directions. I used a rice cooker to cook mine. It's very easy to do. Just follow the same directions used for rice. When the quinoa is done cooking, remove from heat and allow to cool.
Saute the spinach in 1 tbsp of olive oil until wilted. Remove from heat and drain.
Combine the cooled quinoa with the 2 tbsp olive oil, sundried tomatoes, spinach, garlic, cider vinegar, greek seasoning and feta cheese.
Enjoy
I'd love to hear what you think about this recipe. Leave a comment to share your thoughts!