Smoky Chipotle Macaroni and Cheese
Smooth creamy cheese and zesty chipotle peppers come together to make one darn good creamy cheese sauce for this Smoky Chipotle Macaroni and Cheese.
Smoky Chipotle Macaroni & Cheese
Have you been looking for a delicious way to kick up your macaroni and cheese recipe? Do you like to add a little spice to  your foods with either hot sauce, red pepper flakes or jalapeno peppers? If so, then I have the perfect recipe for you. This recipe combines a variety of cheeses, including cheddar, smoked gruyere and cream cheese. Chipotle peppers give this macaroni and cheese dish the kick you've been looking for. Pair it with other side dishes such as BBQ Baked Beans and Grilled Herbed Potatoes and you have yourself a delicious combination of side dishes for your next BBQ!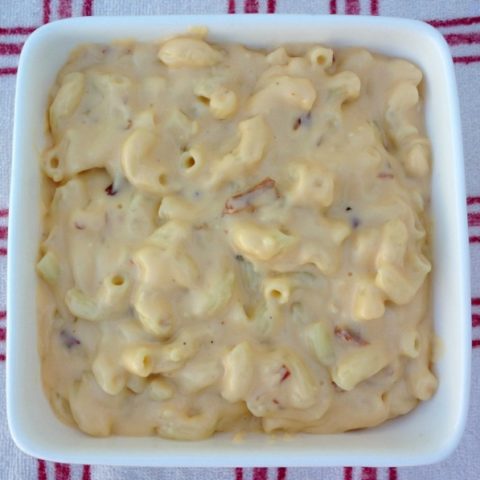 Recipe: Smoky Chipotle Macaroni & Cheese
Yield: 8

Prep Time: 15 minutes

Cook Time: 20 minutes

Total Time: 35 minutes
Ingredients
2 C shredded cheddar cheese
1 1/2 C milk
1/2 C whipping cream
4 oz cream cheese
1 C sour cream
1/2 C butter
1/4 lb of smoked gruyere cheese, shredded
2 chipotle peppers in adobo sauce, seeded and removed. Reserve 1 tsp of the adobo sauce from the can of peppers
1/2 C flour
8 oz macaroni
1 tsp ground black pepper
1/8 tsp lemon juice (it prevents the cheese from getting stringy)
Instructions
Preheat oven to 350.
Cook the pasta. Bring a large pot of water to a boil and cook the macaroni until tender
Prepare the cheese sauce. In a large pot over medium heat, melt the butter. Whisk in the flour and add the milk and whipping cream. Bring to a simmer and stir occasionally until the mixture is thickened, about 2-3 minutes. Stir in the sour cream then add the cream cheese and stir until smooth. Add the smoked gruyere and cheddar cheese and stir until melted. Add the chipotle pepper, the reserved adobo sauce, ground black pepper and lemon juice and mix well.
Pour the cooked macaroni into the pot with the cheese sauce and stir until well incorporated. Pour into a 2 quart baking dish.
Bake at 350 for 20 minutes.