Mexican Style Quinoa Patties
One grain that I really enjoy creating recipes with is quinoa. It's delicious in cold salad recipes, as a warm side and even when made into patties. Lately I've seen a lot of quiona patty recipes so I decided that I would one day create my own quinoa patty recipe. And I did just that on Saturday. It was nearing lunch time and I wanted to have something other than a sandwich or leftovers. My mission was to make Mexican Style Quinoa Patties. I completed my mission and my boyfriend and I had a fantastic lunch. These little gems were delish! And since there are only two of us and this recipe makes 12 patties, we had plenty for leftovers. I hope you enjoy this recipe.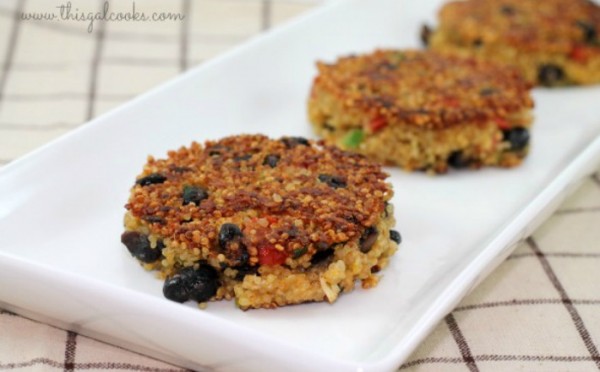 Mexican Style Quinoa Patties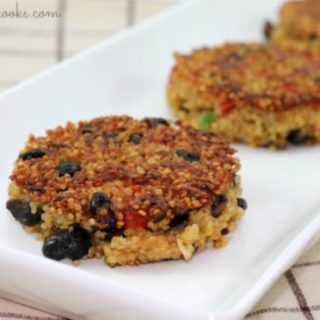 Recipe: Mexican Style Quinoa Patties
Yield: 6

Prep Time: 20 minutes

Cook Time: 20 minutes

Total Time: 40 minutes
Ingredients
2 1/2 C cooked quinoa, cooled
1 jalapeno, finely chopped
1/3 C onion, finely chopped
1 tbsp cilantro, chopped
1 1/2 tsp taco seasoning
1/2 C shredded cheddar cheese
1/2 C gluten-free oats, ground (I used my food processor to ground them)
1/2 tsp seasoned salt
1 clove garlic, minced
3/4 C canned black beans, drained, rinsed and dried
1 tomato, finely chopped (cut the tomato in half, scoop out the insides and then chop
3 egg whites
2 tbsp vegetable oil plus more if needed
Instructions
In a mixing bowl, combine all of the ingredients, minus the egg whites.
Add the egg whites and mix well.
Heat the oil over medium heat in a cast iron skillet.
Press the quinoa mixture into a 1/3 C size measuring cup and place in the heated oil. Only place four at a time in the pan so it's easy to flip them. Lightly press the patties with a spatula and then cook each side for 3-4 minutes or until golden.
Enjoy topped with sour cream.
Nutrition Information:
Yield: 6 Serving Size: 1
Amount Per Serving: Calories: 249 Total Fat: 10g Saturated Fat: 2g Trans Fat: 0g Unsaturated Fat: 7g Cholesterol: 9mg Sodium: 391mg Carbohydrates: 30g Net Carbohydrates: 0g Fiber: 6g Sugar: 3g Sugar Alcohols: 0g Protein: 11g



Since there is very little fat in these patties, they will fall apart very easily. When flipping during cooking, be gentle with them.