Pumpkin Spice Cake with Maple Bourbon Frosting
Flatter your guests at your next holiday gathering with this made from scratch Pumpkin Spice Cake with Maple Bourbon Frosting!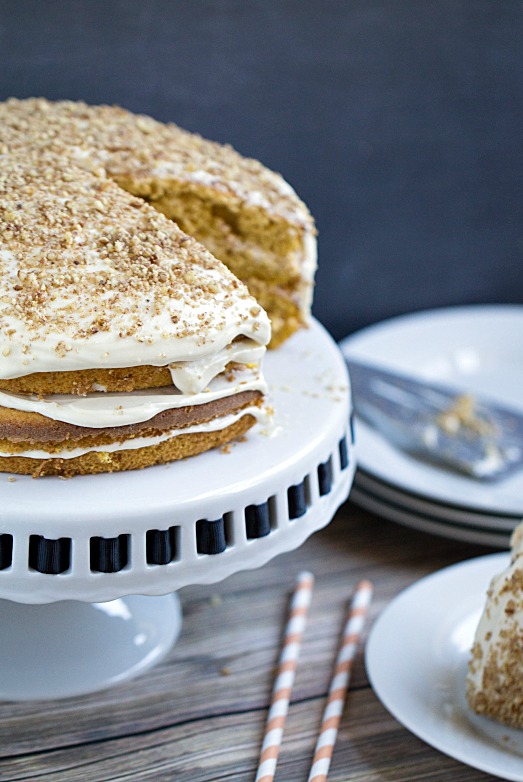 I finally did it. I jumped on the pumpkin cake bandwagon. Not that I haven't made a ton of pumpkin recipes this season, but I haven't made a cake. I'm a little shy when it comes to making cakes from scratch. Sheet cakes are a breeze but for some reason, every time I've attempted to make a layer cake with 9 inch round cake pans, the middle of the cakes sunk in. I researched this phenomena and found that a number of issues can cause it ranging from the eggs or butter not being room temp to the flour being old. But lucky for you, and for my taste buds, this cake attempt was a pure success!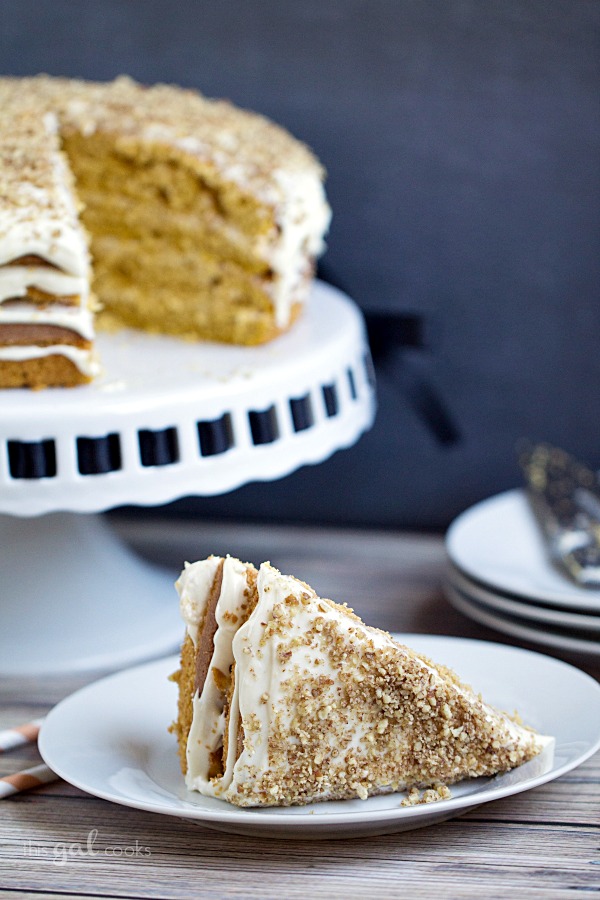 Pumpkin Spice Cake with Maple Bourbon Frosting
I had been building up the courage to attempt to bake a cake from scratch again for some time. On Sunday, I finally sucked it up and did it. You see, on Sunday, I prepared a mock Thanksgiving dinner. I made all types of sides, a bistro style chicken and this cake. I thought it would be perfect to go along with our mock Thanksgiving dinner. And it was. This cake is so good that I will be making it for Thanksgiving dessert! The family is sure to enjoy this treat.
I adapted this recipe from the Better Homes & Gardens New Cookbook (1996). I basically followed the recipe exactly with the exception of using two round 9 inch cake pans rather than the recommended 9×13 pan. After preparing and baking the batter, I allowed the cakes to cool completely. While they were cooling, I made maple bourbon frosting. After the cakes were cooled,  I sliced each layer in half lengthwise and then frosted each layer. I wanted to show the pretty layers of my cake so I didn't frost the outside of the cake. I'm quite fond of naked cakes i.e. cakes that are missing their outer frosting. After frosting, I topped the cake with ground pecans. They pair exceptionally well with this cake!
If you're looking for a change from the typical pumpkin pie dessert, this cake is perfect to serve at your Thanksgiving or Christmas dinner. Or for you snacking pleasure. Enjoy the recipe!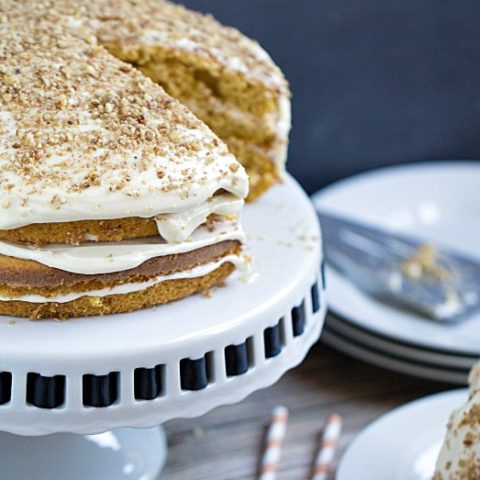 Pumpkin Spice Cake with Maple Bourbon Frosting
Yield: 10 servings

Prep Time: 15 minutes

Cook Time: 30 minutes

Total Time: 45 minutes
Ingredients
For the Cake
2 1/4 C cake flour
1 1/2 tsp baking powder
1/2 tsp baking soda
1 tsp ground cinnamon
1/4 tsp ground nutmeg
1/4 tsp ground cloves
1/4 tsp ground ginger
1/4 C butter, softened
1/4 C shortening
1 1/2 C granulated sugar
1/2 tsp vanilla
2 eggs
1 C buttermilk
1/2 C pumpkin puree
For the Maple Bourbon Frosting
8oz cream cheese, softened
4 tbsp butter, room temp
1 tsp vanilla extract
2 tbsp bourbon
2 tbsp maple syrup
2 C confectioners sugar
1/4 C ground pecans
Instructions
Grease and flour two 9x2 inch round baking pans
Whisk together the flour, baking powder, baking soda, cinnamon, nutmeg, cloves and ginger.
In a small mixing bowl or a 2 C sized glass measuring cup, whisk together the buttermilk and pumpkin puree.
In the bowl of a stand mixer, using the flat attachment, beat together the butter and shortening until creamy, about 30 seconds. Add the sugar and vanilla. Beat until combined. Add the eggs one at a time, and beat until well combined.
Add the flour mixture and buttermilk mixture, alternating a little at a time of each, until combined.
Pour the batter into the prepared baking pans and bake at 350 for 25 to 30 minutes or until a toothpick inserted into the center comes out clean. Allow the cakes to cool completely on wire racks.
Meanwhile, prepare the Maple Bourbon Frosting. In the bowl of a stand mixer using the flat attachment, beat together the butter and cream cheese until creamy and smooth. Add the vanilla and gradually add the sugar, beating until smooth. Add the maple syrup and bourbon and beat until well combined. Add more confectioners sugar if you want a thicker frosting.
One the cake layers are cooled, slice the layer in half lengthwise so you end up with four layers. Spread frosting on top of the bottom layer, add another layer, frost, and repeat the process until all layers are assembled and frosted. After frosting the top layer, sprinkle with the ground pecans.
Notes
Better Homes & Gardens New Cookbook (1996)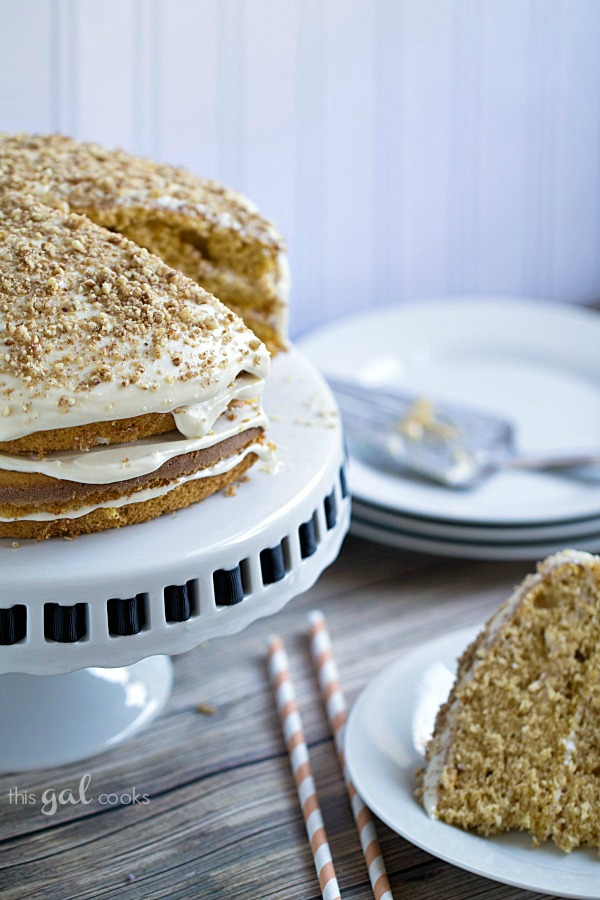 More from This Gal Cooks