Pumpkin Spice Bars with Bourbon Butter Glaze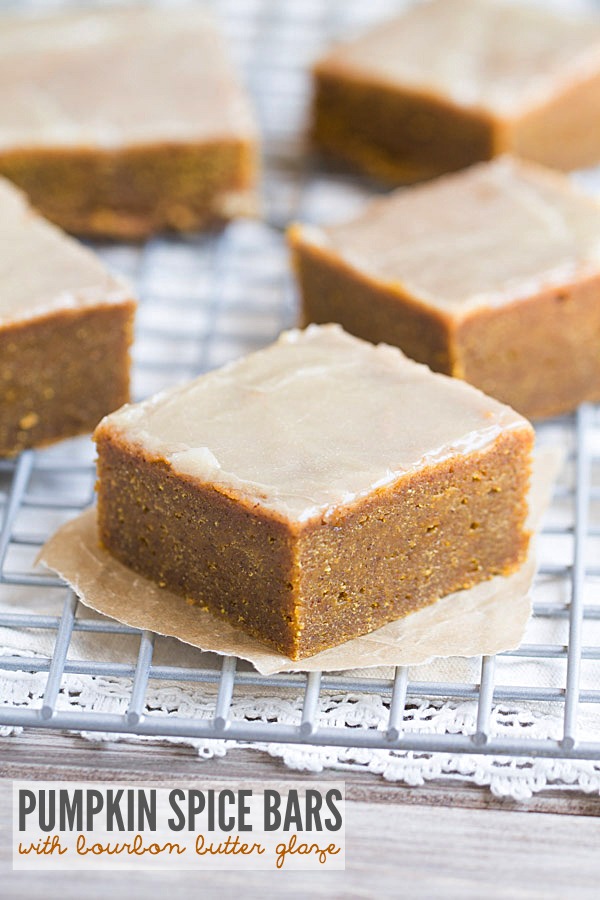 It's time for another pumpkin recipe. I couldn't hold out any longer so today, I'm sharing these Pumpkin Spice Bars with Bourbon Butter Glaze. The recipe is an adaptation of Averie Cook's Fudgy Banana Bars with Vanilla Bean Browned Butter Glaze. But these fudgy bars are made ridiculously good by including pumpkin puree, butterscotch chips, and pumpkin pie spice in the ingredients list. They were a hit with the co-workers as well as with the boyfriend. And I couldn't stop stuffing my face with them. I may or may not have eaten three in one day. THREE IN ONE DAY! It took all of the power I had in me not to eat more.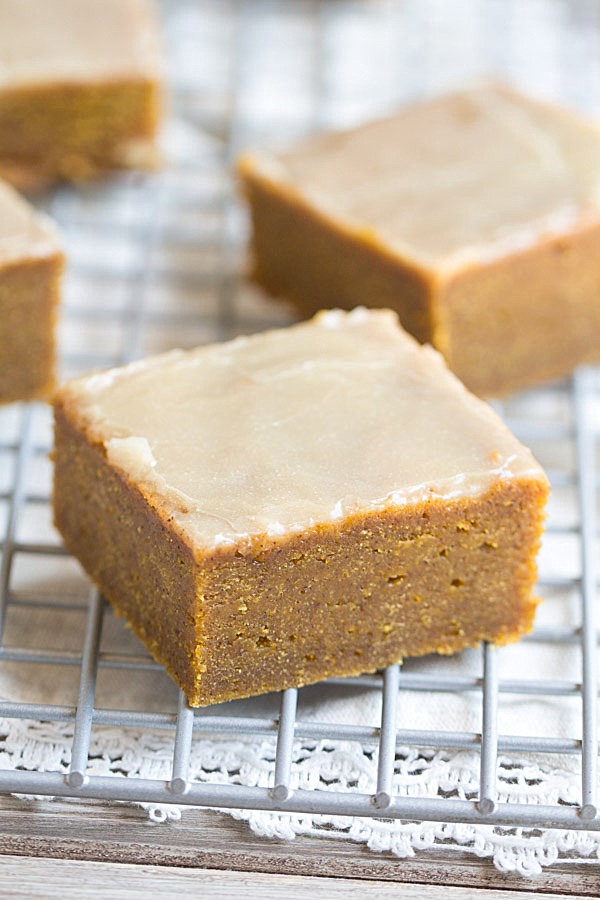 Speaking of pumpkin spice, did you know that Starbucks already rolled out their pumpkin spice flavor? Wait, who didn't know that? Did you know that rolling out pumpkin spice early causes people to order mass amount of pumpkin spice lattes and frappes? And did you know that this mass exodus to Starbucks to buy all things pumpkin causes Starbucks to RUN OUT OF PUMPKIN SPICE?!
True story. Ken and I went to Starbucks Friday night. Ken ordered a pumpkin spice latte. "I'm sorry, we, we are all out of pumpkin spice right now." To which Ken replied "don't you guys know it's almost October?" He didn't miss a beat with that comeback. So we left with a discounted Venti Caramel Macchiato and knowing that pumpkin spice would not be available to us until today. And those crazy good pumpkin scones, we will have to do without those for 2 weeks! But at least we can get our pumpkin spice fix with these Pumpkin Spice Bars with Bourbon Butter Glaze. They are so easy to make. They require only one pot for prep. They melt in your mouth and make you scream "FEED ME MORE!"
Pumpkin Spice Bars with Bourbon Butter Glaze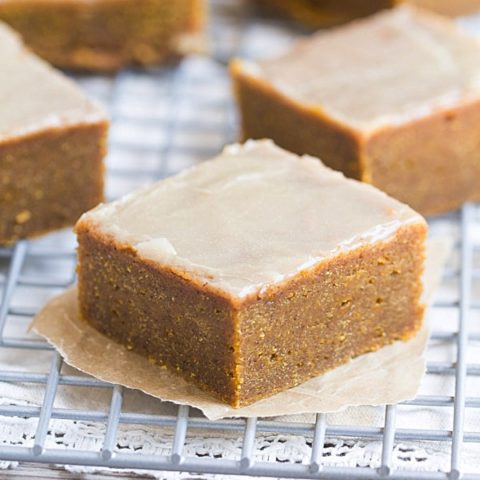 Pumpkin Spice Bars with Bourbon Butter Glaze
Yield: 9 bars

Prep Time: 15 minutes

Cook Time: 33 minutes

Total Time: 48 minutes
Ingredients
For the bars
3/4 C butterscotch chips
1/2 C unsalted butter
1 large egg
1/2 C granulated sugar
2 tsp vanilla extract
1 C pumpkin puree
1 tbsp pumpkin pie spice
1 3/4 C all purpose flour
1/8 tsp salt
For the glaze
2 tbsp unsalted butter
1 C confectioners sugar
1 tbsp vanilla extract
1/4 C bourbon
2 tbsp half and half
Instructions
Preheat your oven to 350. Line an 8x8 baking dish with aluminum foil. Spray with cooking spray and set aside.
To make the bars: in a large saucepan over medium heat, melt the butter and butterscotch chips, stirring often. Remove from heat and set aside for a few minutes to allow to slightly cool so the egg doesn't scramble when you add it. Once the mixture is cooler, add the egg, sugar and vanilla and whisk until smooth. Stir in the pumpkin puree and then add the flour, salt and pumpkin pie spice and stir until combined. Pour the mixture into the prepared baking dish and bake for 33 minutes.
While the bars are baking, make the glaze. Melt 2 tbsp butter in a sauce pan. Add the bourbon and simmer for 3-5 minutes, or until slightly reduced. Remove from heat and whisk in the confectioners sugar and vanilla extract. Gradually add the half and half until the desired consistency is reached. You may need to add more or less than what the recipe calls for. It all depends on your preference.
Once the bars are done baking, remove from the oven and place on a cooling rack. Pour the glaze over the bars and distribute evenly with the back side of a spoon. Allow to cool for 2-4 hours before serving. Once ready to serve, cut into 9 squares. If you prefer smaller squares, you can cut into 12 smaller squares.
Notes
UPDATE: A few readers have asked how to make the glaze without the bourbon. To make the glaze without the bourbon, make the following changes to the glaze recipe:

Omit the bourbon, add two more tablespoons of butter to step three and skip the simmering process. Add two extra tablespoons of half and half or milk, or whatever is needed in order to reach your desired consistency.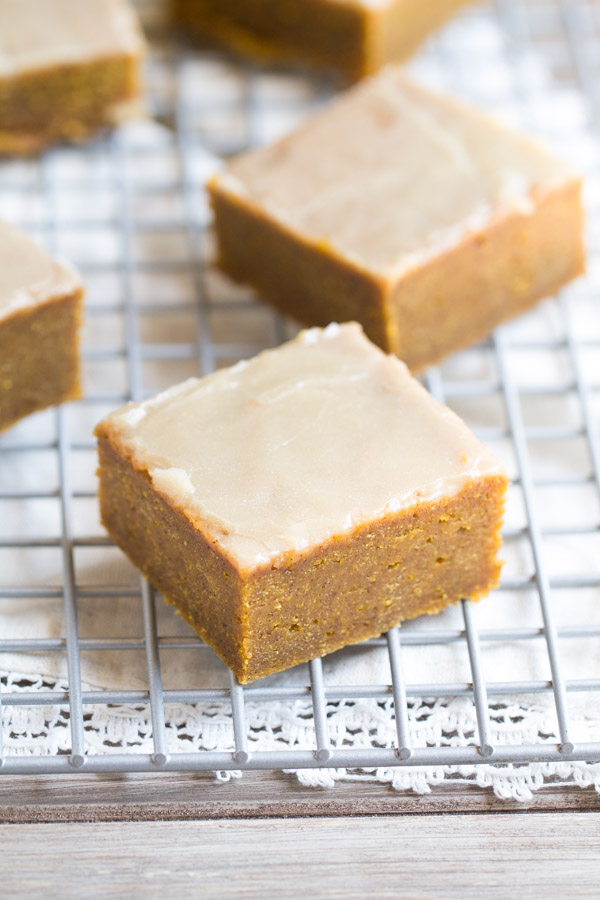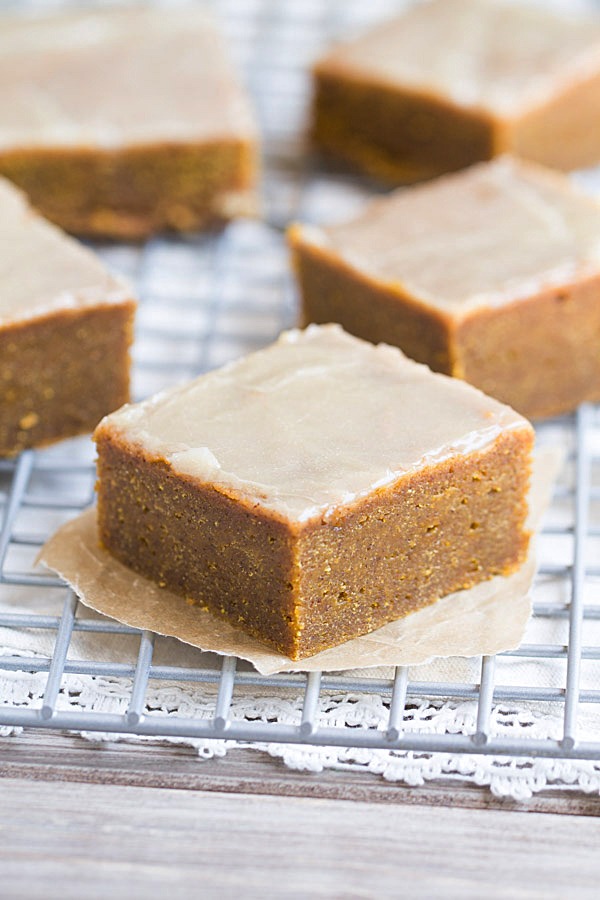 HUNGRY FOR MORE?
Check out these pumpkin recipes from other bloggers.
Chocolate Pumpkin Fudge with Pecan Crunch by Spoonful of Flavor.
Pumpkin Spice Latte Ice Cream by Blahnik Baker.
Skinny Pumpkin Chocolate Chip Cookies by Joyful Healthy Eats
Here are a few of my favorite pumpkin recipes.
Pumpkin Spice Nutella Swirl Ice Cream Pie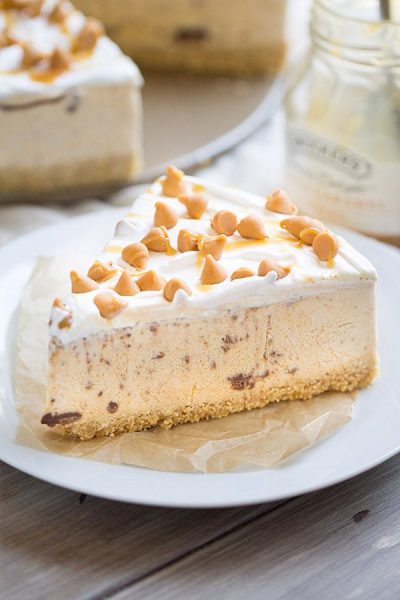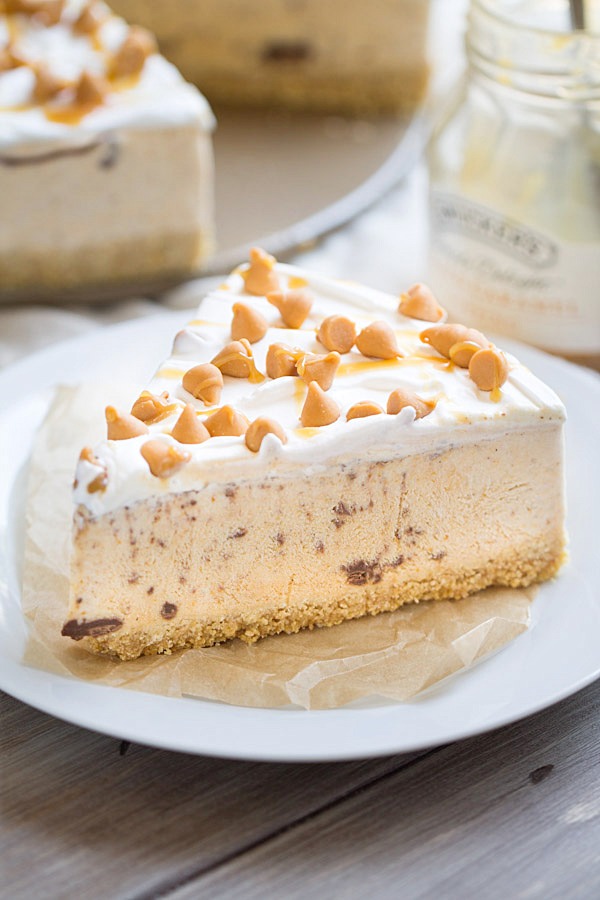 Pumpkin Spice Gooey Magic Bars