Pumpkin Pie Pancakes
Kick up your breakfast a notch with these Pumpkin Pie Pancakes.
Fall is just around the corner and these pancakes make for a perfect Fall breakfast. Waking up on Thanksgiving morning (or any morning, for that matter) to these wonderful treats would make for a perfect beginning to a perfect day. I hope you enjoy my recipe!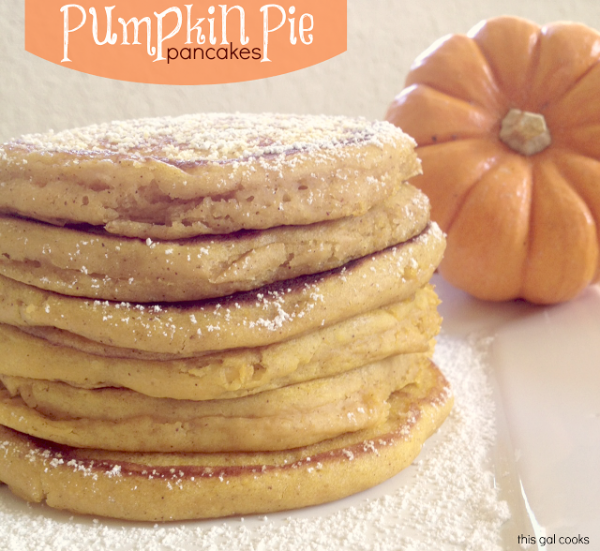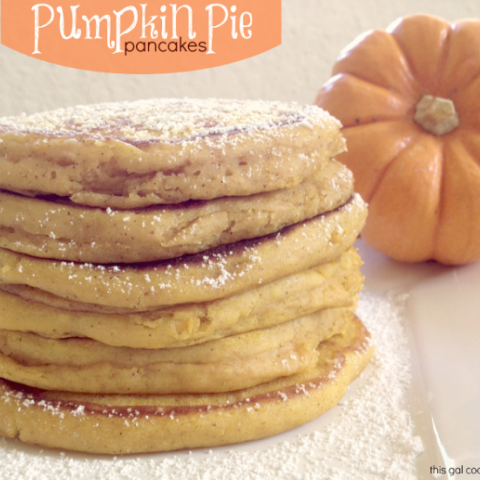 Pumpkin Pie Pancakes
Yield: 2

Prep Time: 10 minutes

Cook Time: 10 minutes

Total Time: 20 minutes
Ingredients
1 1/4 C Flour
2 tbsp white sugar
2 tsp baking powder
1/4 tsp salt
1 egg
1 C milk
2 tbsp vegetable oil
1 tsp pumpkin pie spice
1/4 C pumpkin puree
2 tbsp powdered sugar for topping
Syrup for topping, if desired
Butter for topping, if desired
Instructions
In a mixing bowl, combine the flour, salt, baking powder, sugar and pumpkin pie spice.
In a small mixing bowl, combine the milk, egg, oil and pumpkin puree.
Add the milk mixture to the flour mixture and mix well.
Cook on a non-stick skillet, sprayed with cooking spray, in 1/4 cup servings of batter. Cook 2-3 minutes per side.
Spread a small amount of butter or vegetable spread (such as Country Crock) onto the top of each pancake.
Sprinkle the pancakes with powdered sugar. I put the powdered sugar into my flour sifter and sprinkled it on that way.
More recipes from This Gal Cooks
{Click images to get recipes}