Pumpkin Pie Cheesecake
Pumpkin pie filling and cheesecake are swirled to make this delicious Pumpkin Pie Cheesecake! It's the perfect alternative to the traditional pumpkin pie!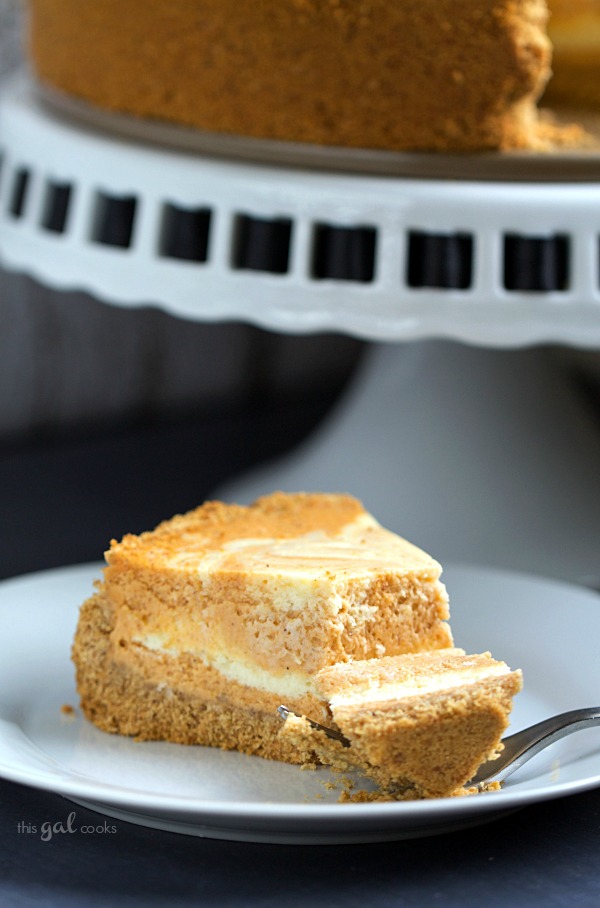 Pumpkin Pie Cheesecake
Last year I started a mission. A mission to make desserts other than pumpkin pie for Thanksgiving dessert. Don't get me wrong, I love pumpkin pie but I just get sick of having it every year. I want variety. Change. Pumpkin goodies in forms other than pumpkin pie. So last year I made a Easy Pumpkin Spice Cake. It was a hit. Everyone loved it. I knew I had to make something to top that dessert for this years Thanksgiving feast so I set on a journey to find the perfect dessert recipe. It didn't take me long to find it (you can see the recipe here.) Pumpkin Cheesecake. This delicious cheesecake actually tastes like pumpkin pie and cheesecake, hence the name I gave it: Pumpkin Pie Cheesecake. I think you will love this cake as much as my family did. Delicious pumpkin is layered then swirled with cheesecake and it all sits within a graham cracker crust. WIN! I hope you enjoy this recipe!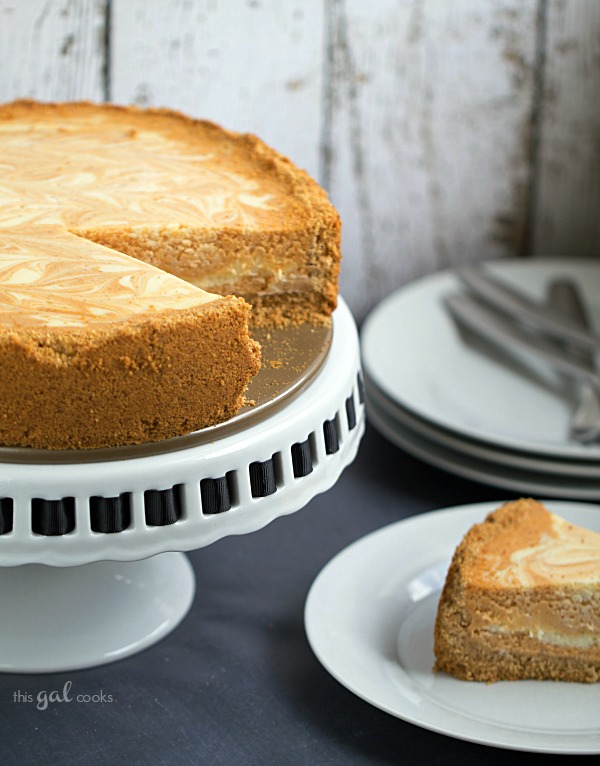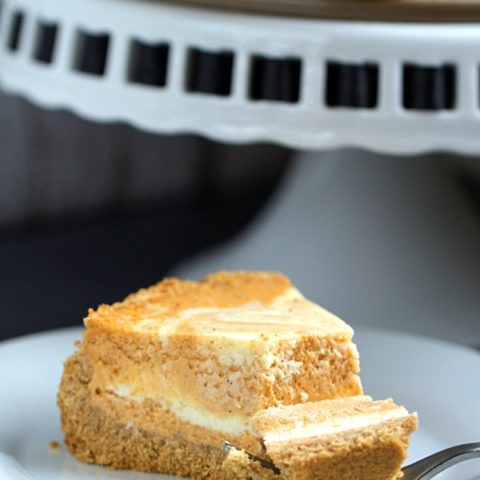 Pumpkin Pie Cheesecake
Yield: 8

Prep Time: 20 minutes

Cook Time: 55 minutes

Total Time: 1 hour 15 minutes
Ingredients
For the filling
3 8oz packages of cream cheese, room temp
1 C pumpkin puree
1 C sugar, divided (3/4 C, 1/4 C)
1 tsp vanilla extract
3 large eggs, room temp
1 tsp pumpkin pie spice
For the crust
1 3/4 C graham crackers, crushed
1/3 C butter, melted
Instructions
Preheat oven to 325 (300 for dark pans)
Combine the graham crackers and melted butter. Press into the bottom of a 9 inch springform pan.
On medium speed, beat together the cream cheese, 3/4 C of the sugar and the vanilla extract until well blended and fluffy, about 3-5 minutes. Add the eggs one at a time, beating on medium between each addition.
Remove 1 1/2 C of the batter and set aside.
Add the pumpkin puree, 1/4 C sugar and pumpkin pie spice to the remaining batter in the original mixing bowl. Mix together with a spoon until well incorporated and smooth.
Pour half of the pumpkin batter over the crust of the pie and smooth with a spoon, if needed. Spoon half of the plain batter over the pumpkin layer and smooth with a spoon. Repeat one more time, until all batter is used. The plain batter will end up being the top layer.
Using a butter knife, swirl the top layer of the cheesecake. You should have some of the pumpkin layer swirled in.
Bake for 60-90 minutes or until until firm with only the center being slightly jiggly. Cool for 30 minutes. Loosen the edges with a thin knife and then refrigerate for 4 hours up to overnight before serving.