My Ultimate Dream Kitchen & A Cocktail Recipe

I've always had a vision of what my dream kitchen would look like. To sum it up simply, it would be huge, have a lot of counter space and windows that would let in lots of bright light!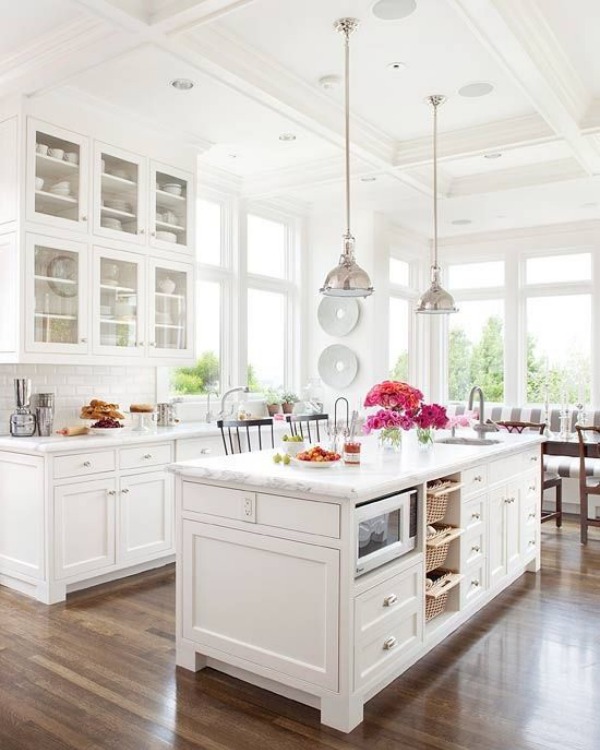 Photo courtesy of Pinterest
See that photo above? That is pretty much what I dream of having for my kitchen one day. A large, open space. White cabinets. A large island. Dark wood floors. Granite counters. Hanging lights. Huge, bright windows! It's lovely, isn't it? I don't know why but for some reason, I have a love affair with white cabinets. I think they look so crisp and clean. And they really brighten up the kitchen space.
Another must have for my dream kitchen are stainless steel appliances. They give a kitchen a classic look. And they blend well with pretty much any color scheme.
Isn't that a beauty? That's the Electrolux French Door Refrigerator. That's beautiful stainless steel that doesn't skimp on classiness. And look at how big it is. If you're a foodie who loves to cook and bake like me, I'm sure you're getting excited while looking at this. Just think of all of the ingredients and leftovers that you could comfortably store in this baby. I dream of having a refrigerator like this. I can just see myself easily selecting ingredients from the spacious shelves and perfect temp drawer, placing them on my large, spacious granite counter tops and preparing a delicious meal or dessert.
So what's so cool about the Electrolux French Door Refrigerator? Not only is it extremely spacious, it has a perfect temp drawer. The perfect temp drawer provides ultimate temperature control with a customizable, versatile temperature zone designated to store a variety of foods and beverages at ideal temperatures. It also locks in freshness with its self closing drawers that provide a tighter seal. Keep those veggies crisp and enjoy that next glass of beer or wine at the perfect temp!
I mentioned a cocktail recipe so here's one that you may enjoy. This is Kelly Ripa's Summertime Zephyr Cocktail.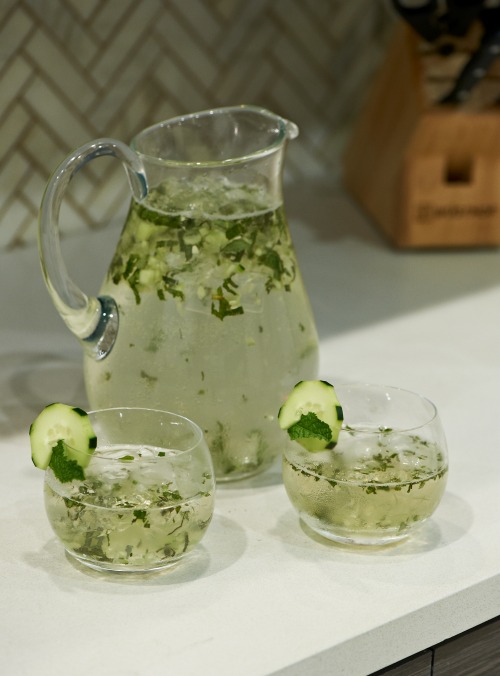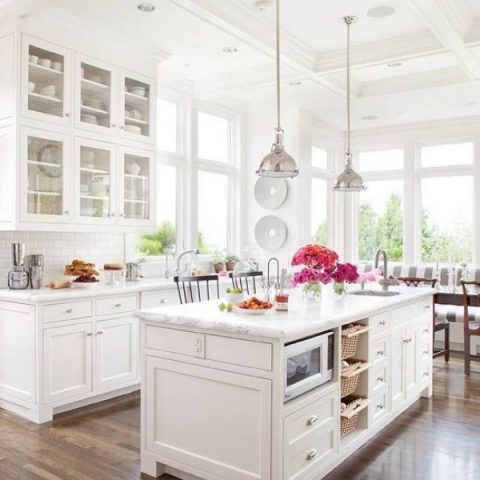 Summertime Zephyr by Kelly Ripa
Yield: 1 serving
Prep Time: 5 minutes
Ingredients
Two pieces of cucumber
Two sprigs of fresh sage
Two sprigs of fresh mint
One sugar cube
Once ounce of gin
Splash of soda water
Ice cubes
Instructions
Muddle the cucumber, sage, mint and sugar cube.
Add the gin and mix together.
Add a few ice cubes and top off with a splash of soda water.
Another cool thing about the Electrolux French Door Refrigerator is that it's luxury-design lift off shelves allow you to customize the space. So if you wanted to make a pitcher of the above cocktail, you could easily make room in the refrigerator to store it!
One day this refrigerator will be mine! And it could be yours too! From now until August 22, you can enter the Electrolux Perfect Temp Sweepstakes to enter to win the Electrolux French Door Bottom Mount Refrigerator AND a trip to the sunny Abaco Islands in the Bahamas! How awesome is that? A sweet refrigerator and a trip to a tropical island. You can't go wrong with that! Just head on over to the Live Love Lux website to enter to win. For every entry and share, Electrolux will donate $1 to the Ovarian Cancer Research Fund with the goal of reaching $125,000.
Good luck! What does your dream kitchen look like?  
I was selected for this opportunity as a member of Clever Girls Collective and the content and opinions expressed here are all my own.