Mocha Peppermint Cookie Bars
Peppermint and chocolate is one of my favorite flavor combinations. Get the best of both with these Mocha Peppermint Cookie Bars.
Mocha Peppermint Cookie Bars
Well folks, there you have it. My first Christmas-esque recipe of the season. Despite vowing to not bake Christmas goodies until after Thanksgiving, these somehow made it out of my oven before Thanksgiving. But I'm not complaining. And neither are my fellow co-workers. And neither is Ken. These were a huge hit with everyone. They taste amazing topped with vanilla ice cream. Mocha. Peppermint. Cookie. Mmm. That does go good with vanilla ice cream!
The breaking of my Christmas baking vows all began with an impromptu trip to Wal-Mart. Cough Cough. That doesn't happen too often but it was early. Wal-Mart wasn't yet filled with hoards of zombies people so I figured why not?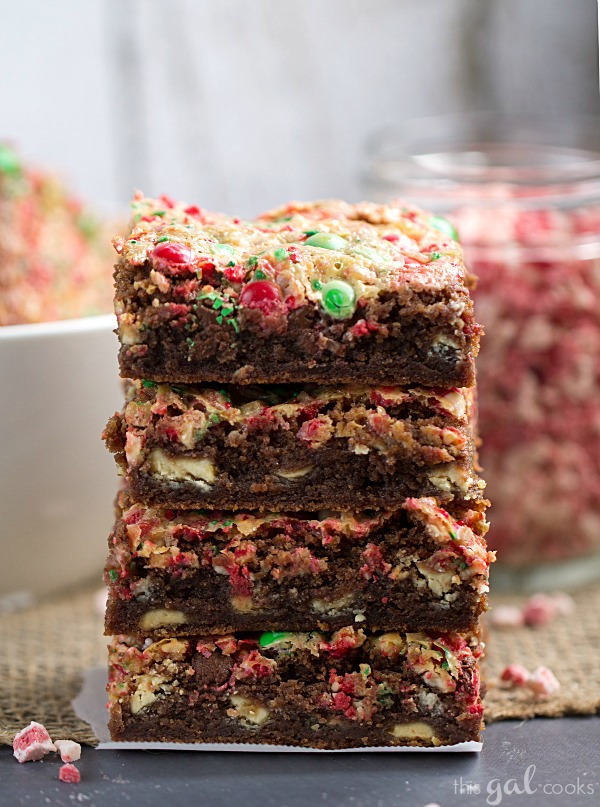 I stumbled upon some sweet baking goods (no pun intended) while browsing the isles of the food section. Mini M&Ms and Andes Peppermint Chips. This gal cannot resist fun baking accessories like that. So I quietly snuck them into my cart and went on my way. Ah fine. Who am I kidding. No sneaking involved with these. When I found Ken wandering in the video game section of the store, I was like yo, check out this sweet stash of baking goodies I just found.
Psst, I didn't really say it in those exact words. I just replayed the scenario in my head like that. But you get the picture, right?
For the base of these bars, I made a chocolate cookie crust that was adapted from the Williams Sonoma Baking Cookbook. I doubled the recipe, replaced the vanilla extract with coffee extract and added white chocolate chips to the dough. After pressing the dough into a baking pan, I baked it for a few minutes and then went to town topping it with a variety of toppings. I baked it again until bubbly and then I enjoyed Mocha Peppermint Cookie Bars. I hope you enjoy them too!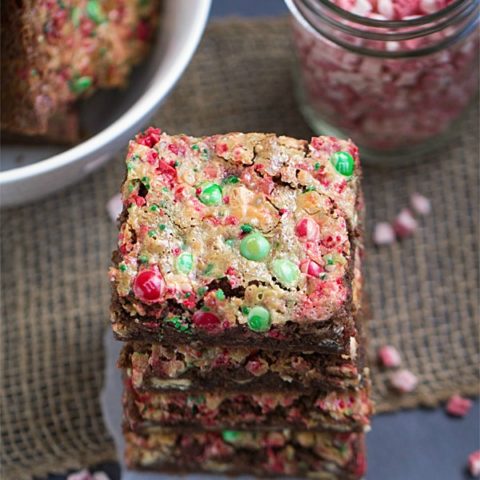 Mocha Peppermint Cookie Bars
Yield: 24

Prep Time: 20 minutes

Cook Time: 25 minutes

Total Time: 45 minutes
Ingredients
2oz unsweetened chocolate, coarsely chopped
2 C all purpose flour
3 tsp baking powder
1/2 tsp salt
12 tbsp butter, room temp
4 tbsp vegetable shortening
1 1/3 C packed brown sugar
1/2 C granulated sugar
2 eggs, room temp
2 tsp pure coffee extract
1 C white chocolate chips
1 C peppermint baking chips
1/2 C mini M&M Baking Bits
About 3/4 of a 14oz can of sweetened condensed milk
1 tsp Christmas colored sprinkles
Instructions
Line a 13x9 baking pan with parchment paper
Combine the flour, baking powder, and salt in a mixing bowl.
Using the double boiler method, melt the chocolate. I don't have a double boiler so I filled a sauce pan with some water and then place a hefty glass bowl over top of it and melted the chocolate in the glass bowl.
In the bowl of a stand mixer, beat together the butter, shortening and sugars on medium speed until blended. Beat in the melted chocolate, egg and coffee extract until the mixture is smooth.
Beat in the flour mixture until just combined. Stir in the white chocolate chips.
Press into the parchment lined baking sheet and bake at 350 for 15-20 minutes. Do not bake it all the way.
Remove from the oven and top with the peppermint chips, M&Ms, sprinkles and then pour over the sweetened condensed milk. Add a few more sprinkles, if desired.
Bake at 350 for another 20-25 minutes or until bubbly.
Cool completely and then lift out of the baking ban and cut into squares.
Notes
Cookie crust adapted from Williams Sonoma Baking Cookbook